Creatively, I have a kind of manic shopping energy: I like to try on new materials and processes. But rather than feeling inspired and sated by a new technique, I want more. Each option opens up new combinations. The results go from expansive to endless.
These past few years have been about accepting the way I work, learning to love my chaos rather than trying to escape it, ignoring friends' thoughtful tips to limit a show to one or two more tailored series and instead welcoming you into my vortex.
Some pieces in the show are such an invitation; however, by limiting the result to a particular material, such as in the genius handwoven mohair of Stephens Tapestry, the resulting piece Swatching Space Time creates a complete bacchanal of media and imaginary digital weaving. Bits of string and crumpled paper mix with VR brushstrokes. A scanned piece of gum clings to a loose thread. This swatch—an expansive carpet by human standards—is but a tiny sample of infinite possibility.
Like all the works in the show, they are but a part of a much larger expanse.
I'm not sure why other people love crime fiction; I'm drawn to exploring all the various motives and red herrings to arrive, inevitably, at closure. When the mystery is solved, a good storyteller, having carefully tied a string through the entire story, picks up all the seemingly loose ends and brings them together.
After a decade with Friedman Benda, and a few previous outings in LA (such as at Dries Van Noten's "Little House" in 2021), I've murdered quite a few things. (May the debate between what constitutes art of design rest in peace.) It felt like it was now time to take a string and carefully tie together all these creative explorations I'd left behind with the goal of hopefully arriving at some kind of conclusion—which is taking place, a little "too conveniently," in a house.
Friedman Benda's new LA space provided the opportunity to show in a more domestic space, loosely suggesting how these disparate suspects might temporarily live together before something goes array. The works' internal tensions come to light on their surfaces. In a table, Windswept, a seemingly effervescent form appears like a hydrophobic Lilly pad, with glass gems gathered on its metal surface.
By bringing together seemingly incompatible volumes and materials, the pieces display an imbalance — a friction of combinations such as, for example, embroidered moth wings hovering above a metal volume in a piece titled Ever Sessile Pupa.
Consider this show the fruits of my shopping—the calm before my next binge.
— Misha Kahn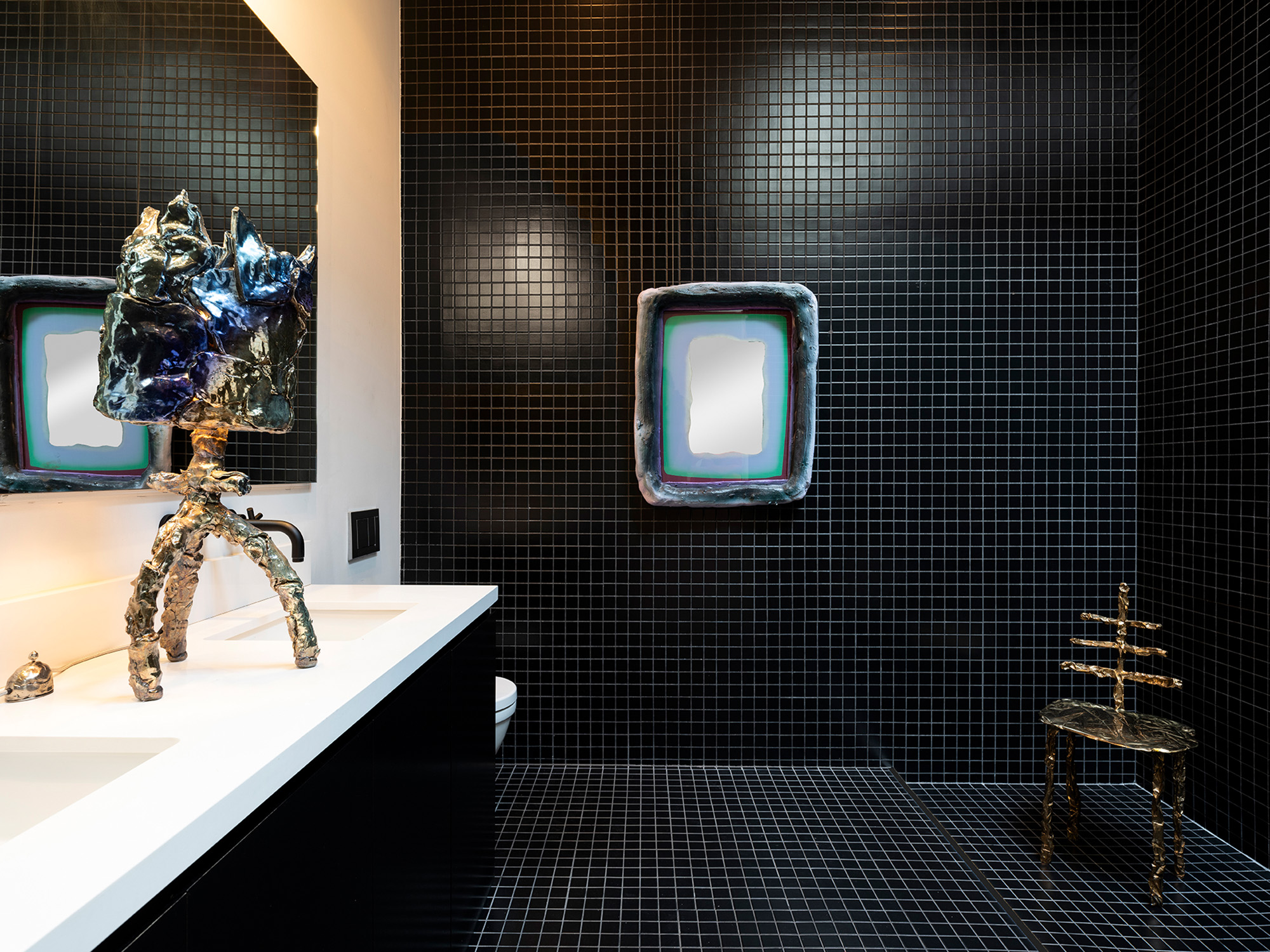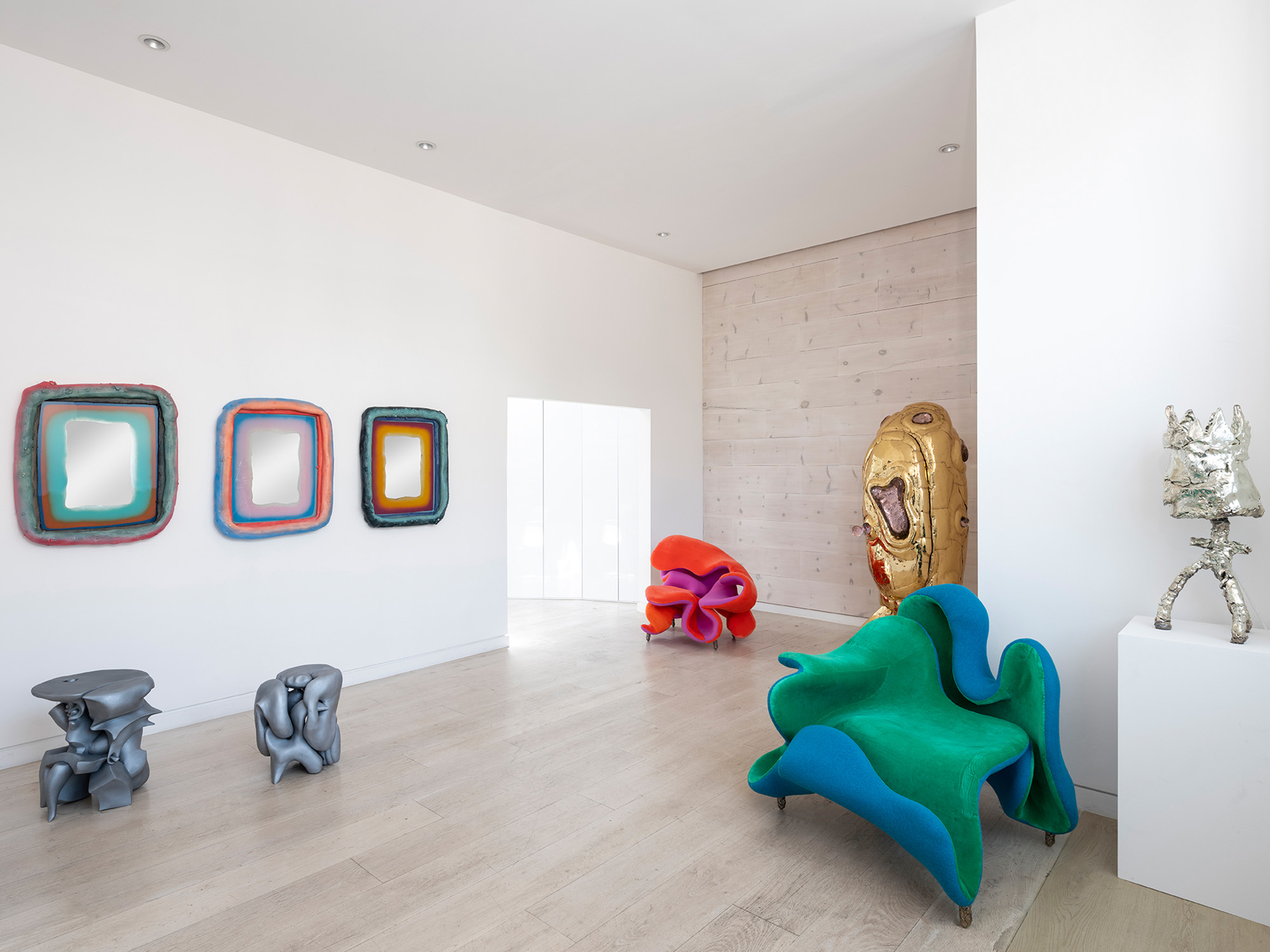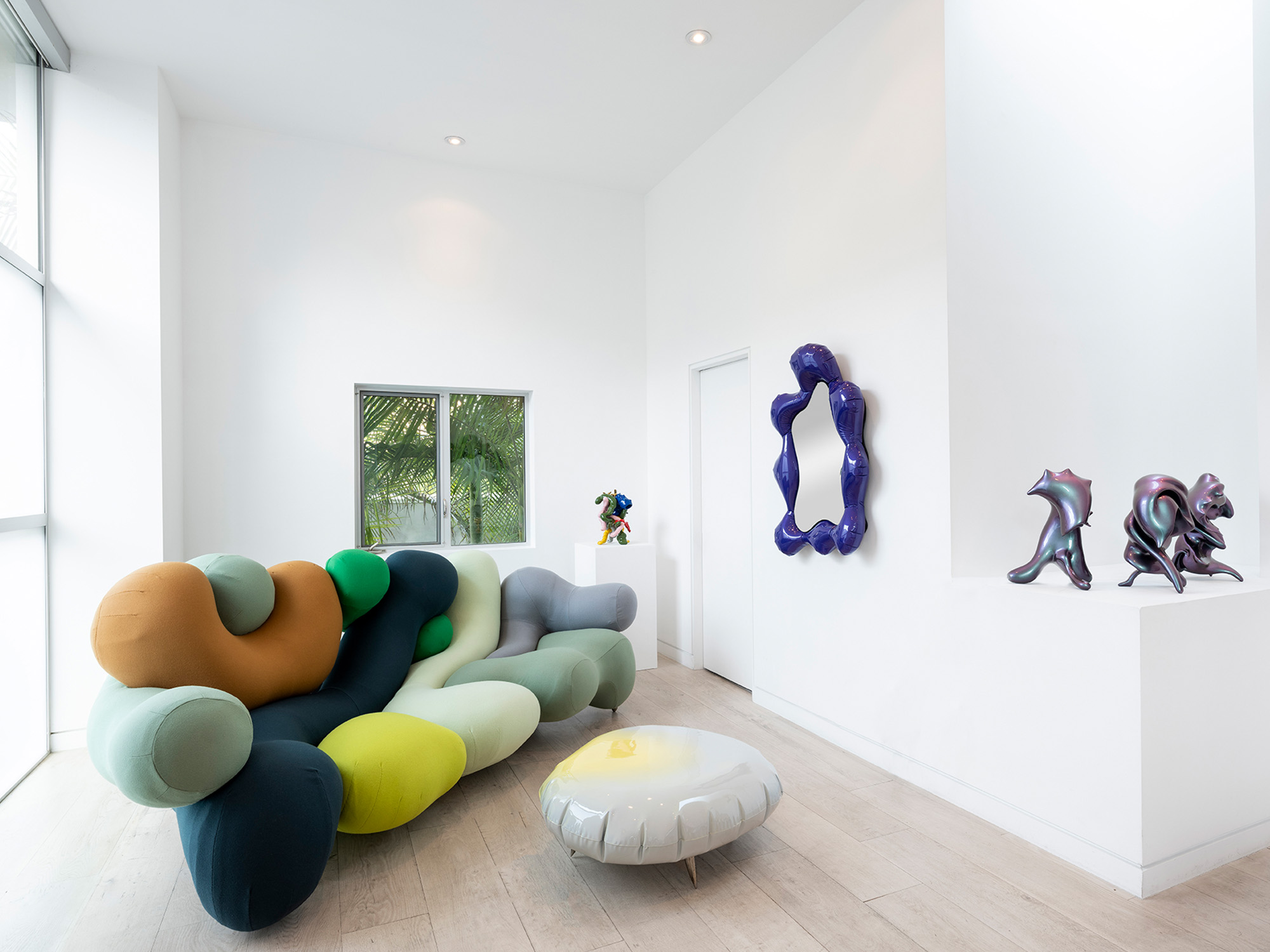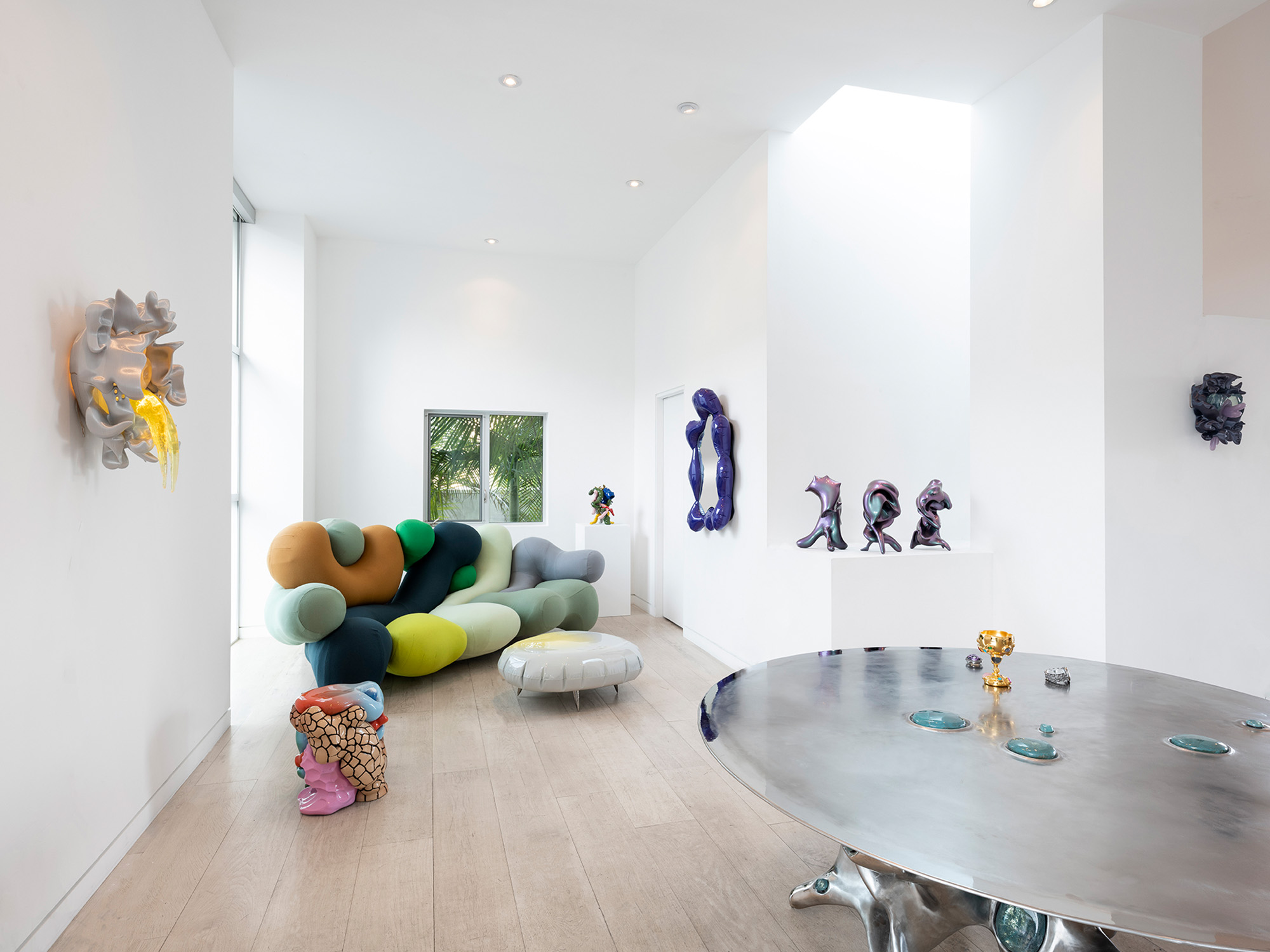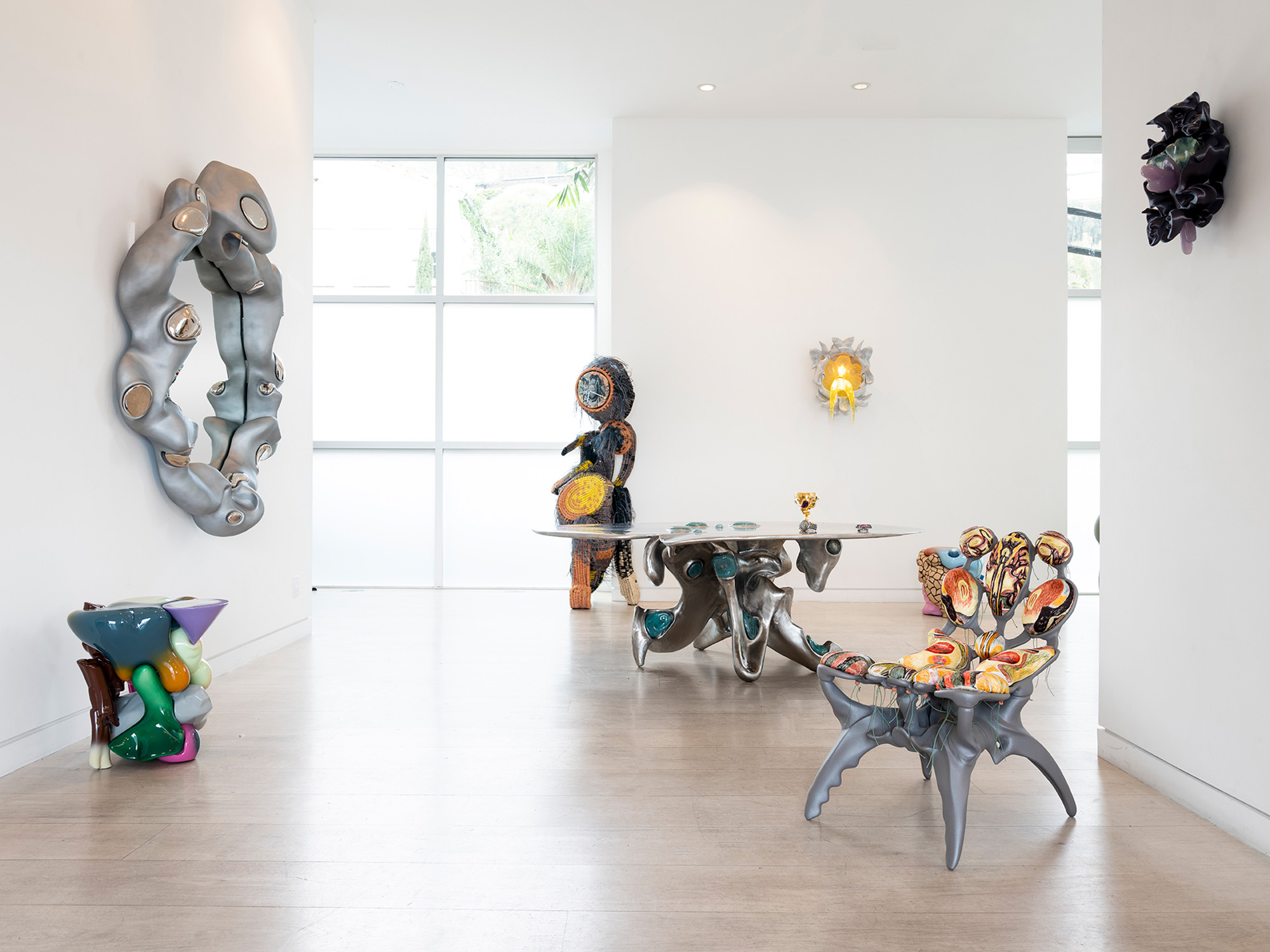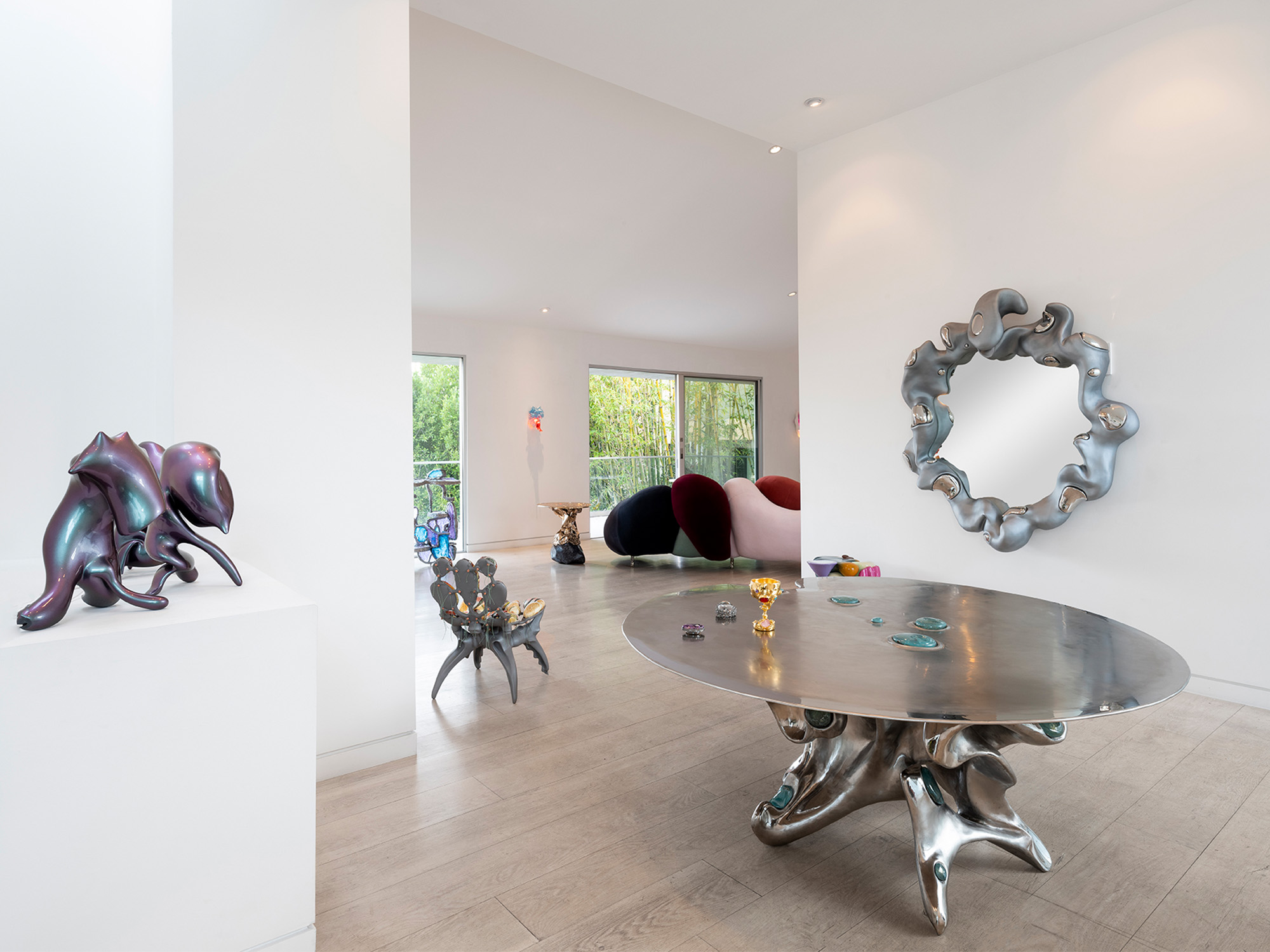 ABOUT MISHA KAHN
Misha Kahn was born in Duluth, Minnesota in 1989 and graduated from Rhode Island School of Design in 2011 with a BFA in Furniture Design. Kahn is the subject of the book, Casually Sauntering the Perimeter of Now: Misha Kahn, published by Apartamento in 2023. In 2022 Museum Villa Stuck, Munich, Germany hosted his first institutional solo show titled Under the Wobble Moon: Objects from the Capricious Age. Kahn's work has been exhibited internationally and is in the permanent collection of museums such as Corning Museum of Glass, NY; Dallas Museum of Art, TX; Los Angeles County Museum of Art, Los Angeles, CA; Museum of Arts and Design, NY; Museum of Fine Arts, Houston, TX; and Speed Museum of Art, Louisville, KY. Kahn lives and works in Brooklyn, NY.