It must be reconciled that we enter a new period on earth. The physical coincides with the metaverse here, and we live partially in both worlds. Equally viable is the longing to stay inside, and to be far away at once. Human driven alterations to our climate mean frequent bouts of extreme uncertainty about our surroundings. We are adrift. The idea that we build stable houses, with stable objects on stable ground with stable narratives feels irrelevant and irresponsible amidst our self-determined fate of undermining all of these things.
Objects too must enter this new period on earth. We must build quickly, and plan for dissipation. To work with the detritus left in the wake of our chaos. To appreciate the energy and mysticism of earthly material. To apparate into a virtual realm when needed. And to capture these meandering narratives. Through various rooms and vignettes, this exhibition will explore each of these attitudes in the form of objects for a place that exists outside of statis—a space where the wobble moon pulls the water in our body from side to side, as is it does the fluidity of ideas, emotions and energy that float beyond the reality that we could understand.
"Under the Wobble Moon. Objects from the Capricious Age" is the most comprehensive exhibition to date of works by Misha Kahn, born in 1989 in Duluth, Minnesota (USA), and the first major presentation of his objects in Europe.
Curated by Kellie Riggs, the exhibition shows works from the past seven years, but almost half are new works that were created especially for the VILLA STUCK museum. The exhibition is shown in the historical rooms on the ground floor and in the old studio and the former private rooms on the upper floor. The presentation will be expanded by a new, inflatable sculpture on the terrace in front of the old studio and an installation in the artists' garden, in the center of which a robot will create paintings for the duration of the exhibition.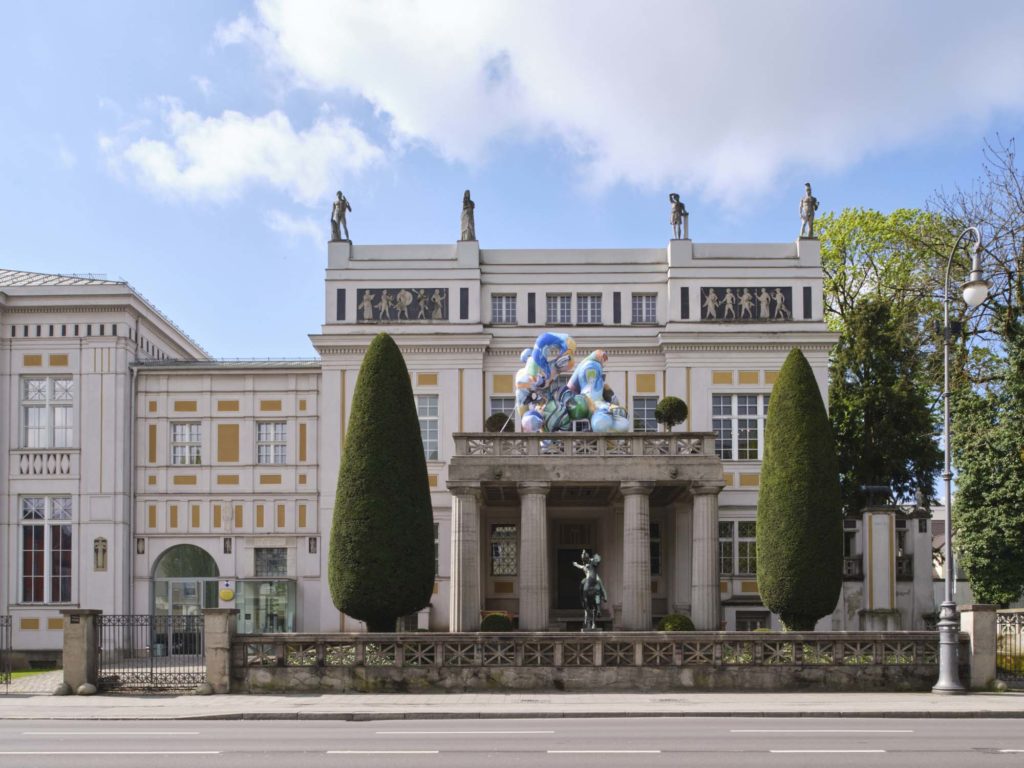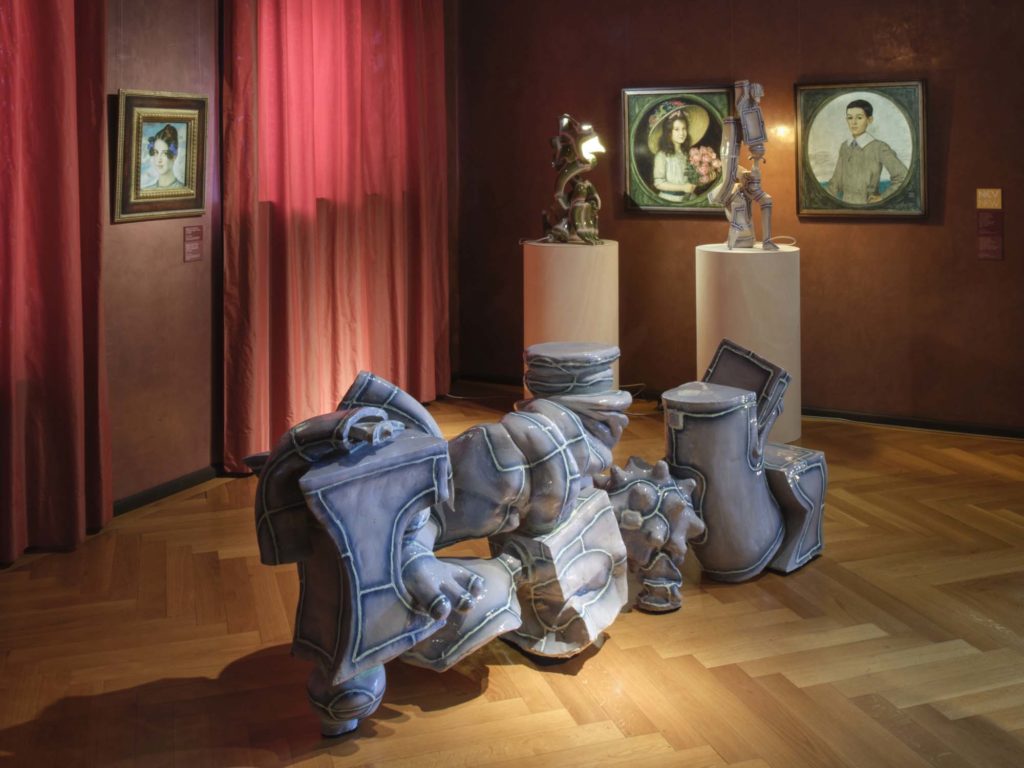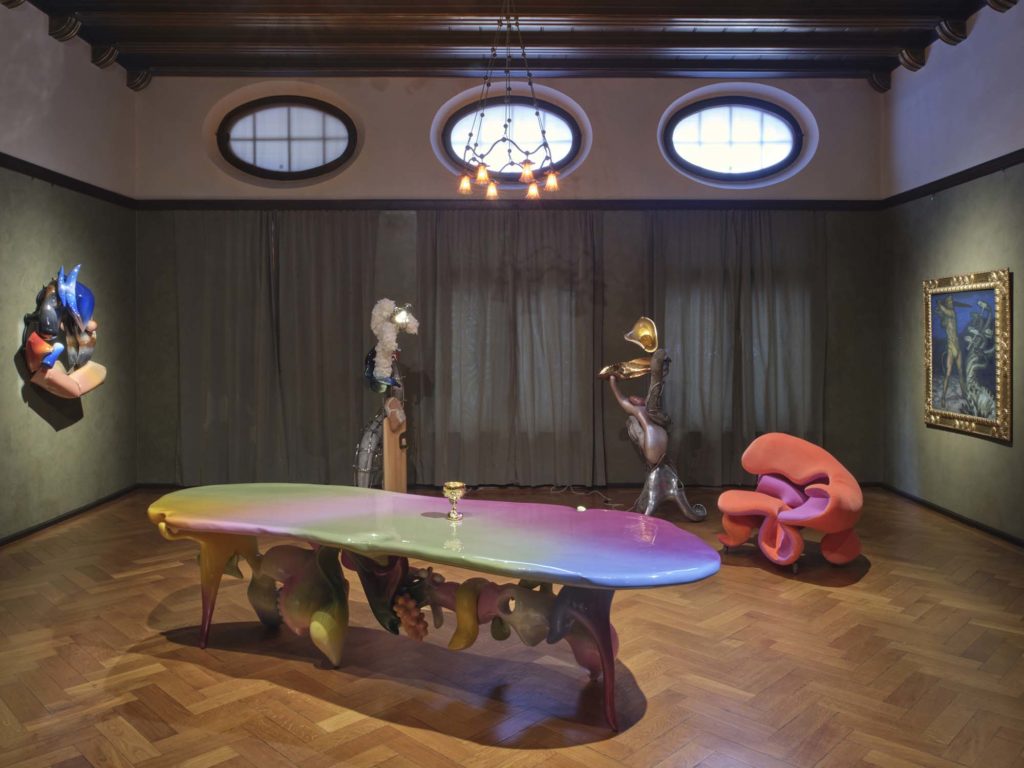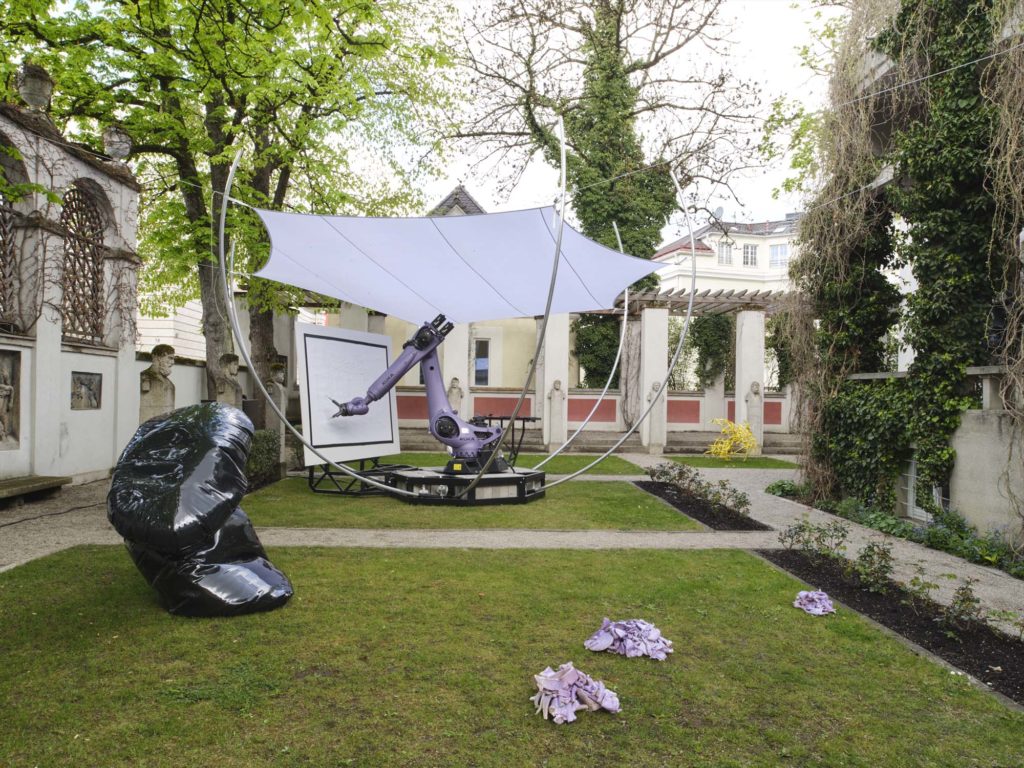 About Misha Kahn
Misha Kahn has emerged as one of the leading creative voices of his generation. Through a wildly imaginative approach that embraces spontaneity and non-conformity, Kahn allows the illogical and the irreverent to take over his process. He employs an entire spectrum from lo-fi and ad hoc techniques—such as improvisational molds and collage—to virtual reality.
Born in Duluth, Minnesota in 1989, Kahn graduated from Rhode Island School of Design in 2011 with a Bachelor of Fine Arts in Furniture Design. Early in his career, he gained recognition when he was featured in the Museum of Arts and Design's Biennial (2014).
Unafraid to push boundaries, Kahn is driven to self-invent, adapt, and further processes in a myriad of mediums including metalwork, glass, wood, textiles, ceramic, casting, fiberglass, resin, and cement. Embracing an unorthodox result, he seeks the opportunity to learn from masters in their respective crafts. For example, Kahn's acclaimed woven Scrappy series (since 2015) is the result of a collaboration with Gone Rural, a female group of traditional weavers based in Eswatini. He has also produced several woven tapestries and rugs with Stephens Tapestry Studio of South Africa. Other meaningful practitioners whom Kahn has worked with include artist Alma Allen's studio in Mexico, glass sculptor Deborah Czeresko in Brooklyn, and the famed late Italian jewelry designer GianCarlo Montebello.
In April 2022 Museum Villa Stuck opened Kahn's first institutional solo show titled Wobble Moon: Objects from the Capricious Age. His work has been exhibited internationally and is in the permanent collection of museums such as the Corning Museum of Glass, NY; Dallas Museum of Art, Dallas, TX; Museum of Fine Arts, Houston, TX and Speed Museum of Art, Louisville, KY. Kahn lives and works in Brooklyn, NY.