Frieze Masters 2023
Friedman Benda | Booth G09
Ettore Sottsass [Italian, 1917-2007] produced by Poltronova
Mobile Barbarella (Model MS. 124), 1966
Walnut, laminate, anodized aluminum
51 x 43.25 x 15.75 inches
130 x 110 x 40 cm
Select Exhibitions
Ettore Sottsass, L'Objet Magique. Centre Pompidou, Paris, France. October 13, 2021 – January 3, 2022. (work from the same series)
Ettore Sottsass: There is a Planet. Triennale Design Museum, Milan, Italy. September 15, 2017 – March 25, 2018. (this work)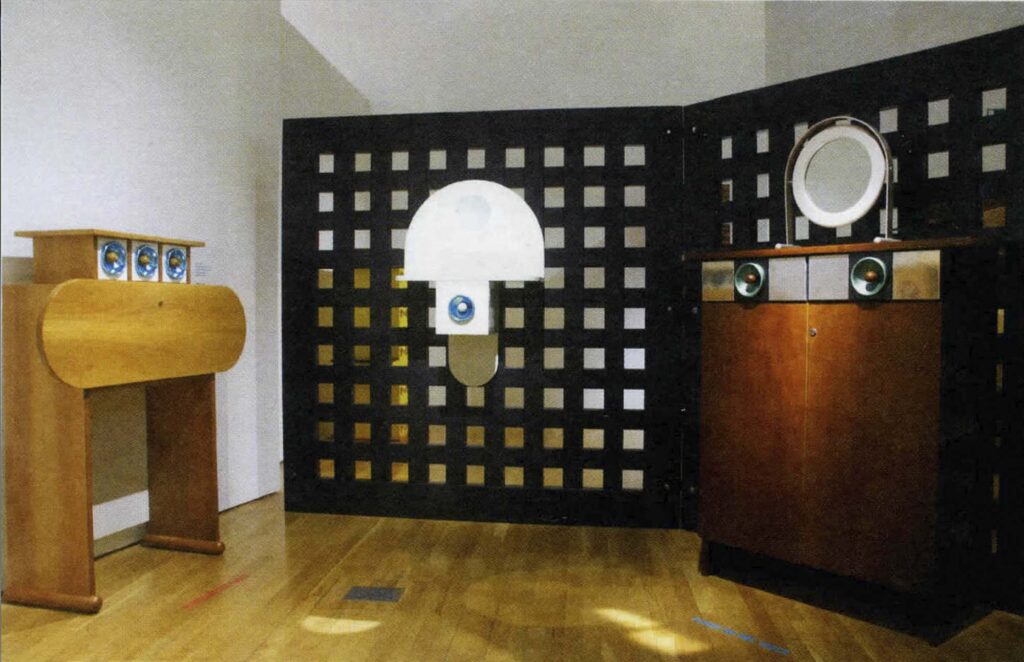 Ettore Sottsass: Work in Progress. Design Museum, London, United Kingdom. March 29 – June 10, 2007. (work from the same series)
Ettore Sottsass: Architect and Designer. Los Angeles County Museum of Art, Los Angeles, CA. March 12 – June 11, 2006. (this work)
Poltronova exhibition. Centro Fly Casa, Milan, Italy, 1965. (work from the same series)
Select Literature
La Poltronova presenta mobili designati da Ettore Sottsass, exh. cat., Milan: East 128, 1965, n.p. (drawing)
Catalogo Produzione Poltronova, 1966-1967, p. 27.
Catalogo Produzione Poltronova, 1967-1968, n.p.
Paolo Fossati, Il design in Italia: 1945-1972, Turin, Italy: Giulio Einaudi editore, 1972, no. 298.
Pier Carlo Santini, Facendo Mobili con..., Italy: Poltronova Edizioni, 1977, p. 89.
Giuliana Gramigna, Repertorio del Design Italiano 1950-1980 Immagini e contributi per una storia dell'arredo italiano, Mondadori editore, Milano 1985, p. 241.
Hans Höger, Ettore Sottsass Jun. Designer, Artist, Architect, Tübingen: Wasmuth, 1993, p. 85.
Ettore Sottsass, Paris: Centre Georges Pompidou, 1994, p. 71 (work from the same series).
Hans Hollein and Milco Carboni, Sottsass 700 Drawings, Milan: Skira, 2005, p. 48 (drawings).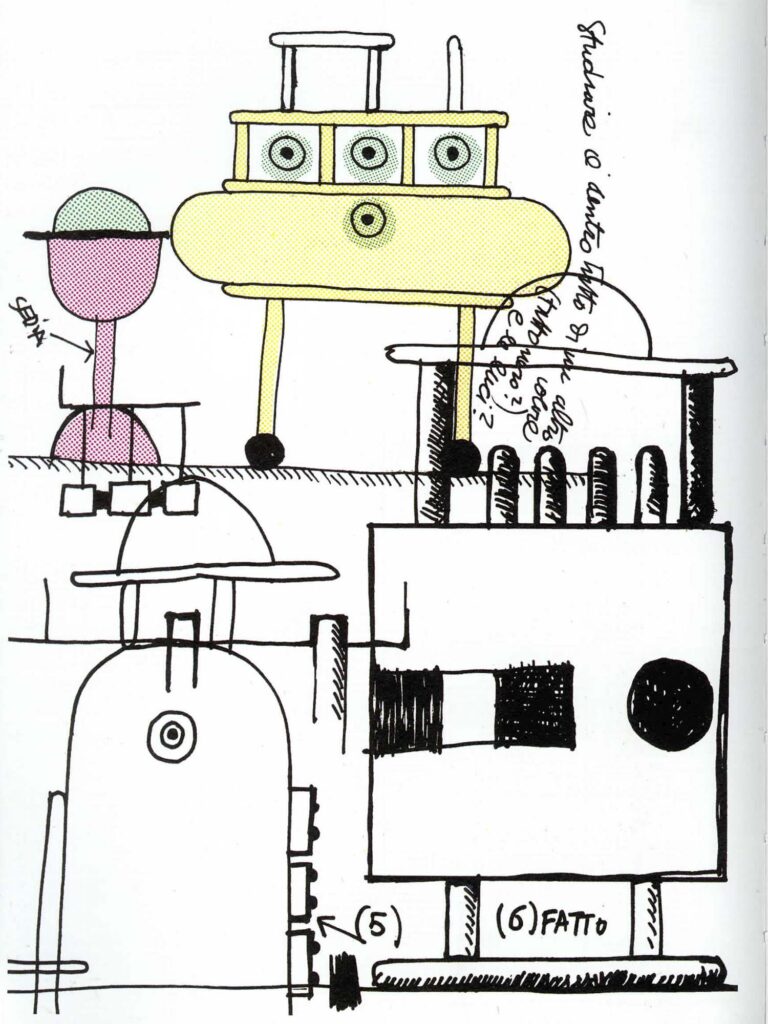 Ronald T. Labaco and Dennis P. Doordan, Ettore Sottsass: Architect and Designer, New York: Merrell Publishers Limited in conjunction with LACMA, 2006, pp. 20-21 (this work).
Milco Carboni (ed.), Ettore Sottsass Jr '60-'70, France: FRAC Centre, Orleans in conjunction with Editions-HYX, 2006, pp. 80-81 (drawings, Poltronova exhibition at Centro Fly in Milan, 1965).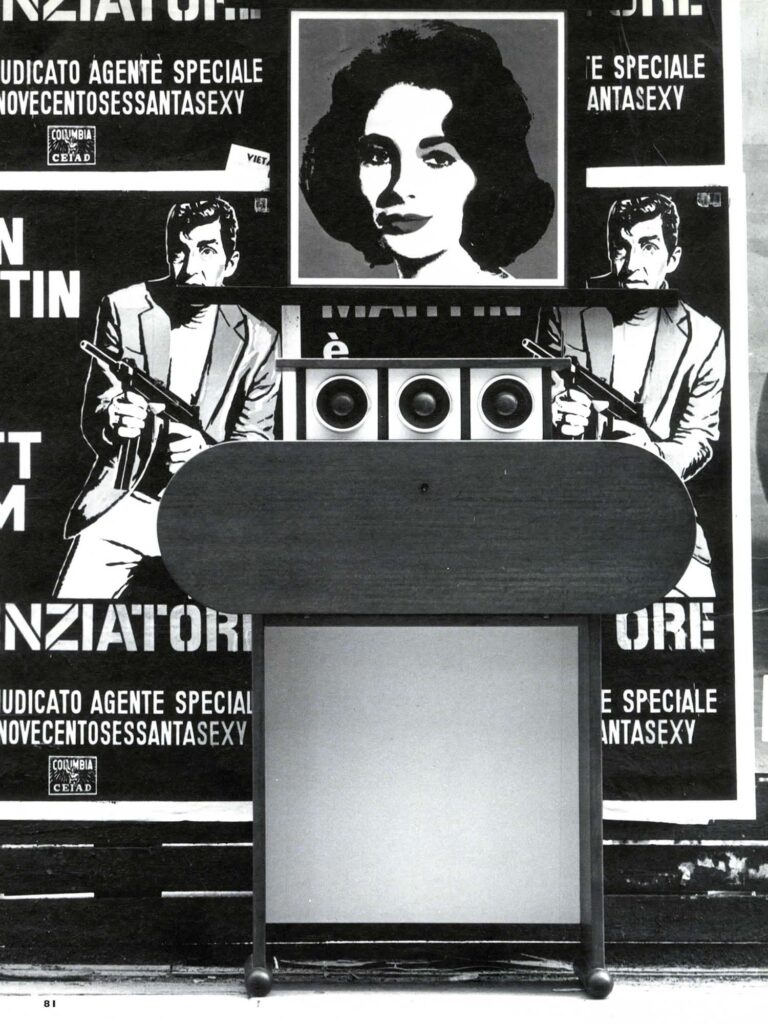 Philippe Thomé, Ettore Sottsass, New York: Phaidon, 2014, p. 12 (text reference), pp. 173-174.
Barbara Radice (ed.), Ettore Sottsass: There is a Planet, exh. cat., Milan: Triennale Design Museum, 2017, pp. 30-31 (this exact work).
Gean Moreno and Alex Gartenfeld, Ettore Sottsass and the Social Factory, exh. cat., Munich; London; New York: Institute of Contemporary Art, Miami and Prestel Verlag, 2020, p. 125.
Ivan Mietton, Sottsass: Poltronova 1958-1974, Paris: Edition Skira, 2021, pp. 18, 25, 102-104 (work from the same series), 105 (drawing dated 1965), 142-143.
Marie-Ange Brayer, Ettore Sottsass: l'objet magique, exh. cat., Paris: Editions du Centre Pompidou, 2021, p. 40 (work from the same series).
Ettore Sottsass, Paris: Les Arènes Éditions, 2023, pp. 68-69 (work from the same series).
Museum Collection
Carnegie Museum of Art, Pittsburgh, PA (work from the same series)