Chatsworth has always been a centre for creativity, with successive generations of the Cavendish family commissioning art and design contemporary to their times. 'Mirror Mirror: Reflections on Design at Chatsworth', which will be on display in the house and garden from 18 March to 1 October 2023, reflects on that history and introduces new works to the house and garden, continuing this legacy into the present day.
Co-curated with writer, historian and curator, Glenn Adamson, the exhibition places contemporary works in direct relationship to the historic design at Chatsworth, creating unexpected connections with the house's architecture, interiors, furniture, ceramics, as well its essential materials of glass, stone, wood, and light.
The sixteen contemporary artists and designers featured in the exhibition are: Ini Archibong, Michael Anastassiades, Wendell Castle, Andile Dyalvane, Ndidi Ekubia, Najla El Zein, Formafantasma, Joris Laarman, Max Lamb, Fernando Laposse, Jay Sae Jung Oh, Samuel Ross, Chris Schanck, Ettore Sottsass, Faye Toogood, and Joseph Walsh.
Alex Hodby, Senior Curator of Programme at Chatsworth, said: "This project is a fantastic opportunity to reflect on the design histories at Chatsworth and bring them to the fore with an exciting array of international artists and designers. We're fascinated with how the contemporary works in our exhibition have used materials in innovative ways to make functional and intriguing objects that are also deeply connected to the house, garden and the collections here at Chatsworth – a place where design has been a key feature for 500 years."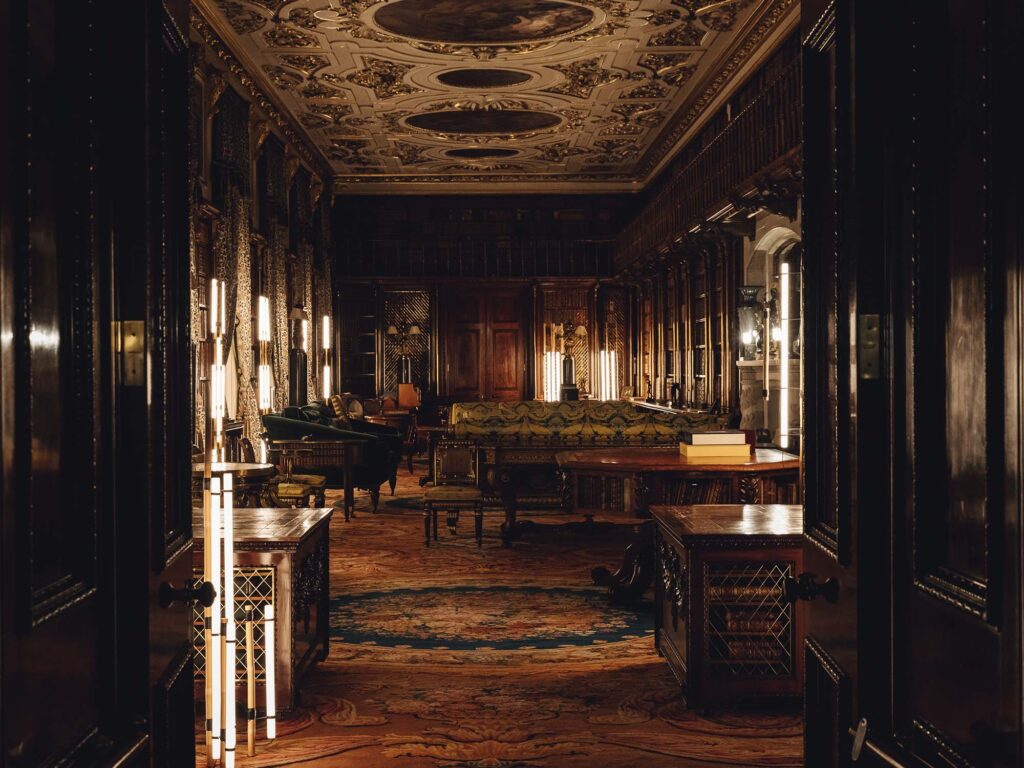 A seminal figure in contemporary design, Michael Anastassiades is internationally renowned for his works that delicately balance material and light.
Anastassiades' light installation for the Library is an indoor grove of bamboo; the stems are carefully hand-finished and tethered to bulbs with waxed linen threads. Originating from an interest in the irregularities of bamboo, these works are explorations in stability, attachment, and assembly. "The project has been an exercise of negotiation with the variability of nature. To understand the material and establish certain constants on which I could build a rhythm. To embrace its peculiarities and accept its unpredictability", says Anastassiades.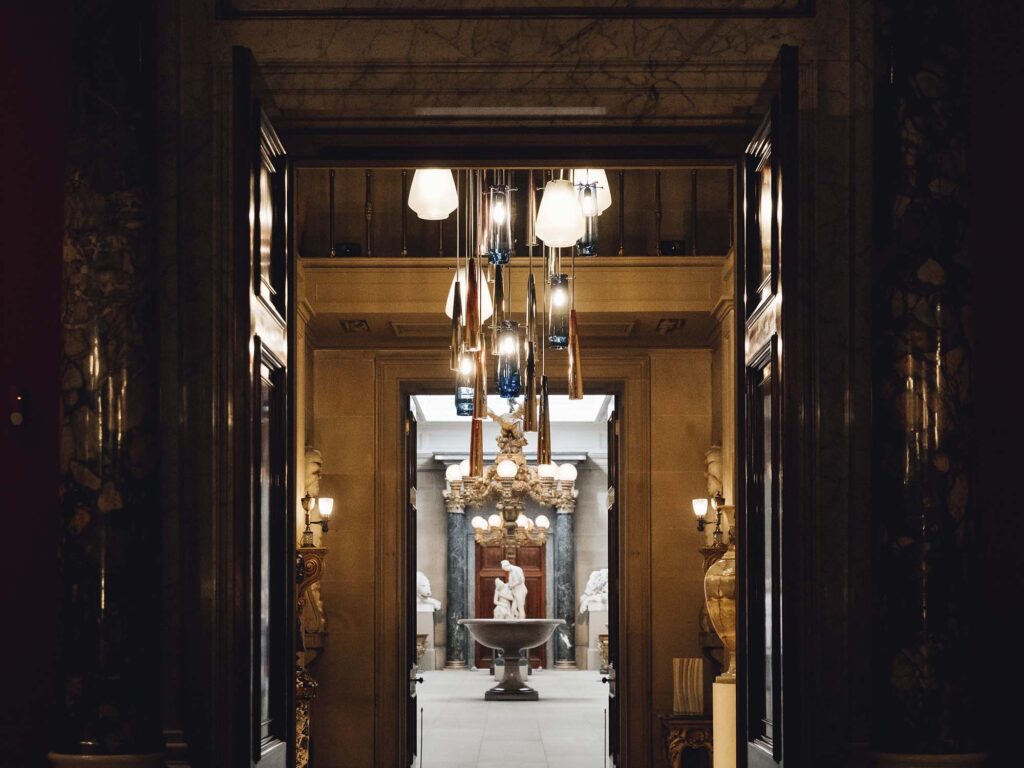 Switzerland-based American designer Ini Archibong's practice is rooted in the expression of spirituality; for him, every design is a physicalization of an unseen force and energy. Communicating through light, color, sound and form to reinterpret traditional archetypes for the 21st century, Archibong's works are intended to invite participation and provoke a multi-sensorial experience from the viewers.
In 2016, he began collaborating with skilled glassblowers in Switzerland to make monumental chandeliers. Dark Vernus, meaning "Dark Spring", is a suspended gathering of vessel-like forms with a powerful spiritual presence, a musical composition made specifically for this setting at Chatsworth. Ini's practice is deeply informed by music and each Vernus symbolizes diverse personal experiences from "finish fetish" car culture, skateboarding, to Pasadena's Rose Parade.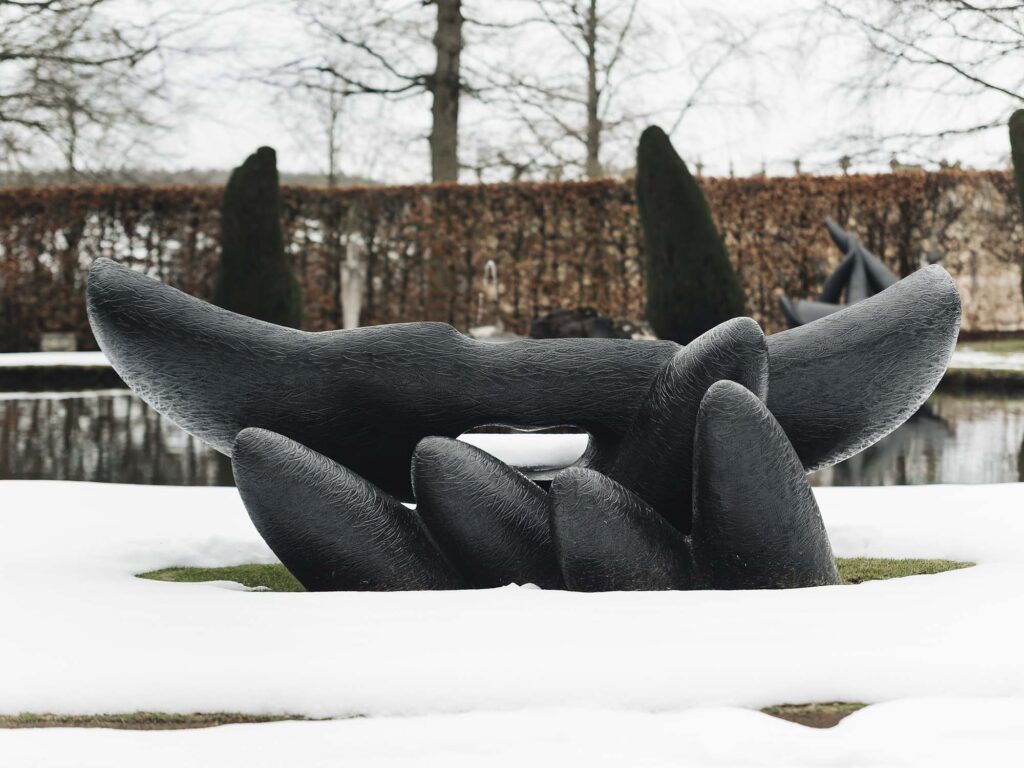 Throughout a celebrated career spanning six decades, Wendell Castle introduced groundbreaking ways of looking at, thinking about, and making furniture. In doing so, he created a new sculptural vocabulary that became the cornerstone of his practice and established him as the father of the American studio furniture movement.
For 'Mirror Mirror', a trio of Castle's cast-bronze works are gathered at the edge of a reflecting pool. These outdoor seatings had been a lifelong aspiration of Castle and had been realized at the end of his career. Together, the pieces testify to Castle's prolific imagination, a perfect match for the surrounding gardens.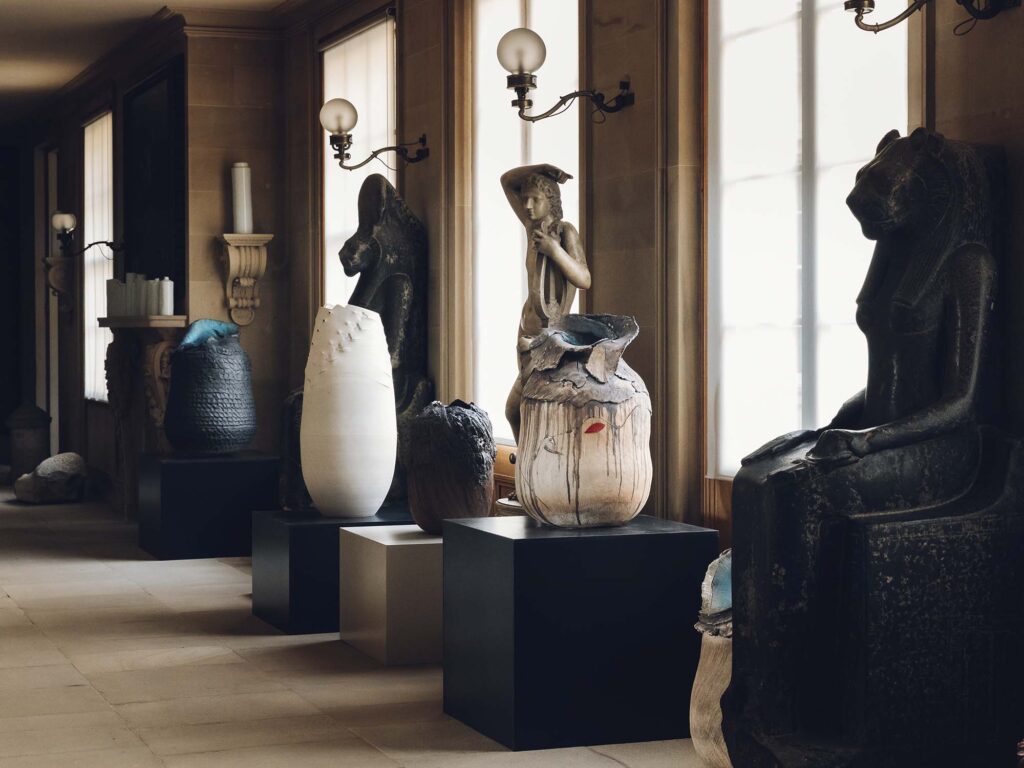 Growing up in the Eastern Cape province of South Africa, ceramic artist Andile Dyalvane 'heard the whisper of the ancestors in the clay.' Today, this inheritance is reflected throughout his practice. His complex, large-scale ceramic artworks often feature symbolic pictograms and patterns, honoring the traditional practices of the Xhosa people.
For these seven works, Dyalvane has returned to the ideas and language he developed in England during his residency at Leach Pottery in St. Ives. The Cornish coastline fired his imagination, and his vessels took on the shapes of crags overlooking the sea.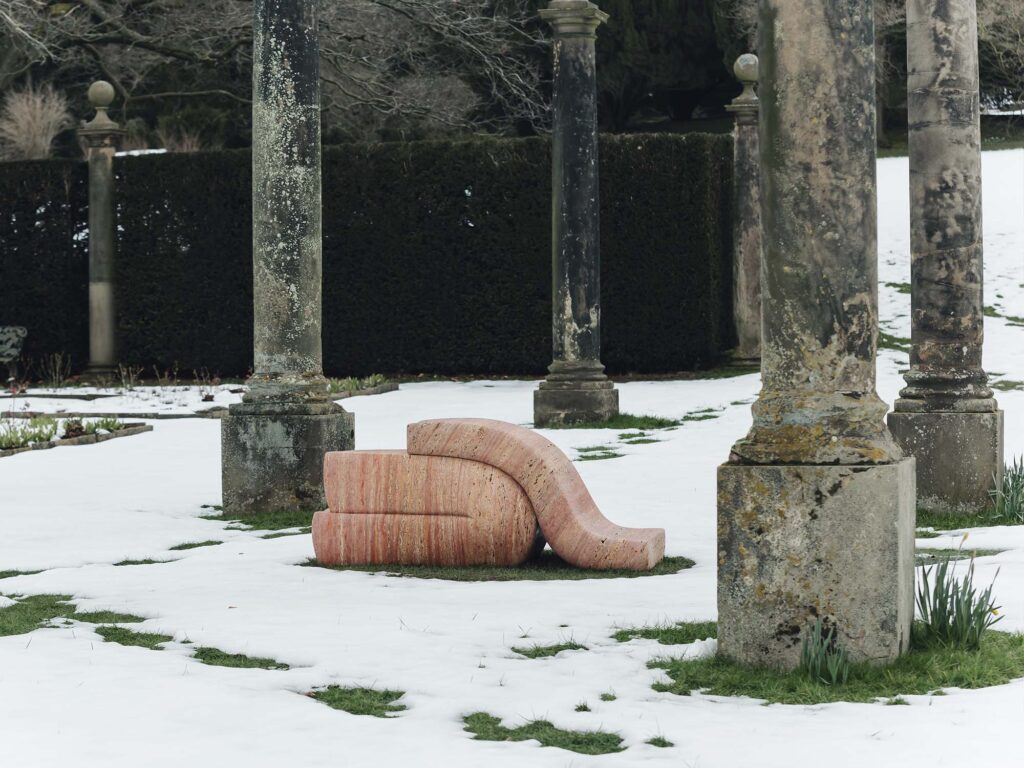 Najla El Zein's work explores the relationship between form, use, and space. Reflecting on human interaction and connection, her approach is rooted in personal observations and experiences. "Design has been a way for me to dissect and analyze every emotion, every thought, every impression, putting a form to it, test it, touch it, get closer to it. Physically making it to be experienced the way I had experienced it," she states.
Seduction, Pair 06 is from a series that traces gradual intimacy between two forms. Here, we see a moment of timid, yet affectionate, proximity. Carved from Iranian red travertine, the communicative power of this work conveys not just the complexity, but also the fundamental importance of human connection by exploring themes such as the unconscious, sensuality, femininity and desire.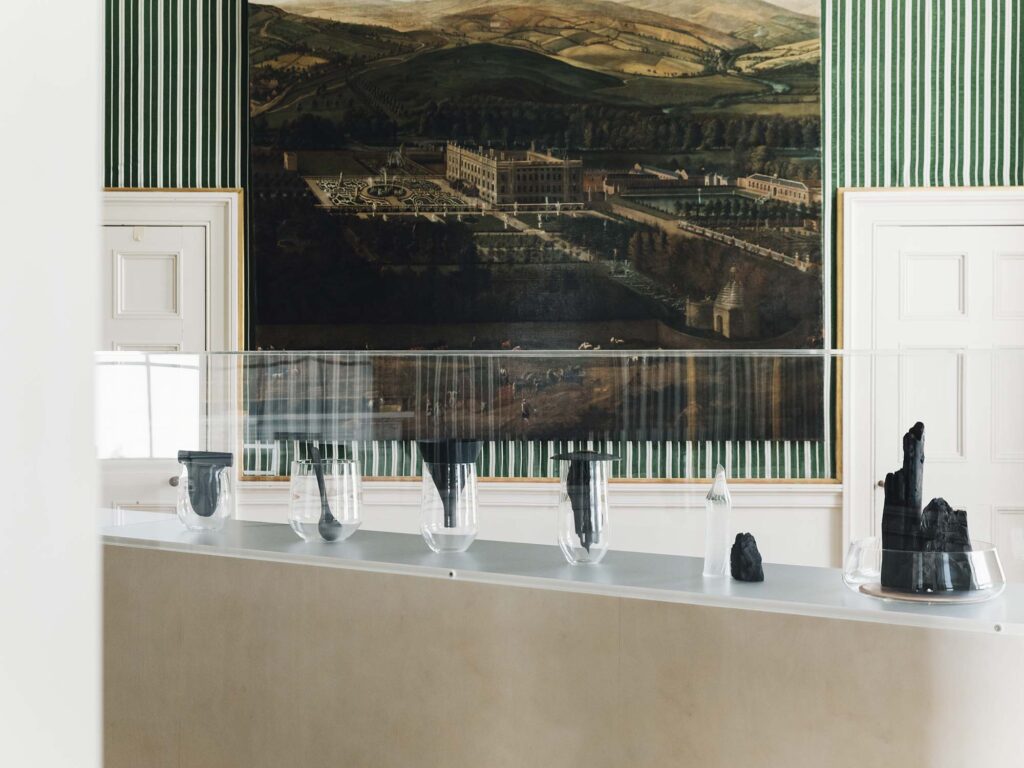 Formafantasma – a research-based design studio led by Andrea Trimarchi and Simone Farresin – investigates the ecological, historical, political, and social forces shaping the discipline of design today. The studio's analytical method translates into meticulous visual outcomes, products, and processes. The "Charcoal series", one of their earliest projects, focuses on the all-but-forgotten craft of charcoal burning.
Interested in the water filtration properties of charcoal, Formafantasma was inspired to make a series of objects with Swiss charcoal burner Doris Wicki. Their collaborative works are presented here alongside historic views of Chatsworth, where charcoal was once an important fuel source.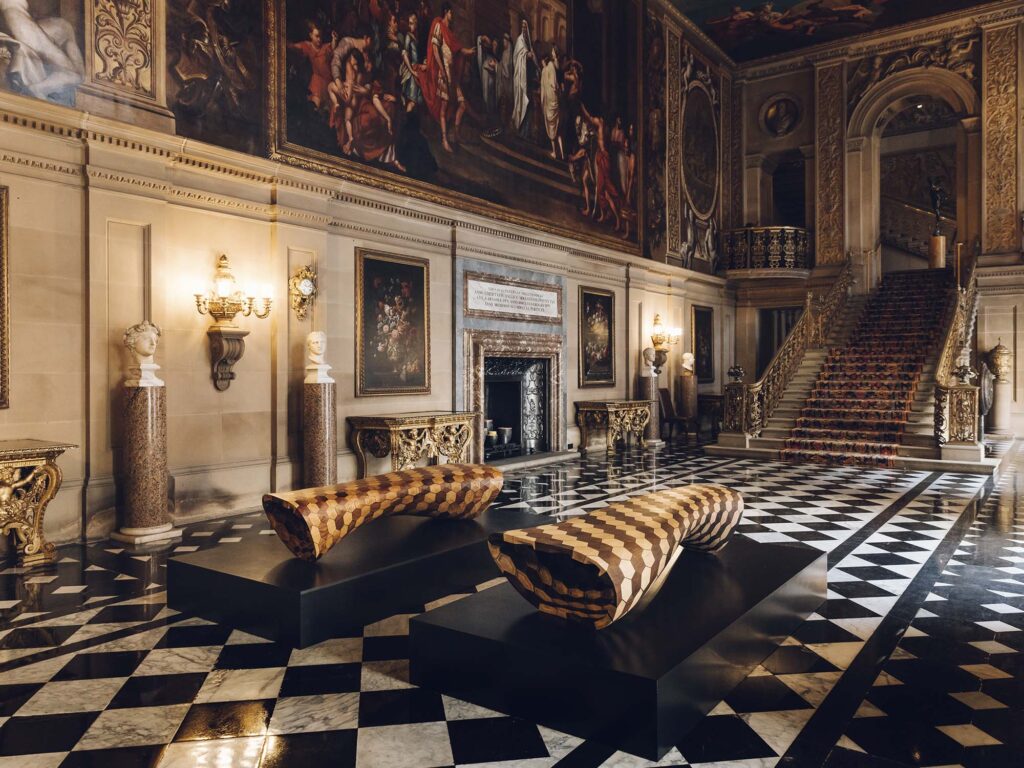 Collaborating with craftsmen, scientists and engineers, Dutch designer Joris Laarman works at the intersection of the digital and the physical world, developing technologies to explore new possibilities in design. The Maker Benches (Hexagon) are part of Laarman's renowned Maker series. Made from hundreds of pieces of interlocking oak and walnut hexagons, the design allows complicated sculptural forms to be joined together as a puzzle. For Laarman, digital fabrication technology has had a radical influence on manufacturing processes in the design world. More than a tool for prototyping, it has enabled the fabrication of unique works.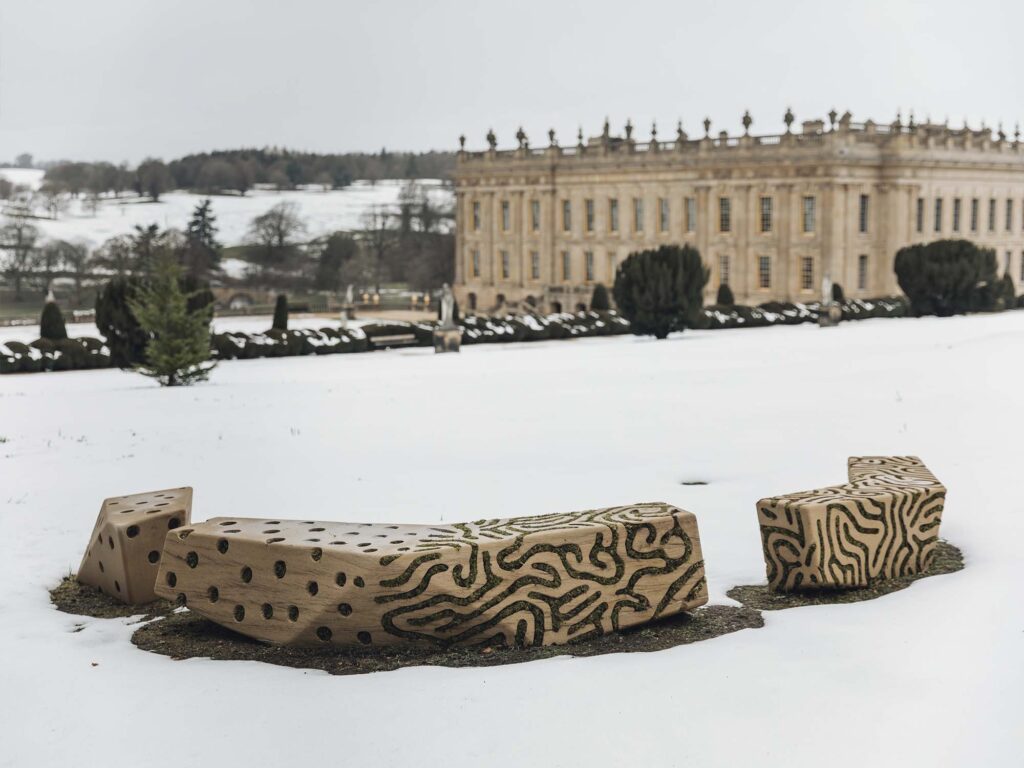 Made in collaboration with nature, Laarman's Symbio Benches have patterns cut into them that hold a special cement, which encourages plant growth. When placed outdoors, mosses and lichens – 'organisms that exist in a radically different time scale than modern life's hastiness,' as Laarman puts it – slowly populate the pieces, completing a pattern that crosses over all three benches.
The stone used for the project is from Chatsworth's own quarry, and was hand-carved by a local mason. The lawn surrounding the pieces has been continuously hand-mown for centuries, and consequently has an abundant and diverse ecosystem that has adapted to this treatment.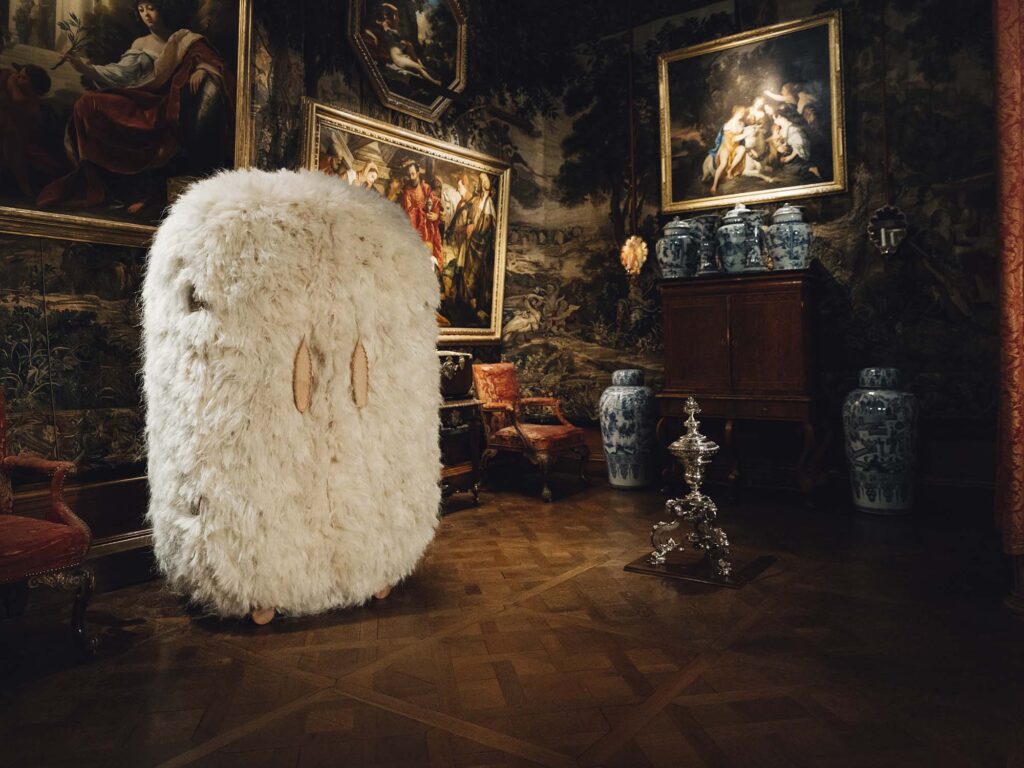 Mexican artist Fernando Laposse works extensively with overlooked and often discarded plant fibers such as sisal, loofah, and corn husks. His works are the result of extensive research and rigorous methods, which culminate in objects of "endemic design."
Laposse creates these two works in close collaboration with indigenous communities in the Mexican town of Tonahuixtla, where people have strong cultural and historical ties to local materials. Sisal is the fiber of the agave plant, a type of succulent used in the production of tequila. Pioneering the innovative use of this material in the region, Laposse also organizes extensive planting of agave with the goal of contributing the community's economy.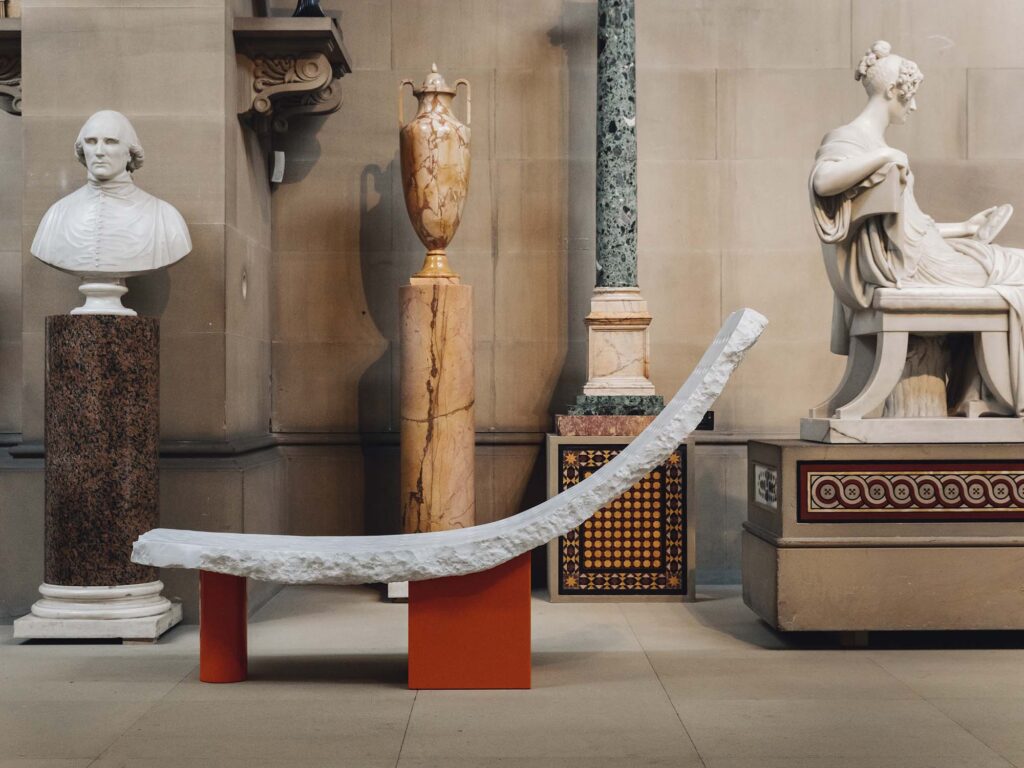 A polymathic creative force, British designer, creative director and artist, Samuel Ross refers to himself as an 'atypical protagonist' in contemporary art and design. He grew up in modernist housing estates in Brixton and the East Midlands, and remains fascinated by the utopian promise of these buildings – but also their blind spots, which he tries to illuminate.
Presented in Chatsworth's Sculpture Gallery, Samuel Ross' RUPTURE series grapples with concepts of connection, severance, incongruity, and abstraction. Marble forms, connoting the monolith, are propped on seemingly too slender geometries of powder-coated steel, finished in Ross' signature safety orange. The works exemplify historic absurdities that reflect homogenization as a normative when contextualizing the diaspora's being.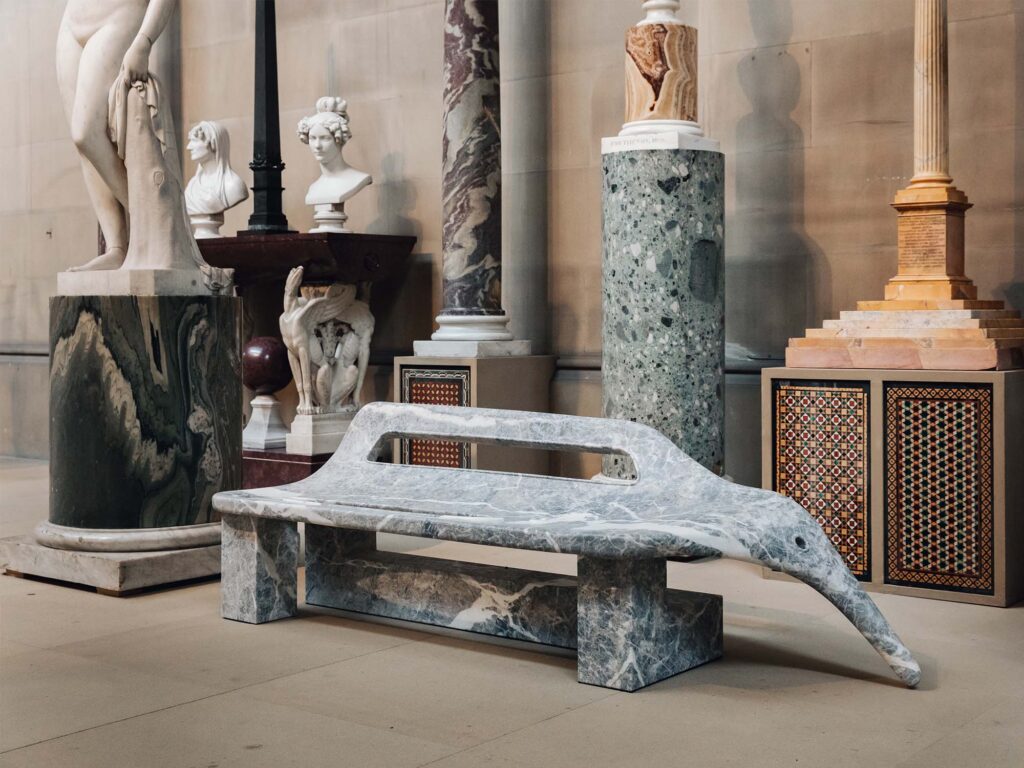 In the AMORPHOUS STRAND series, scorched fragments of OSB are warped into distorted ligaments and unrecognizable forms. Reflective of scar tissue, the series is a case study on compounded experiences and the concept of stress, contortion and absurdity as an operational state of being. This unique "Material Articulation" version of 'Optimistic uncertainties solicit integration", however, is carved entirely out of Fior di Pesca marble to echo the marble 19th-century sculptures in the space.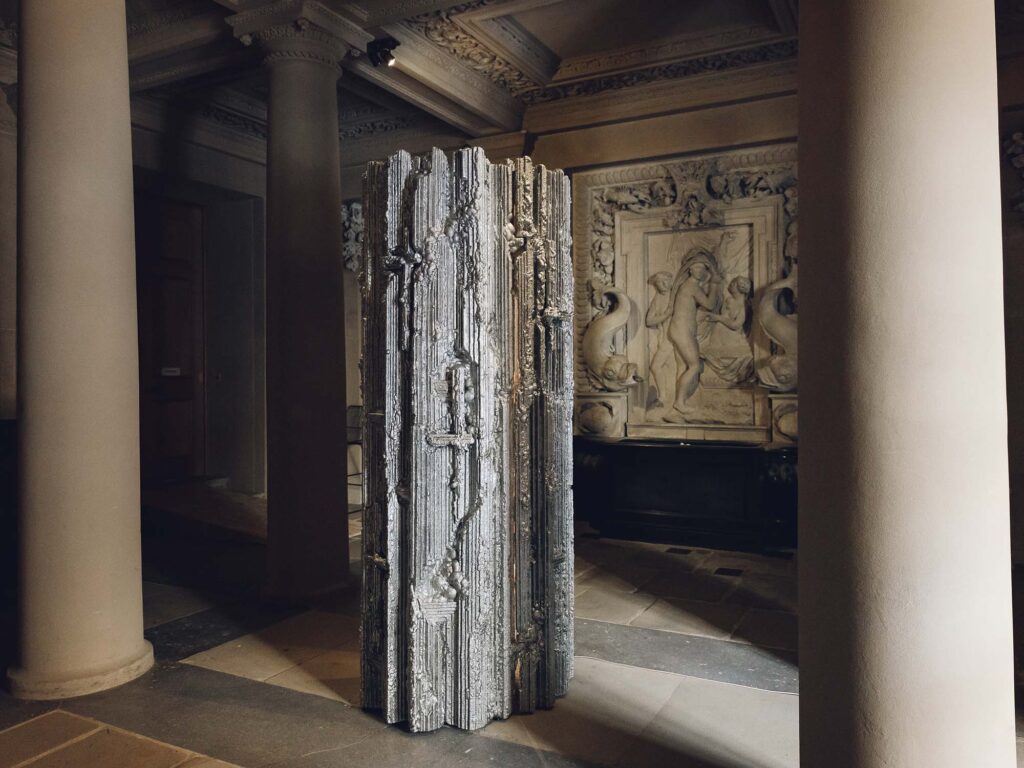 Detroit-based designer Chris Schanck makes furniture out of non-precious materials such as scraps of wood, metal, and foam, which he wraps in metallic foil and a clear coat of resin — a technique that he developed early in his career.
Despite overt references to fantasy and meta-fiction, Schanck's creations are grounded in the reality of humanity's necessity and inventiveness with a vernacular imparted from his neighborhood of Detroit. Each of his pieces is meticulously handcrafted by a team of artists, designers, and Bangladeshi craftspeople from his neighborhood, who all make key contributions to the studio's collective practice.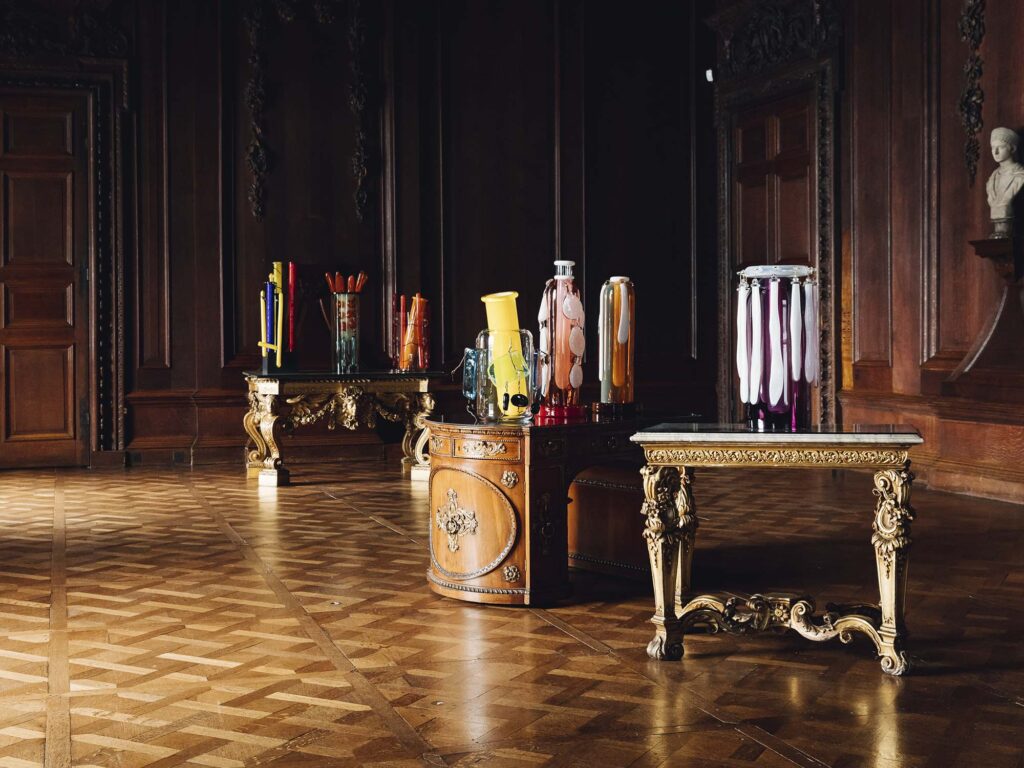 One of the most significant voices in design history, Italian architect and designer Ettore Sottsass was, as the saying goes, a true Renaissance man. Working across media over the course of his long career, he became interested in blown glass – a medium that charmed him with its brilliance and color. He wrote that, unlike a paper cup, a crystal goblet 'has no taste and is fragile, so you know from the beginning that your relationship with this object will have a ritualistic aspect.'
Though he had great respect for traditional glass-blowing, Sottsass departed from its usual methods in surprising ways. He used adhesives and wire to put his pieces together, and introduced striking angles. The resulting objects are abstract totems – spiritual, rather than functional, vessels.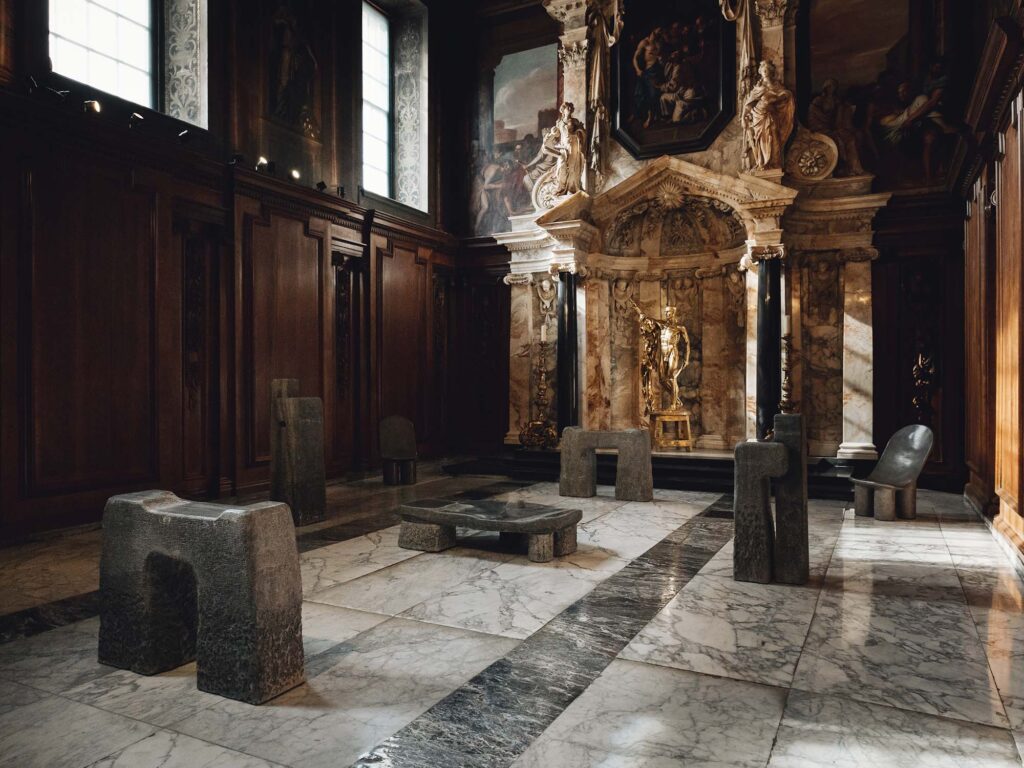 'I felt like I was revealing something that had always been there – something almost prehistoric that had been lost to time, and it was my job to find it again.' This is how British designer Faye Toogood describes her latest body of work, Assemblage 7: Lost and Found; objects appearing to be carefully excavated, as if by an archaeologist.
The pieces in the Chapel are made of Purbeck Marble – a limestone from Dorset with dense deposits of snail shell. Prized in the middle ages, it was often used in English cathedrals. Toogood's elemental forms look even further back to Neolithic standing stones; timeless, as if occupying multiple centuries at once. In acknowledgement of the spiritual setting, Toogood installed a bronze pew and two chairs, giving visitors the chance to sit and contemplate.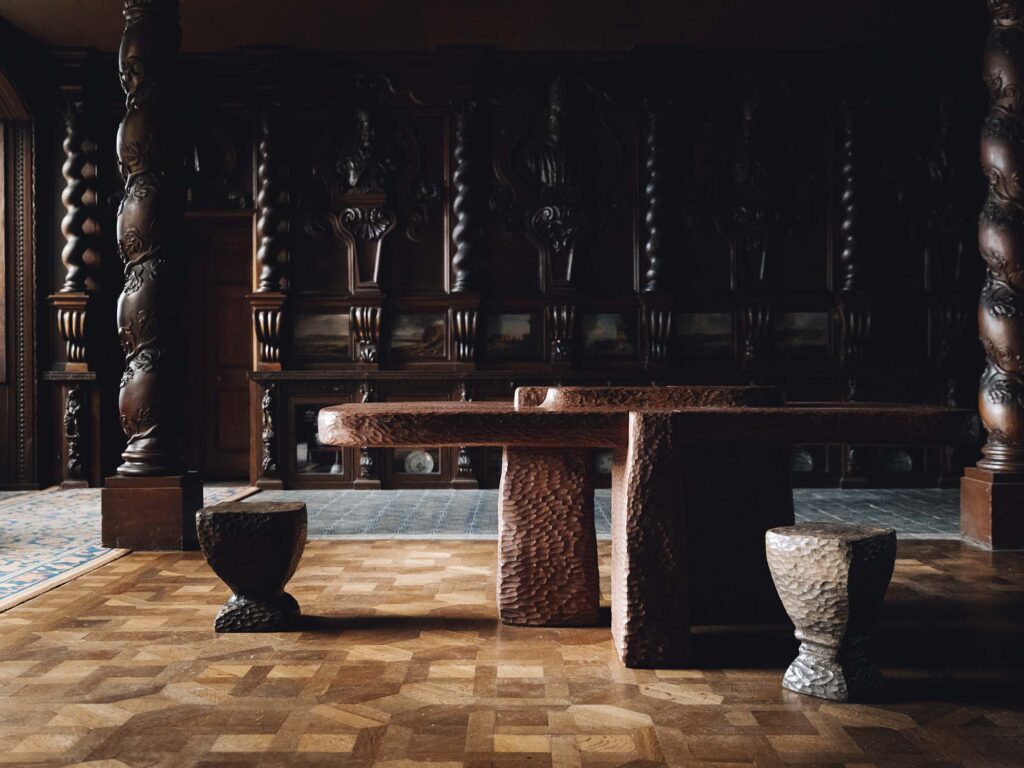 Also part of Faye Toogood's latest work, the oak room centers on a hand-carved oak table, titled "Hill", with a top resembling a miniature landscape: elevated plateaus at each end, and a broad valley between.
Accompanying this monumental table are two stools carved from bog oak, titled "Hoard". The furniture makes for an intriguing contrast with the standing stones that Toogood has placed in the adjoining Chapel: a conversation between the everyday and the sacred.
'Mirror Mirror: Reflections on Design at Chatsworth' is delivered in partnership with Friedman Benda gallery, and with the support of Salon 94 Design and Adrian Sassoon galleries.