By Rosa Bertoli
'Mirror Mirror: Reflections on Design at Chatsworth House' (18 March – 1 October 2023) offers a novel point of view on the house's interiors and contemporary design, through a series of works by some of today's most celebrated designers
At Chatsworth House, contemporary design and craft have always been placed in conversation with historical artefacts and interiors. The Peak District National Park mansion boasts a collection of pieces by global contemporary creatives, commissioned by the Cavendish family and strategically combined into the 16th century interiors.
Mirror Mirror: Reflections on Design at Chatsworth House
For its latest exhibition, 'Mirror Mirror: Reflections on Design at Chatsworth' (18 March – 1 October 2023), independent curator Glenn Adamson worked with Chatsworth's senior curator of programme, Alex Hodby, to select a series of global contemporary designers working across disciplines, whose objects (some of which are especially commissioned) reflect the house's history and interiors.
The exhibition features new commissions from Joris Laarman, Andile Dyalvane, Ndidi Ekubia, Faye Toogood and Jay Sae Jung Oh, while the house also becomes a setting for works by Chris Schanck, Ettore Sottsass, Formafantasma, Max Lamb, Fernando Laposse, Joseph Walsh, Michael Anastassiades, Ini Archibong, Samuel Ross, Najla El Zein and Wendell Castle.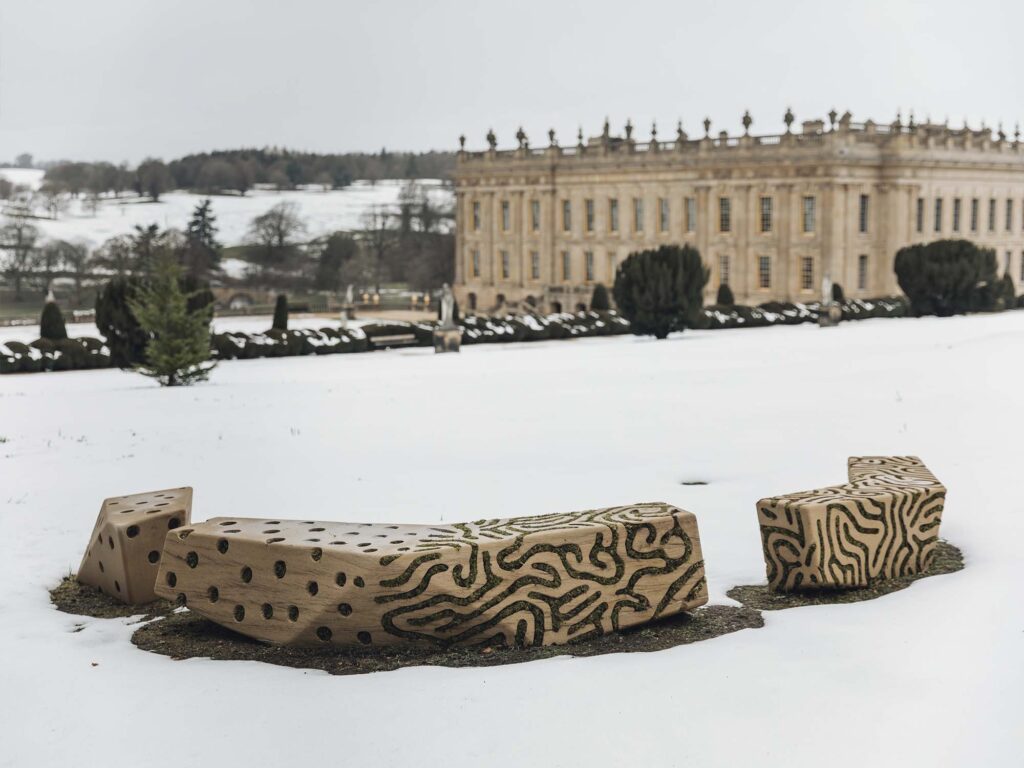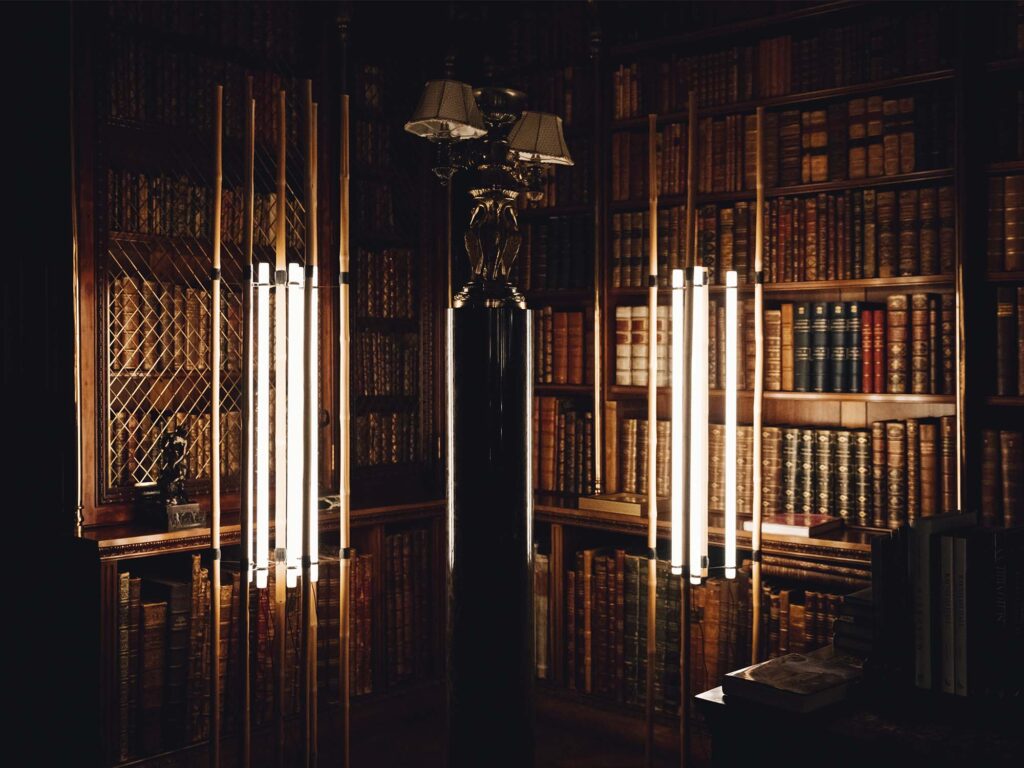 'This project is a fantastic opportunity to reflect on the design histories at Chatsworth and bring them to the fore with an exciting array of international artists and designers,' comments Hodby. 'We're fascinated with how the contemporary works in our exhibition have used materials in innovative ways to make functional and intriguing objects that are also deeply connected to the house, garden and the collections here at Chatsworth – a place where design has been a key feature for 500 years.'
Throughout the house, the stories from the exhibition displays intersect the stories from the historical interiors (if you visit, please stop to ask any of the guides for information, and you'll marvel at the stories and the wealth of knowledge they will more than enthusiastically share).
For example, Seattle-based Korean designer Jay Sae Jung Oh's chair, part of a series made with found objects structured into furniture shapes by tying them with thin leather, is made of musical instruments and placed in the house's State Music Room. Or Michael Anastassiades' bamboo lamps, strategically installed in the library to illuminate the room, their light glowing on the golden decorations on the ceiling.
In the bright, purpose-built 19th-century Sculpture Gallery, Samuel Ross' furniture from the 'Rupture' collection, featuring elements in marble and bright orange aluminium, seemingly reacts to the bodies depicted by the classical marble sculptures.
Other works include Formafantasma's 'Charcoal' series in the Green Satin Room, just off from a display of Ettore Sottsass' Murano glassworks in the Great Chamber. Elsewhere on the house's grounds are sculptures by Najla El Zein in the Rose Garden, abstract seating that 'conveys the emotional complexity of human relationships', and a trio of Wendell Castle's works placed around the Ring Pond.
Also outside in the Salisbury Lawn are newly commissioned pieces by Dutch designer Joris Laarman, whose work blends technology, mathematically complex formulas and a particular attention to the natural world. The 'Symbio Benches' are conceived to host microhabitats in carved channels where a special cement encourages the growth of moss and lichen, which will become established within the structure across time.
Other new commissions placed within the house's rooms include a collection of hand-hammered silver vessels by British artisan Ndidi Ekubia, shown in the State Closet, referencing the room's collection of objects, mirrors and silver chandelier. South African ceramicist Andile Dyalvane's work is shown in the Chapel Corridor, a sunlit connecting space filled with treasures that include neoclassical sculptures, oversized crystals and Egyptian statues. His large-scale vessels were created during a residency at Leach Pottery in St Ives, and celebrate the transformative nature of clay to ceramic with visual nods to fire, water and earth.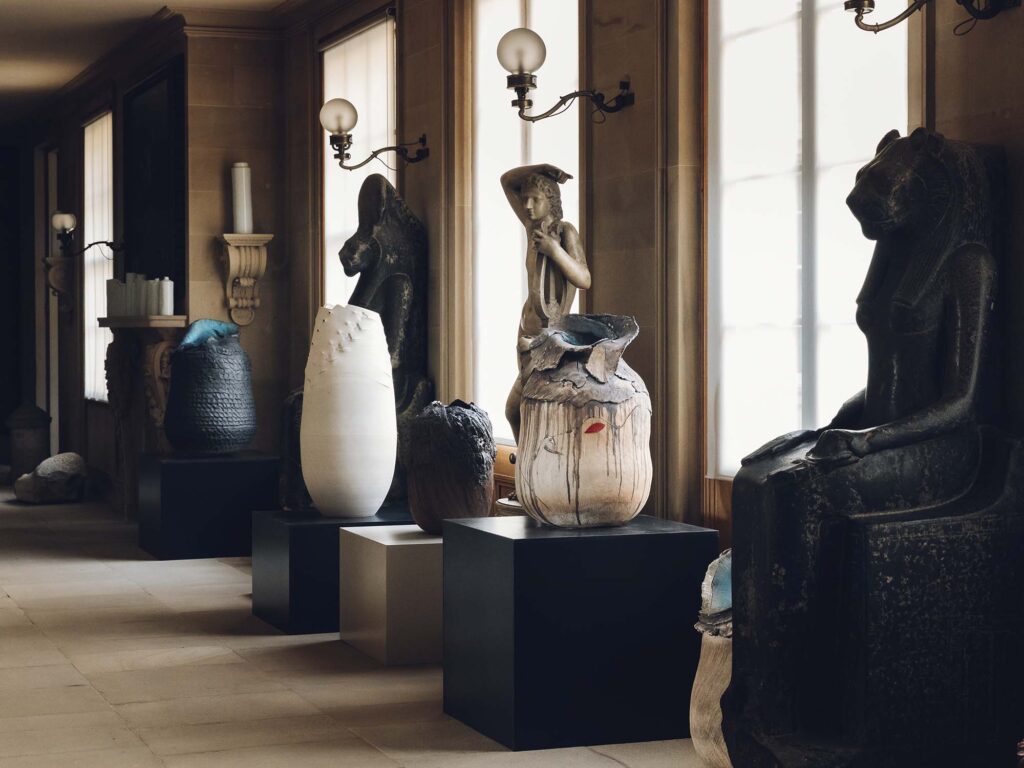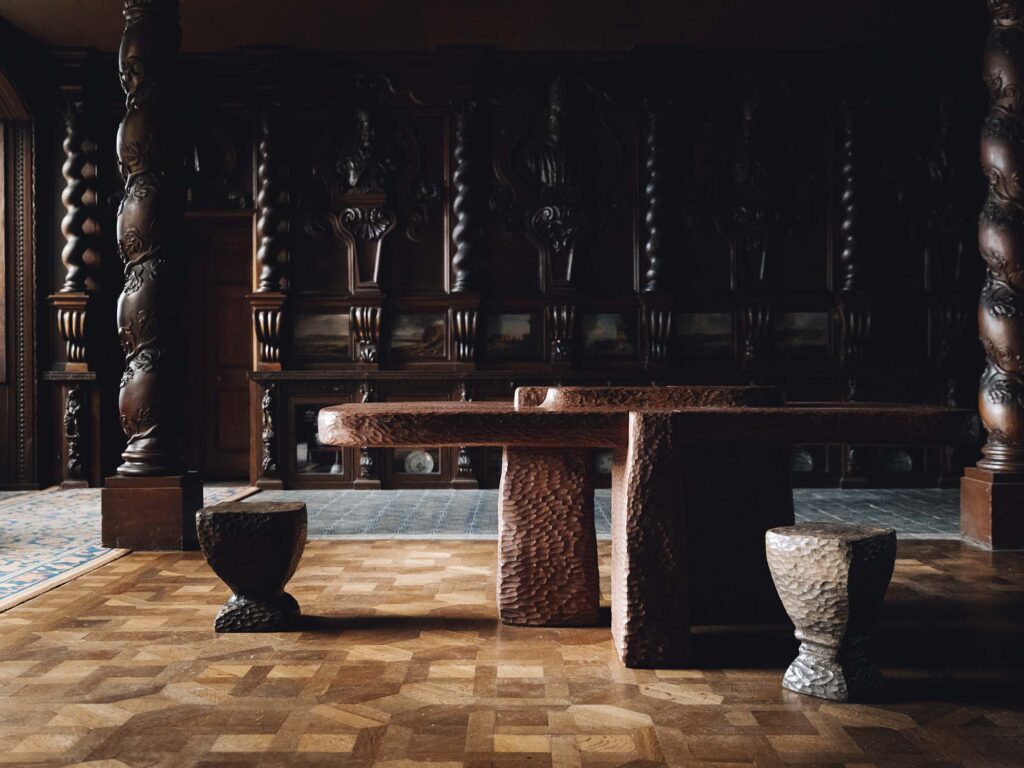 Among the exhibition's most impressive pieces is Faye Toogood's body of work created for the occasion. Part of 'Assemblages', her ongoing exploration of domestic shapes that can be both abstract and functional, the pieces are made of Bog Oak and Purbeck Marble, and shown respectively within the house's Oak Room and Chapel. The stone objects are reminiscent of Neolithic forms, featuring a mix of rough and polished edges: placed in the Chapel as sacred objects and complemented by the designer's bronze seating, inviting visitors to pause for a moment of contemplation, they reference a local history of stone circles in the area.
'Chatsworth is a compelling place to reflect on design,' reads a statement penned by the two curators. 'Wherever you look, in Chatsworth, the house looks back. At every step, you find yourself reflected.'
'Mirror Mirror: Reflections on Design at Chatsworth' is on view from 18 March to 1 October 2023