Friedman Benda presents a third, single-designer installation for its annual participation at Design Miami/Basel 2017, held from June 13 – 18. Featuring the work of Italian designer, Ettore Sottsass (1917-2007), one of the most influential, innovative, and prolific creators of the 20th and early 21st century. The individual experience with objects of daily life was a central preoccupation in Sottsass' output and the visual language that developed as a result of this focus recurs in the full range of his work. This exhibition will celebrate the occasion of Sottsass' centenary with rare works from pivotal early and late moments of his career, offering a view of archetypal forms and materials from noted projects.
Works on view include examples of furniture, lighting, glass and ceramic objects, some of which have not been exhibited or made available since they were first created. Of particular note is Hanging Lamp, 1957, designed for the Italian lighting manufacturer, Arredoluce. Last seen by the public at the 2006 retrospective, Ettore Sottsass: Architect and Designer, at the Los Angeles County Museum of Art, the simple, stacked volumes and juxtaposition of horizontal and vertical lines of this painted aluminum and threaded nylon piece showcase Sottsass' interest in the artistry of painting and color as well as re-creating visual stimulation with three-dimensional objects.
Cabinet, 1964 and Cabinet no. 81, 2005, are two exceptional works that are representative of Sottsass' lifelong investigation of monolithic form and dialogue between architecture and furniture. When viewed in the same context, their formal connections become apparent despite having forty years between their creation. The early counterpart reveals Sottsass' concentration on creating visual contrast with line and color while the later example highlights greater complexity of form and surface through its deconstructed elements and stunning wood veneer. This exhibition will mark the first public viewing for Cabinet since it was shown in Milan in 1965, and the first time it will be made available for sale since it was originally acquired.
2017-2018 will be highlighted by several institutional exhibitions of Ettore Sottsass' work. From April 10 – July 30, 2017, the Stanze del Vetro in Venice will feature the designer's achievements in glass; for the summer and fall, both the Metropolitan Museum of Art – Met Breuer and the Triennale di Milano have announced major surveys of Sottsass' life and work.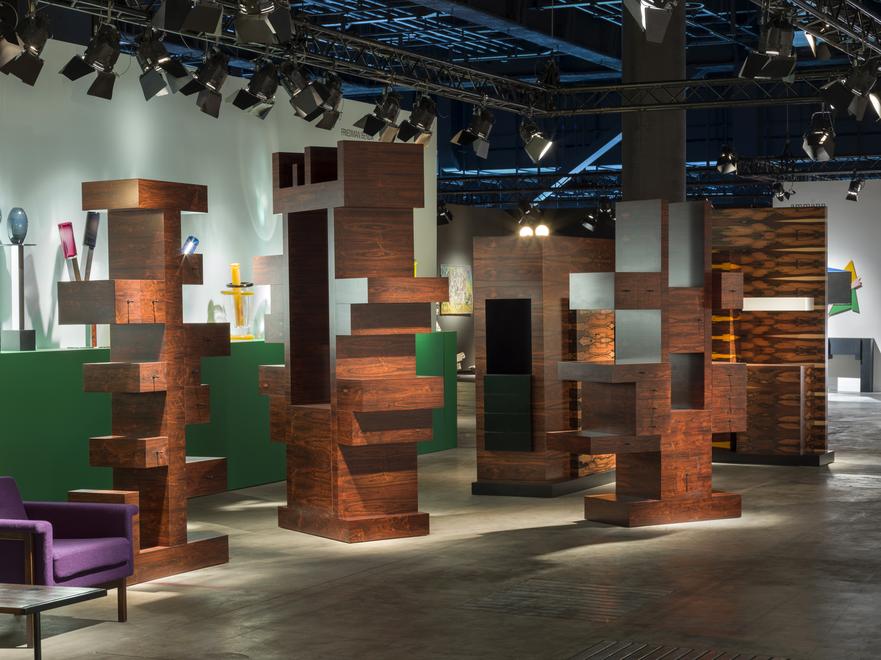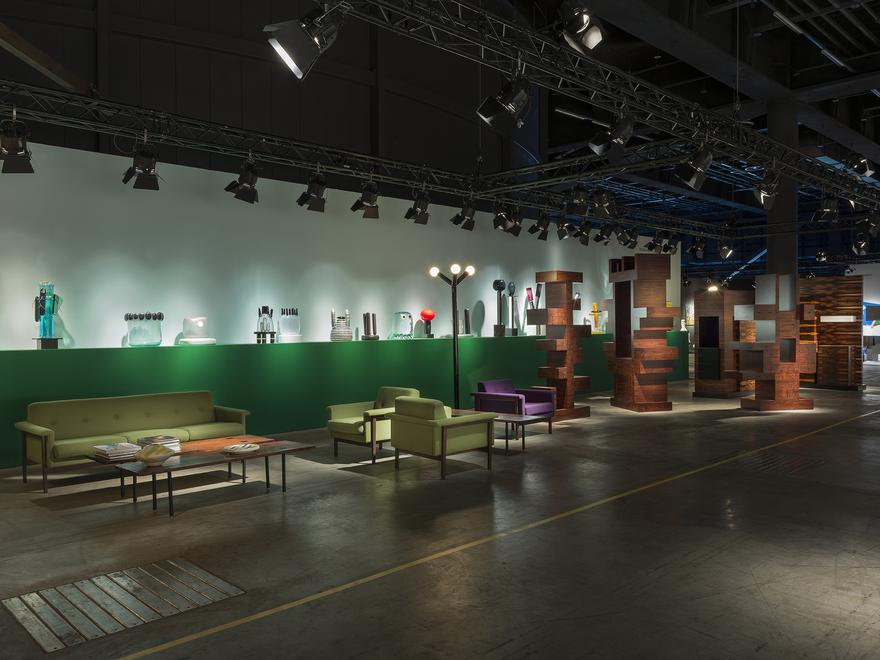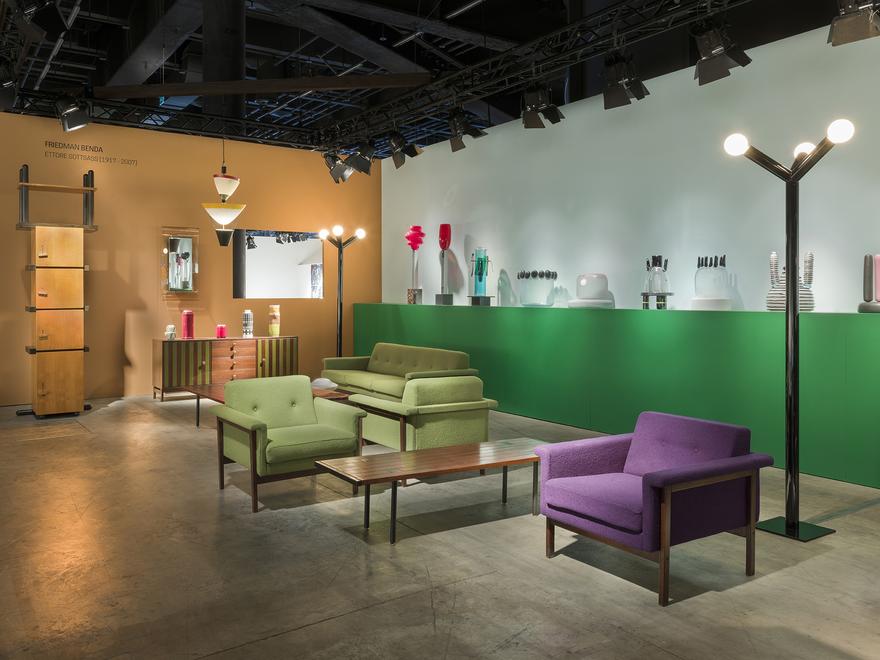 ABOUT ETTORE SOTTSASS
One of the most significant counter-forces to modernism in design history, Ettore Sottsass brought his powerful artistic vision to a comprehensive range of disciplines: architecture, ceramics, furniture, glass, painting, photography, and industrial design.
Born in Innsbruck, Austria in 1917 and raised in Turin, Sottsass graduated from Turin University in 1939 with a degree in Architecture. Immediately upon graduation, he was drafted into the Italian army during WWII. In the early part of his career spanning six decades, Sottsass moved skillfully between industrial design and independent experimentation. His bright red Valentine portable typewriter (1968) is only one well known example from a huge range of products he realized for his most important corporate client, the office goods manufacturer Olivetti for whom he also realized prescient designs for computing workstations. During this time he was creating ceramics and furniture of great spiritual intensity, synthesizing modernist abstraction with forms from ancient cultures.
This syncretic approach, at once progressive and primordial, informed his contribution to the seminal exhibition Italy: The New Domestic Landscape at the Museum of Modern Art in 1972, and his involvement in a number of avant garde groups and projects, including Global Tools, Studio Alchimia, and the Milanese avant garde project Memphis, which he founded in 1981. Through his design firm Sottsass Associati he also maintained a practice as a product designer, for Alessi among others, and as an architect, in a series of retail spaces for Esprit as well as private residences.
In the last fifteen years of his life, Sottsass achieved a new level of heightened craftsmanship moving away from the industrial materials and methods that were his focus for the majority of his career. During this time, he realized bodies of work marked by an appreciation for rarefied materials—from blown-glass and ceramic objects to large-scale wooden and metal cabinets. Informed by his careful observation of design traditions and mastery of form and proportion, each work continued his exploration into the social and cultural implications of contemporary design that characterized his career.
Through these diverse activities, Sottsass established a distinctive and expansive design vocabulary, composed of seeming oppositions up until his death. His work is extraordinarily deep in its cultural references, yet delighted in a beguiling play of surfaces. Sottsass' abstractions had latent anthropomorphism; his forms are both playful and monumental. The dialectical complexity of his thought—grounded in the idea that design can have an remarkable range of expression—was revolutionary. Sottsass left behind a prolific compilation of essays and scholarship, all of which continue to influence designers around the world today.
Sottsass' work can be found in the permanent collections of numerous international museums, including the Centre Pompidou, Paris; Corning Museum of Glass, NY; Los Angeles County Museum of Art, CA; M+ Museum, Hong Kong, Metropolitan Museum of Art, New York, NY; Museum of Fine Arts, Houston, TX; Philadelphia Museum of Art, PA; Stedelijk Museum, Amsterdam; and Victoria & Albert Museum, London.
Sottsass died in 2007 in Milan, Italy.