REMEMBERING FERNANDO CAMPANA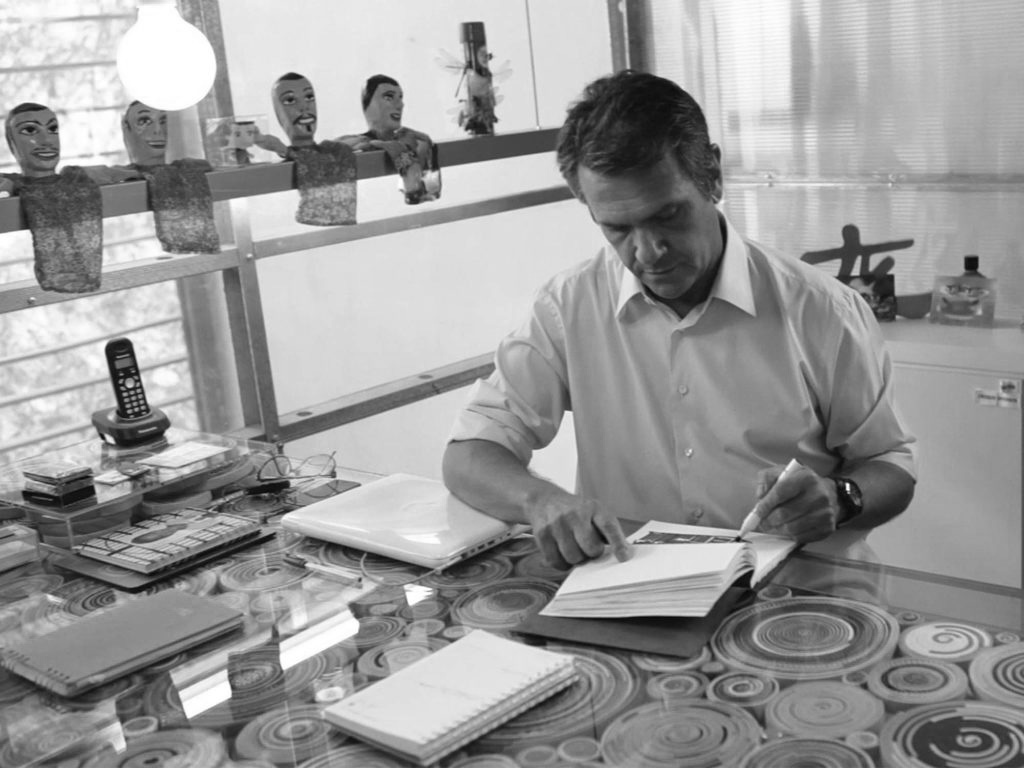 It is with great sadness that we memorialize Fernando Campana, a friend of many years and a giant in the field of design. Together with his elder brother Humberto, he was one of the prime movers in design for the past four decades, a creative genius who led a career of constant, unpredictable innovation and discovery. The Campana Brothers never stopped exploring unknown territory.
Estudio Campana, which the brothers founded in 1984, has been emblematic of Brazilian design, and has played a leading role in expanding the global conversation of the discipline. Through their diverse body of work – ranging from the readymade to the artisanal, vernacular to Pop, humorous to melancholy – it has been unfailingly original, setting a template for others worldwide.
Fernando was born in Brotas, a small town outside São Paolo, in 1961. Even as a child, he recalled, "my thing was to build planes and spaceships with scraps of wood and the junk I found lying around." He successively fell in love with movies, then museums, then architecture, which he studied at the São Paolo School of Fine Arts from 1979 and 1981. Soon after, he began helping out in Humberto's art studio, and gradually their conversations led to a truly generative partnership.
Their first collaborative works were the Desconfortáveis (Uncomfortables), a series begun in 1989. These stark metal chairs departed radically from the refinement of Brazilian modern furniture, instead exploring "the poetry of the distorted, the poetry of error." These led to other, equally confrontational designs that incorporated everyday materials, as in their Plastico Bolha chair, whose seat and back are formed from a thick pad of bubble wrap.
Self-taught as designers, they treated the Brazilian neighborhoods as their school and laboratory, drawing their energy from "the chaos and beauty of the city we live in." A breakthrough came in 1991, with the Favela chair, an anarchic assemblage nailed together from fragments of wood – still one of their most recognizable designs. Together with the later Vermelha (1998), with its seat of randomly interlaced red rope, it announced a novel improvisatory approach. These works became sensations when they were put into production by the Italian manufacturer Edra – marking the first time that designers from South America became leading lights in the European design industry.
From there the Campanas went from strength to strength, collaborating with international brands including Alessi, Artemide, Fendi, Louis Vuitton, and Melissa, among many others. They also developed an interiors and architectural practice, with such high-profile commissions as the Café Campana at Musée d'Orsay. Increasingly, they also concentrated their formidable energies on limited-edition works that pushed the boundaries of what design could be, and look like. Found objects and materials continued to play an important role, as in their Sushi collection, made of tightly rolled, salvaged carpeting and rubber, and their much-loved chairs "upholstered" in stuffed animals.
A parallel focus for the studio was Brazil's extraordinary depth in traditional craft. They channeled this essential human potential in new, energetic directions, collaborating with traditional leather boot makers (for the Cangaço series) and chair caners (for their Detonado cabinets). For their Pirarucu furniture, the Campanas worked with an NGO dedicated to the preservation and reintroduction of an ancient Amazonian fish; they treated its skin, which is usually discarded when the pirarucu are caught, as a precious material. Here, as so often, Fernando and Humberto found a haunting and powerful beauty in the overlooked.
Since a first exhibition at the Museum of Modern Art in 1998 (for which they were paired with Ingo Maurer), Estudio Campana has received extensive institutional attention for their work. They are represented in the collections of the Centre Pompidou, the Musée Des Arts Décoratifs, MoMA, and the Vitra Design Museum, among many others. In 2020, they were the subject of 35 Revolutions at Museum of Modern Art, Rio de Janeiro, a full retrospective on the occasion of their 35th anniversary.
It has been an incredible trajectory, and at each step forging a new path. At no point could one have predicted what the brothers would make next, yet it has always seemed totally right, and totally them. In recent years, Fernando has devoted himself more and more to his studio, creating collages which have his characteristic inventiveness, lightness of touch, and economy of means. With his passing, we can only reflect on how much he has given to those around him, to Brazil, and to the whole world of design. Our thoughts are with his brother Humberto, all his family, and the entire Estudio Campana. A wonderful presence has been taken from them, and from us all, but he will always be remembered.
— Marc Benda, Jennifer Olshin