"My vocabulary has always been organic; sometimes I think of it as actually growing from a seed or idea. My ideas actually grow into something." -Wendell Castle, 2017
For its inaugural participation at TEFAF New York, Friedman Benda will present Wendell Castle: A New Vocabulary, a solo exhibition of the late American designer Wendell Castle (1932-2018).
Throughout a celebrated career spanning six decades, Castle introduced new ways of looking at, thinking about, and making furniture. In doing so, he created a new sculptural vocabulary that defied categorization. Wendell Castle: A New Vocabulary, an exhibition of seminal works, brings together early and formative pieces rarely shown outside of public collections and museum exhibitions in dialogue with ambitious late works.
This stand-alone presentation in one of the Park Avenue Armory's historic rooms, examines a sculptural approach to design that defined Castle's practice from the late 1950s onwards. With his pioneering use of the technique of stack lamination, he was able to develop innovative forms and volumes, laying the foundation of his approach and subsequently that of the furniture as art movement. At every stage, Castle endeavored to incorporate innovations in materials and design. Late in his career, Castle exploited the possibilities of advanced technologies, such as 3D scanning, modelling and milling, to create increasingly dynamic and expressive bodies of work.
This exhibition will be accompanied by a publication with an introductory essay and texts by Glenn Adamson, Yale senior scholar, contributor to the Wendell Castle Catalogue Raisonne, and former Director of the Museum of Arts and Design.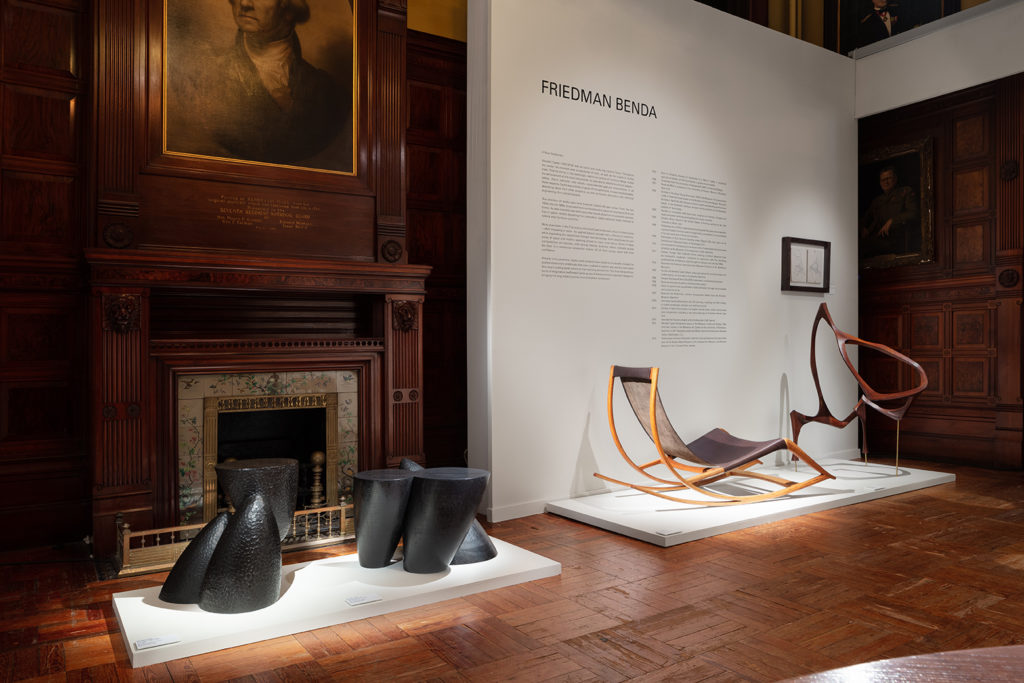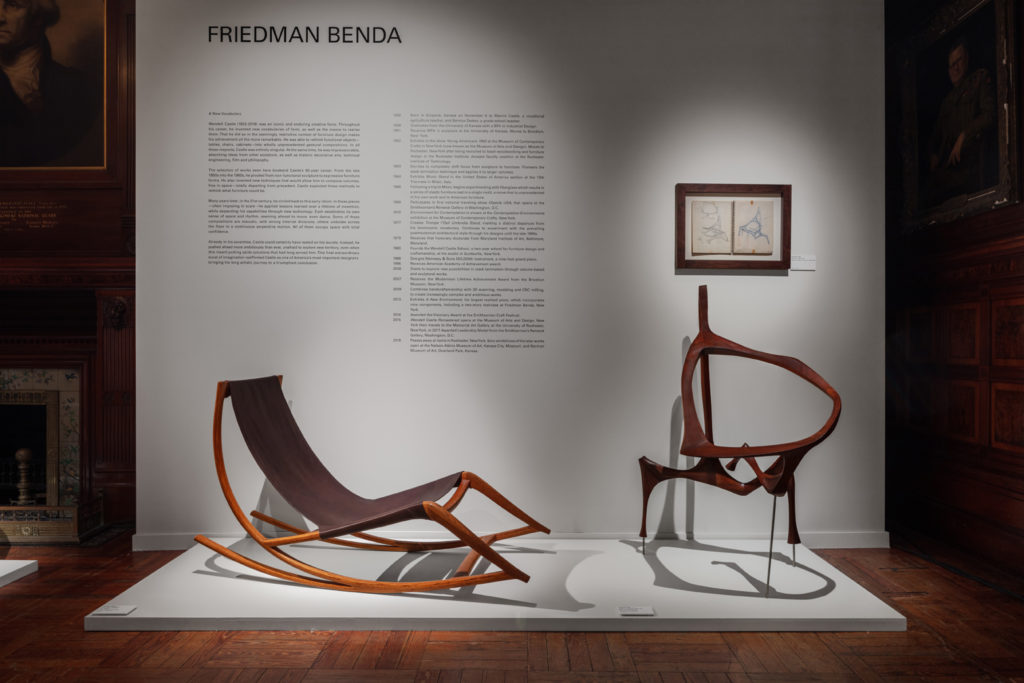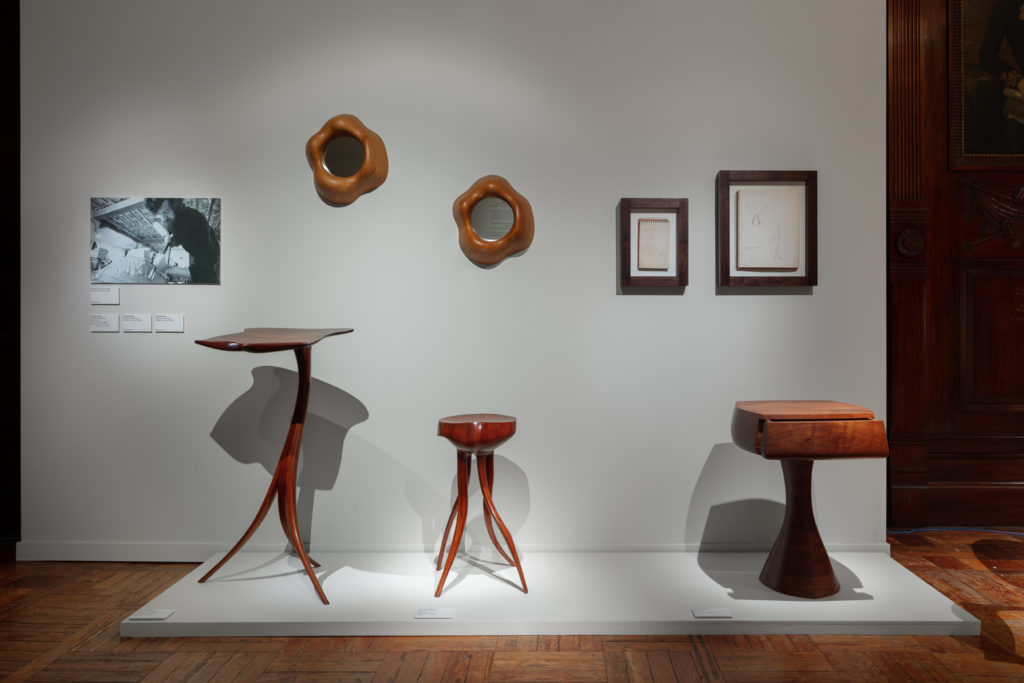 ABOUT WENDELL CASTLE
Throughout a celebrated career spanning six decades, Wendell Castle introduced groundbreaking ways of looking at, thinking about, and making furniture. In doing so, he created a new sculptural vocabulary that became the cornerstone of his practice and established him as the father of the American studio furniture movement. Up until his death, Castle continued to defy categorization through his sheer creative drive.
Born in Emporia, Kansas in 1932, Castle received a Bachelor's Fine Art in Industrial Design from the University of Kansas in 1958 and a Masters of Fine Art in Sculpture in 1961. He moved to Rochester, New York to teach at the School for American Crafts, Rochester Institute of Technology, and established a permanent studio in the area which would remain active for almost 60 years.
In 1963, Castle pioneered the use of stack lamination, enabling him to compose volumes without being constrained by the inherent limitations of his signature material, wood. He soon gained international recognition and was included in key exhibitions, including the 1964 Triennale di Milano and the seminal touring show Objects USA (1969) which began at the Smithsonian American Art Museum, Washington D.C. During the last decade of his life, Castle achieved some of his most ambitious work of his career by combining the laminating process with 21st century digital technology and realizing works in cast-bronze, which had been a lifelong aspiration.
Castle was the recipient of numerous honors and awards, including four grants from the National Endowment for the Arts, three honorary degrees, a Visionaries of the American Craft Movement Award from the American Craft Museum (1994), the American Craft Council Gold Medal (1997), Master of the Medium Award from The James Renwick Alliance of National Museum of American Art (1999), and a Lifetime Achievement Award from the Brooklyn Museum of Art (2007).
His works can be found in the permanent collections of more than 40 museums and cultural institutions worldwide, including: Art Institute of Chicago, IL; Los Angeles County Museum of Art, CA; the Metropolitan Museum of Art, New York, NY; Minneapolis Institute of Arts, MN; Musée des beaux-arts de Montréal, Quebec; Museum of Arts and Design, New York, NY; Museum of Fine Arts, Boston, MA; Museum of Fine Arts, Houston, TX; Museum of Modern Art, New York, NY; Nelson Atkins Museum of Art, Kansas City, MO; Philadelphia Museum of Art, PA; Renwick Gallery, Smithsonian Institution, Washington, DC, and the Victoria & Albert Museum, London.
Castle died in 2018 in Rochester, NY.