"What I love most is the absurd image which defies all explanations"
– Tadanori Yokoo
Friedman Benda Gallery is pleased to announce the first American gallery exhibition for Japanese artist, Tadanori Yokoo. The exhibition will run from September 11 through October 18, 2008, and will show the largest group of paintings and installation work seen outside of Japan since the Fondation Cartier exhibition in Paris, 2005. Most of the works are coming to Friedman Benda direct from Museum exhibitions in Setagaya in Tokyo, and Hyogo in Kobe. Tadanori Yokoo is curated by Eric Shiner and there will be a reception for the artist on September 11th at Friedman Benda. On Friday night September 12, Shiner will interview Yokoo at the Japan Society, open to the public.
A towering influence on the evolution and iconography of Japanese contemporary art, Yokoo has straddled the boundaries of commercial and fine art since the 1960s. His brilliance lies in his ability to weave mass imagery into complexly layered pictorial tableaux that trigger collective and personal memories.
Yokoo's appropriation of imagery and initial emergence during the American pop movement has linked his work to artists such as Andy Warhol and Roy Lichtenstein but it is his ever-evolving stylistic agility that has enabled him to captivate, communicate, and remain relevant to an enormous popular audience for over a half century.
A central figure in the Tokyo avant-garde, Yokoo's highly accessible poster and graphic work was universally recognized as were his collaborations with most of Japan's best-known underground personalities including filmmaker Akira Kurosawa and the writer Yukio Mishima. With them and in his own right, he upset mainstream trends and championed subversity in an entire generation of dancers, poets, and visual artists.
Friedman Benda's exhibition will highlight selections from a number of important bodies of work that incite a sense of cosmic wonder and universal consciousness, and speak to the potential for spiritual transformation through art. The paintings are animated and painterly, and proliferate with non-sequential imagery, derived from sources ranging from childhood dreams, personalized fears and impressions of his often imaginary indigenous landscape as well as Japanese historical and western classical painting. By dissolving notions of time and conjuring notions of other worlds, he merges the real with the imagined and activates the imagination of the viewer with his surreal, kaleidoscopic realities.
With the "Y-junctions," Yokoo presents dimly-lit, distorted renderings of pedestrian crossroads in order to raise greater metaphysical questions about life. These paintings are poetic renderings of light and color that bring a sublime beauty to even the most mundane of urban landscapes. In his "red paintings," he sets figures in unidentified fire-hot environments, where the seeming incandescence produces an effect at once haunting and optimistic. The "bathhouse series" references a traditional Japanese scene but so thoroughly loads the works with conflated imagery that the vernacular is rendered unrecognizeable.
All of Yokoo's recent works speak to our contemporary world of stimulation and dissolution of borders, and possess disarming narratives that evoke the experience of memory.
Tadanori Yokoo was born in 1936 in Hyogo Prefecture. He began his career as a stage designer but quickly turned to commercial graphic work, catapulting to fame with his poster-art. Yokoo is an artist whose mastery of graphic communication has always garnered international attention, and he has exhibited annually since 1965. In 1968, he was recognized by the Museum of Modern Art, where he took part in the seminal Word and Image exhibition. In 1972, The MoMa gave then 36-year old Yokoo, a one-man exhibition that was followed by another solo-show at the Stedelijk Museum, Amsterdam.
Since 1981, Yokoo has devoted himself to painting and has produced some of his most fascinating and personal work through this medium. During the last 25 years, he has limited the exposure of his paintings to Museum and Biennale venues. Highlights of these shows include his 1985 appearance in both the Paris Biennial and the Sao Paulo Biennial and shows throughout the 1980s and 90s in The Israel Museum, Jerusalem, The Contemporary Art Center, New Orleans, and countless shows in Japanese museums including the Hara in Tokyo, Museum of Modern Art, Toyama. In 2005, Yokoo had a major painting exhibition at the Fondation Cartier in Paris.
Tadanori Yokoo's works are in public and private collections all over the world. He is an essential artist for many Japanese Contemporary collections and is represented in a large number of western museums including The Metropolitan Museum of Art, New York; The Museum of Modern Art, New York; The Stedelijk Museum, Amsterdam; The Victoria and Albert Museum, London; The Fondation Cartier pour l'art Contemporain, Paris; The J. Paul Getty Museum, Los Angeles; and The Walker Art Center, Minneapolis.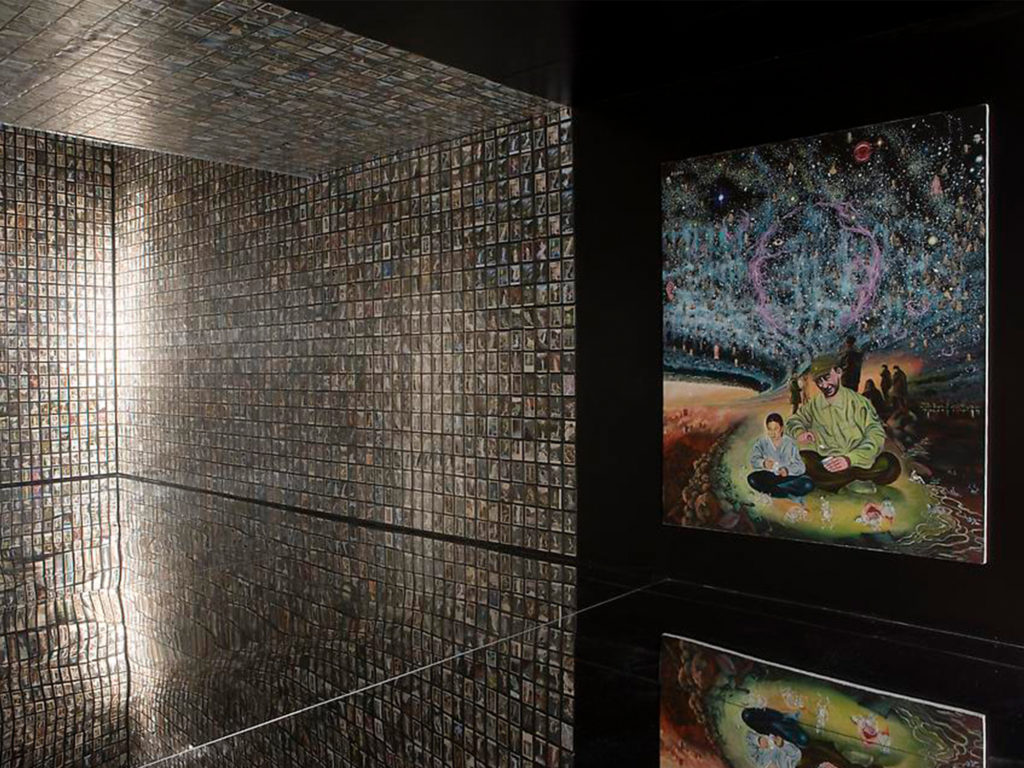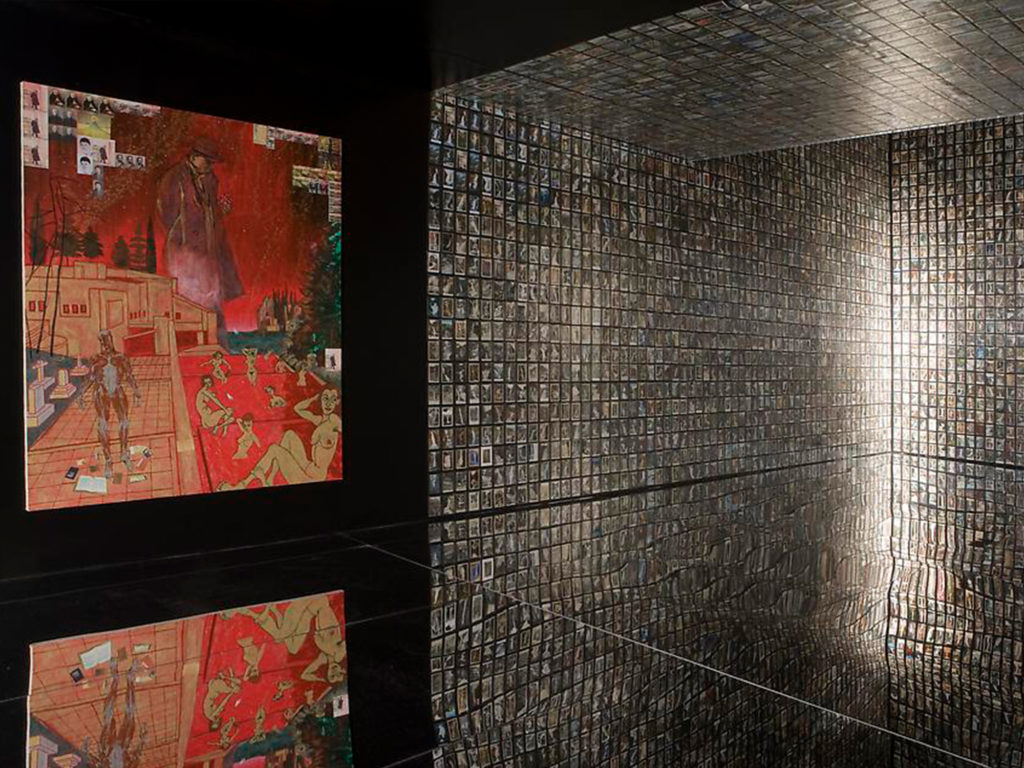 ABOUT TADANORI YOKOO
Tadanori Yokoo was born in Nishiwaki, Hyōgo Prefecture, in 1936. He joined the prestigious Nippon Design Center in 1960, but left after four years to pursue his personal path in art. By 1972, he was featured in a solo exhibition, Graphics of Tadanori Yokoo, at the Museum of Modern Art, as one of the youngest artists to receive the honor. After witnessing a Picasso retrospective at the same museum in 1980, he famously retired from design work and devoted himself to painting.
Yokoo's work has been the subject of countless solo exhibitions and is held in the permanent collections of international museums, including the Museum of Modern Art, New York; the Metropolitan Museum of Art, New York; the Museum of Fine Arts, Boston; the Fondation Cartier, Paris; the Victoria and Albert Museum, London; and the Stedelijk Museum, Amsterdam.