Friedman Benda is pleased to present MelonMelonTangerine, British artist Jonathan Trayte's second solo exhibition at the gallery. Informed by Trayte's recent extended camping trip through the Western United States, MelonMelonTangerine offers an outsider's interpretation of the American landscape.
Through this new body of work, Trayte recreates the diverse natural geography from arid mountain desert to the rolling prairie he encountered during his 2000-mile road trip from Los Angeles to Omaha. Inspired by sedimentary rock formations, Joshua trees, silver cholla cacti, and prickly pear fruits, Trayte examines the ways in which we perceive and utilize our resources. With his signature tongue-and-cheek sensibility, he recreates these natural forms using highly stylized motifs from product packaging as a layered commentary on the global language of consumerism, commercial exchange, and personal yearning. Using bright hues, wide variety of surfaces, and innovative processes, the result is an imaginary dreamscape – a surreal collage of materials, colors, shapes, and ideas.
"Color is so important as a means of persuasion, persuading people to consume in particular kinds of ways, or in appealing to specific social groups. I create synthetic painted veneers and compositions of materials that either reflect or distort this language; they're like skins of paint or textures that create a kind of chameleon appearance," says Trayte.
Coming from a background in fine art, Trayte's approach synthesizes sculpture and design. For this exhibition, Trayte investigates realizing work on a massive scale—a further exploration of his acclaimed site-specific The Spectacle created for Sculpture in the City and was on view in Bishopsgate, London this past year, MelonMelonTangerine debuts Trayte's most ambitious work to date including a large-scale swing and cantilevered bench.
The exhibition is accompanied by a catalouge with a dialogue between the artist and Glenn Adamson.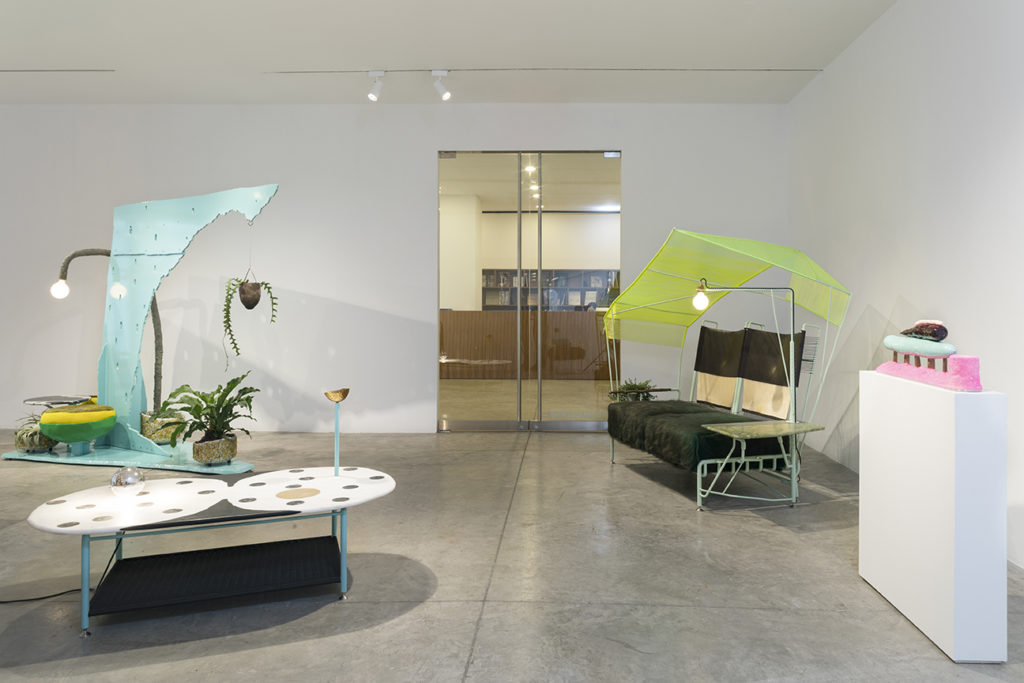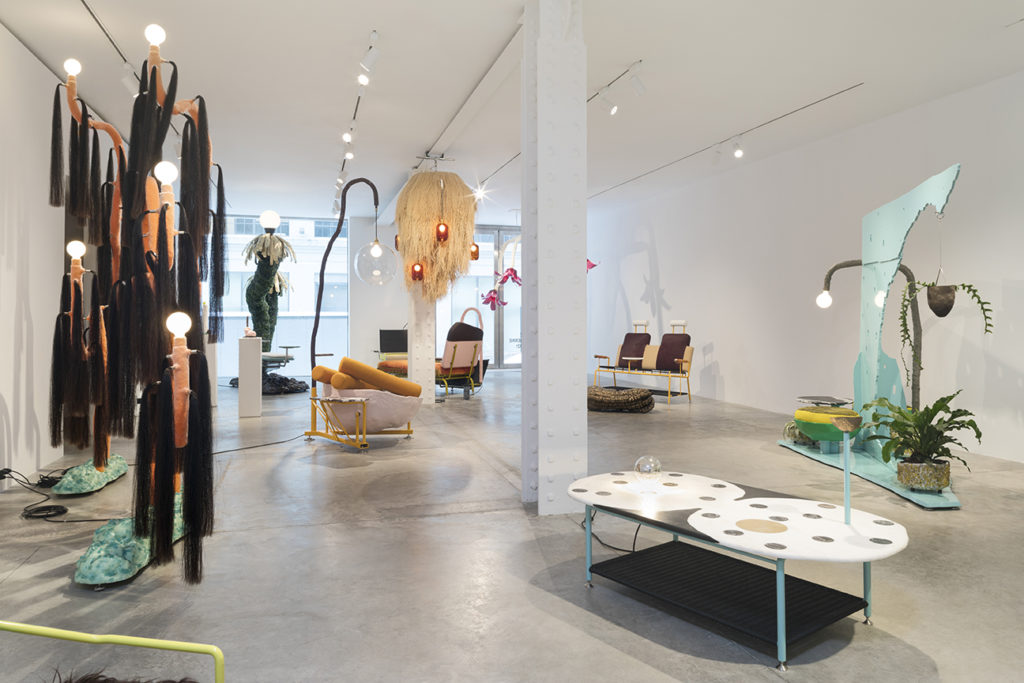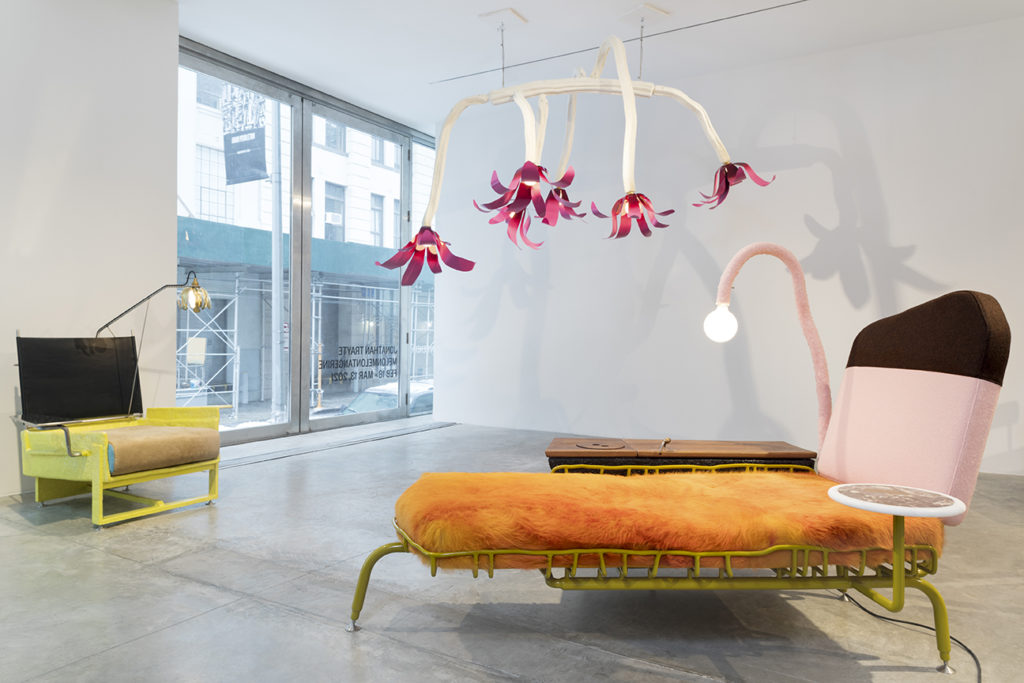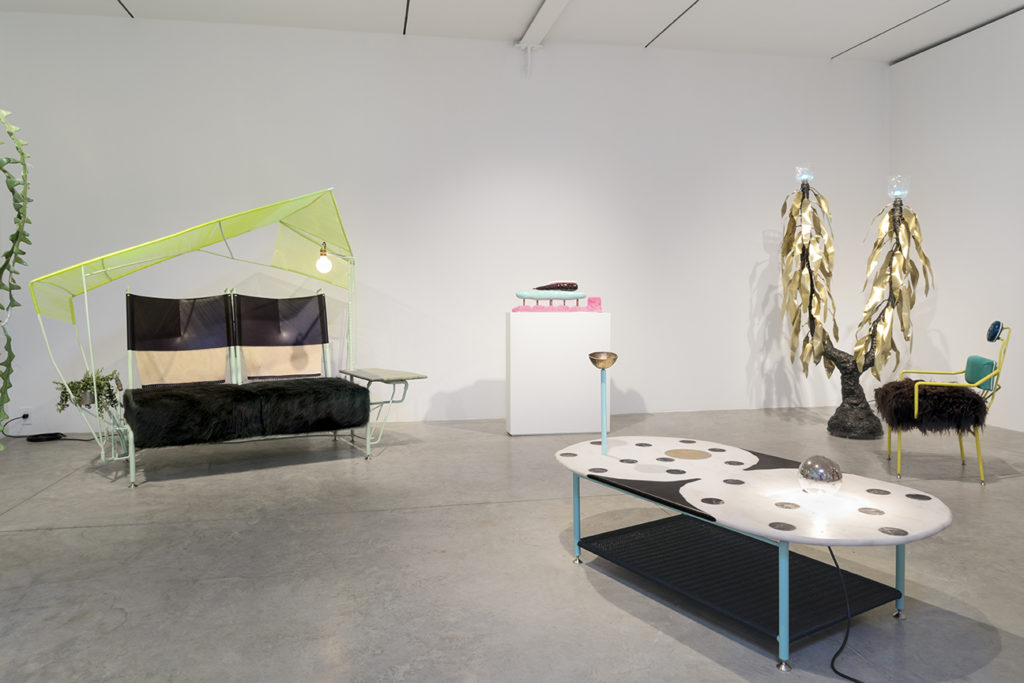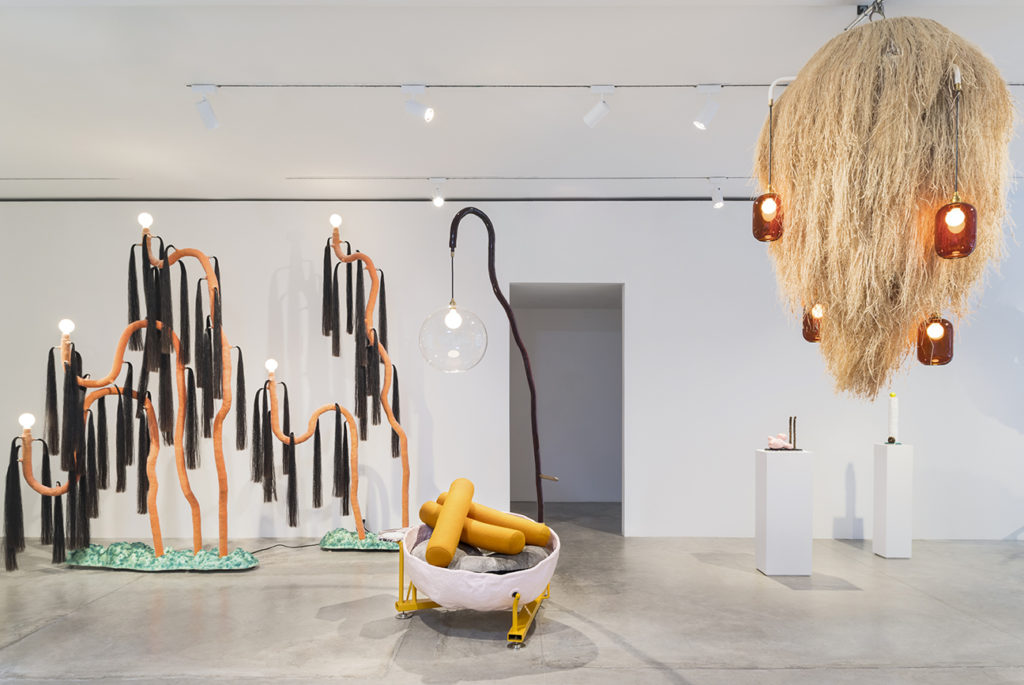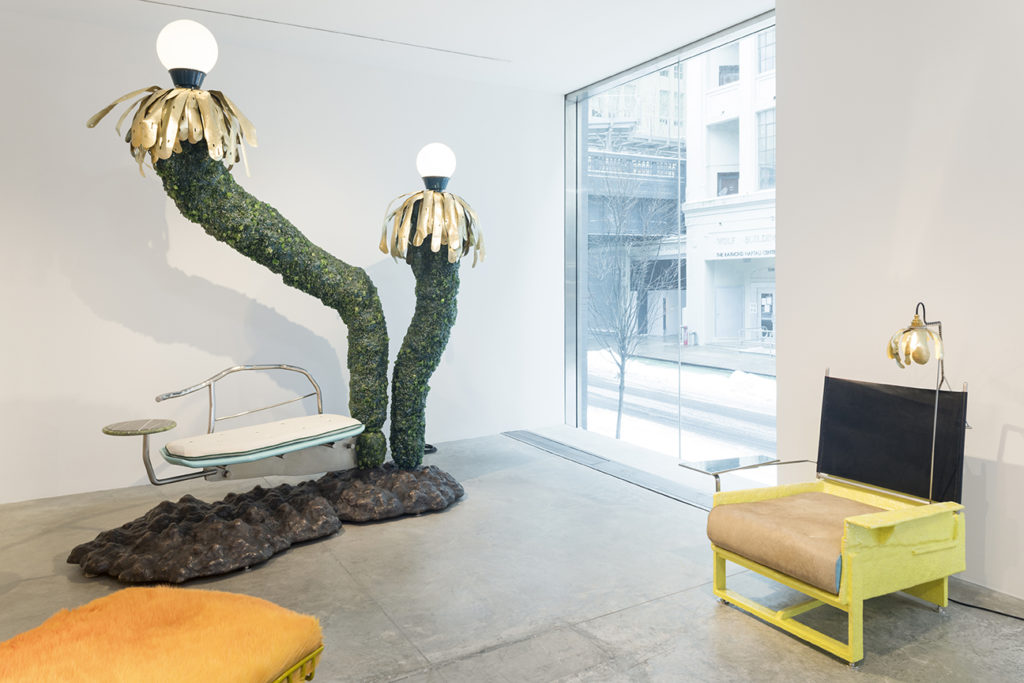 About Jonathan Trayte
Jonathan Trayte's approach to making is informed by our global appetite for consumption and the manipulation of consumer decision-making through advertising. Drawing inspiration from both manmade ephemera and the natural world, he creates a vocabulary of objects that reflect on this visual language, conjuring surreal manifestations and seductive combinations.
Trayte was born in 1980 in Huddersfield, UK. With a background in sculpture, he received a Bachelor of Fine Art degree from University of the Creative Arts Canterbury in 2004 and a Masters of Fine Arts from Royal Academy Schools in 2010. Trayte combines his broad experiences in other fields—as chef and foundry metal worker—with his keen eye for the obscure, documenting aspects of daily life that would typically go unnoticed. "My aim is to have something obscure and unsettling in the work put against a delicious texture or material. Whether it's a hairy background, some weird ugly bronze cast, or a sexually suggestive neon shape."
Using a wide range of materials, methods and processes, his work reinterprets modern consumer behaviour and explores the psychology of desire through surface, material, light and colour. The work is a coming together of natural forms and saccharine colours. Glossy synthetic skins of paint, resin or glass give the work a colourful pop status, a chameleon appearance and an almost edible quality.
His work has been included in numerous international exhibitions including Psychotropics, The New Art Centre, Wiltshire, UK (2020); The London Open, Whitechapel Gallery, London (2018); Tropicana, Christies, London (2017), Milk, Christies, London (2016), Polyculture, The Tetley, Leeds, UK (2016); Experiments in Consuming, The Kings School, Canterbury, UK (2016); and The Shoppers Guide, Royal Academy of Arts, London (2015). Recently, Trayte was selected by Sculpture in the City to create a large-scale site-specific installation entitled The Spectacle (2019) in London.
Trayte lives and works in Margate, Kent.