Friedman Benda will present the gallery's first collaboration with London-based artist Jonathan Trayte. This exhibition marks Trayte's first solo exhibition in the US.
For this project Trayte assembles a surreal and psychologically provocative landscape, with living, sleeping and eating quarters. This fantasy world is instantly appealing, but also intentionally strange, and laced with mordant wit. The pieces form a quirky and characterful family of misfits. "The work that I tend to make comes together all at once, like a cast of characters," says Trayte. "There's always some weird older brother, the 'black sheep,' that doesn't quite fit."
Trayte comes from a background in fine art sculpture, and also has had broad experience in other fields – including as a chef and foundry metal worker. In this show, he brings his skills and interests to designing functional objects. This is, he recognizes, a "fresh take," almost an outsider's view, of domesticity. Familiar objects like lamps or a bedroom and dining set morph into strange compositions where natural forms and glossy synthetic skins of paint converge. The range of materials that he incorporates into this repertoire is extremely wide – painted bronze, leather, wood, marble and neon – as is the scope of his imagery. Most important are consumables like bulbous melons and gourds, confections, and deli meats, all of which he renders with great affection and a tongue-in-cheek sense of humor. The exuberance and sheer sculptural invention of the work amount to a 21st century return of the Baroque.
Thanks to his background in the catering industry, Trayte has a visceral feel for the texture of produce, which he applies in unexpected ways to the objects and their mise en scène. He also draws from the visual cues of packaging: candy wrappers and snack boxes that he collects from all over the world. Trayte is struck by the fact that food, one of humanity's few true universals, is visualized so differently in various cultures. Beneath the bright and playful veneers of packaging, Trayte finds real psychological depth. He draws from that deep well a commentary on personal desire, cultural habits, and rampant consumerism.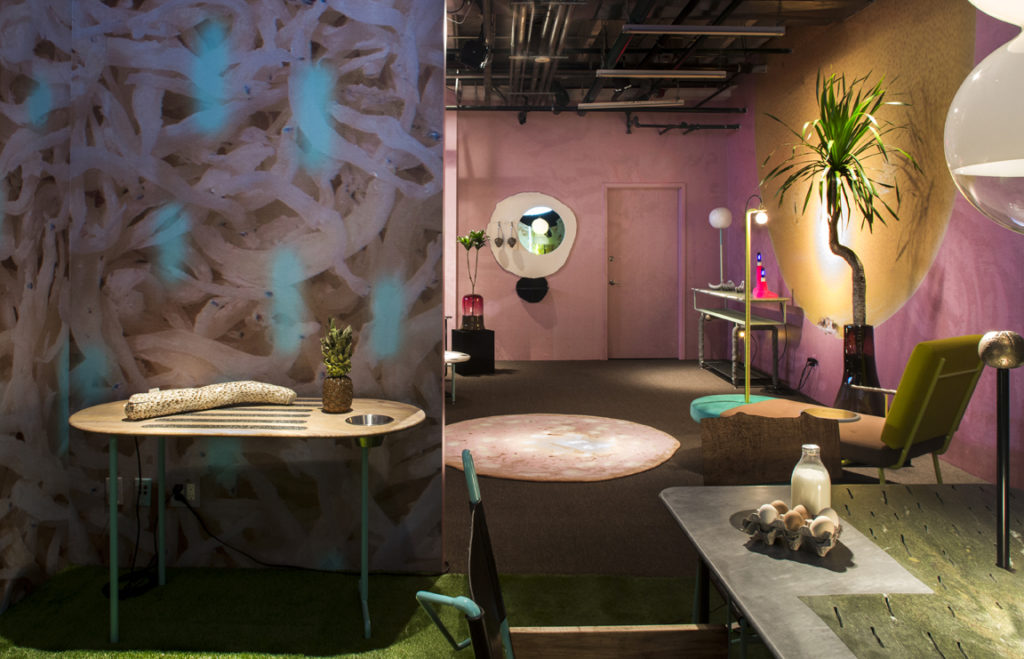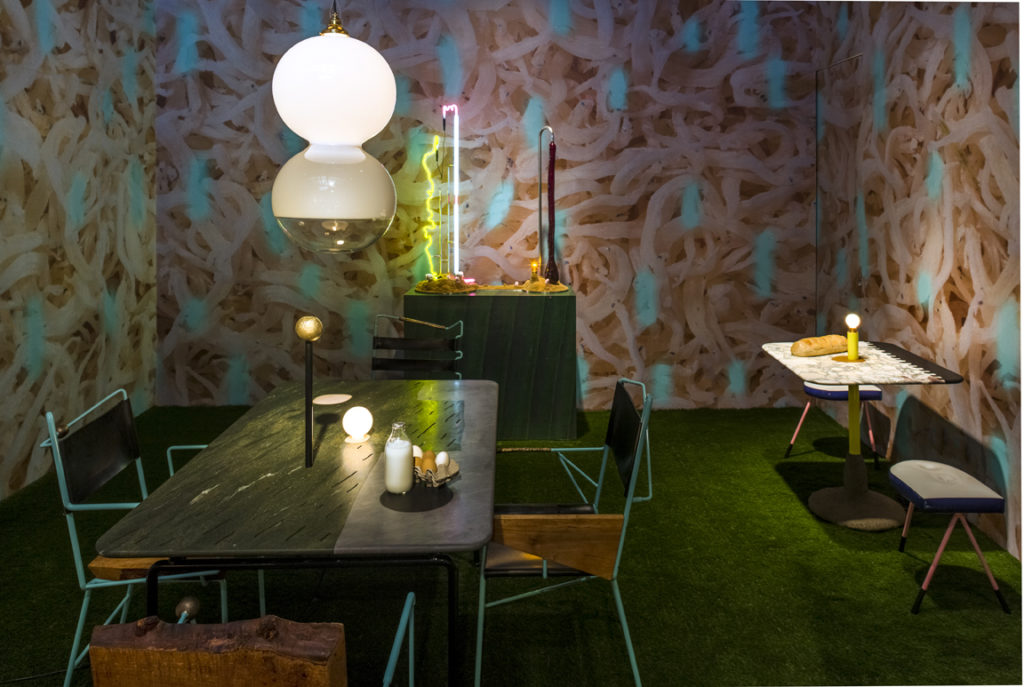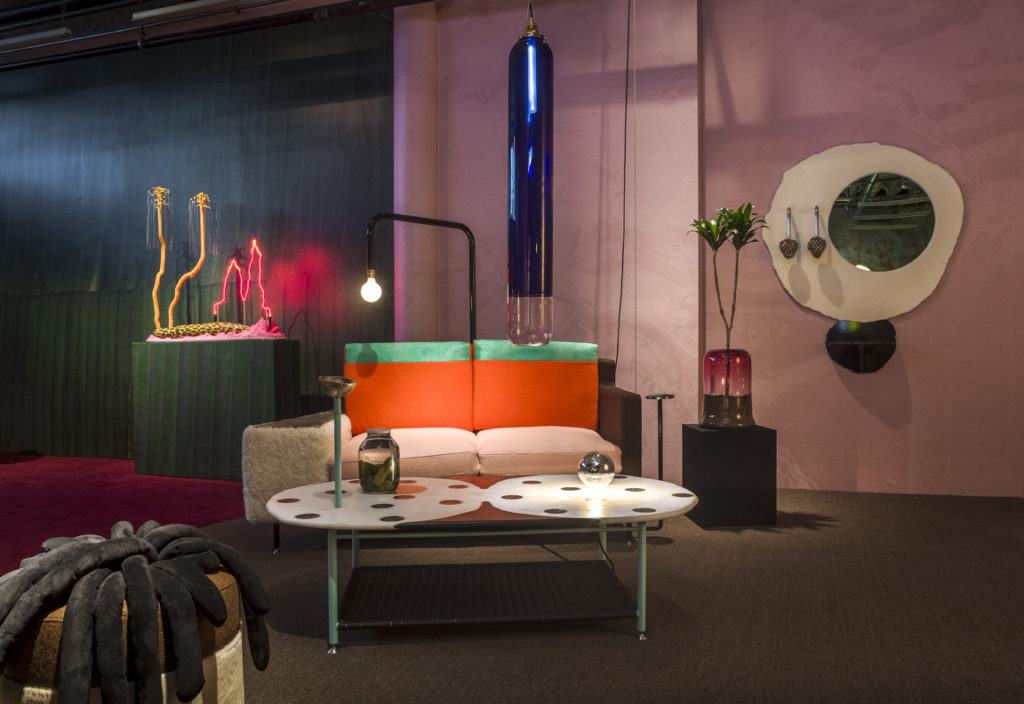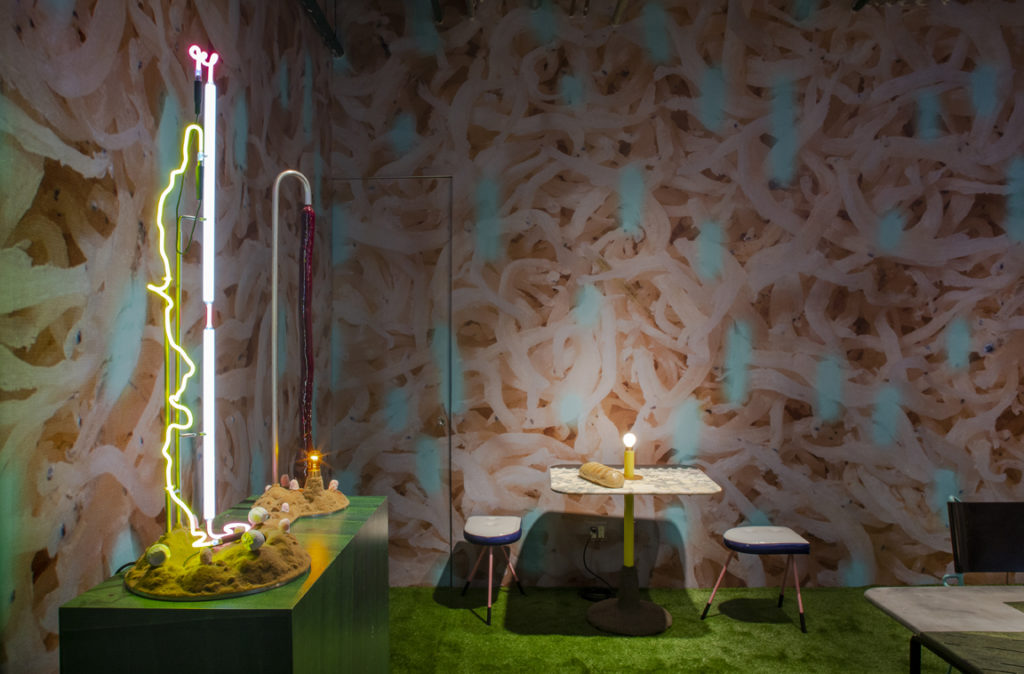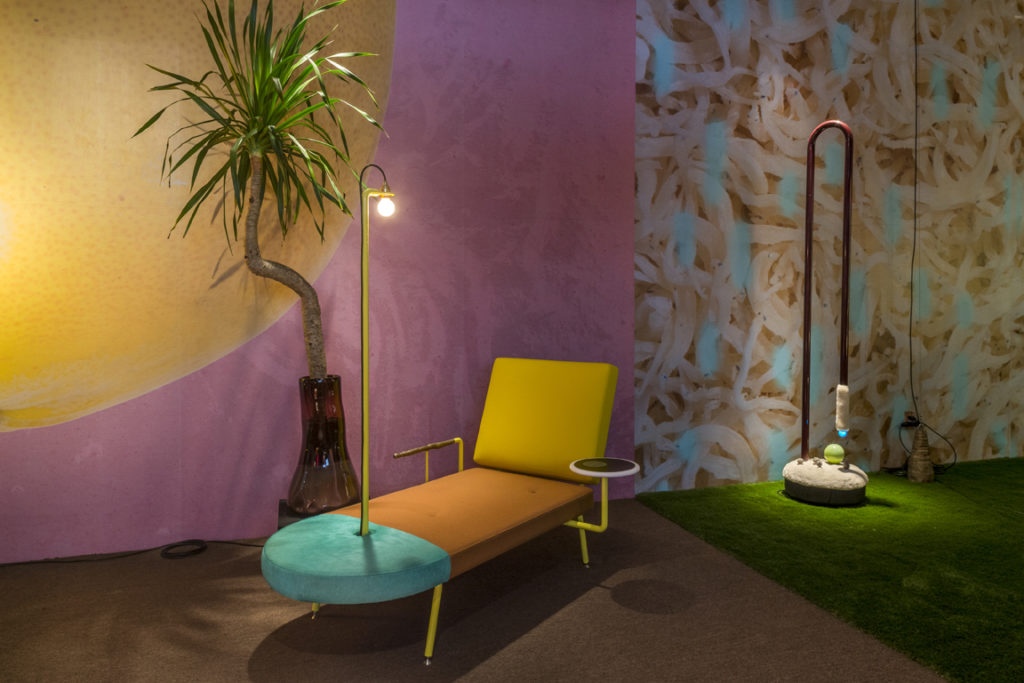 ABOUT JONATHAN TRAYTE
Jonathan Trayte's approach to making is informed by our global appetite for consumption and the manipulation of consumer decision-making through advertising. Drawing inspiration from both manmade ephemera and the natural world, he creates a vocabulary of objects that reflect on this visual language, conjuring surreal manifestations and seductive combinations.
Trayte was born in 1980 in Huddersfield, UK. With a background in sculpture, he received a Bachelor of Fine Art degree from University of the Creative Arts Canterbury in 2004 and a Masters of Fine Arts from Royal Academy Schools in 2010. Trayte combines his broad experiences in other fields—as chef and foundry metal worker—with his keen eye for the obscure, documenting aspects of daily life that would typically go unnoticed. "My aim is to have something obscure and unsettling in the work put against a delicious texture or material. Whether it's a hairy background, some weird ugly bronze cast, or a sexually suggestive neon shape."
Using a wide range of materials, methods and processes, his work reinterprets modern consumer behaviour and explores the psychology of desire through surface, material, light and colour. The work is a coming together of natural forms and saccharine colours. Glossy synthetic skins of paint, resin or glass give the work a colourful pop status, a chameleon appearance and an almost edible quality.
His work has been included in numerous international exhibitions including Psychotropics, The New Art Centre, Wiltshire, UK (2020); The London Open, Whitechapel Gallery, London (2018); Tropicana, Christies, London (2017), Milk, Christies, London (2016), Polyculture, The Tetley, Leeds, UK (2016); Experiments in Consuming, The Kings School, Canterbury, UK (2016); and The Shoppers Guide, Royal Academy of Arts, London (2015). Recently, Trayte was selected by Sculpture in the City to create a large-scale site-specific installation entitled The Spectacle (2019) in London.
Trayte lives and works in Margate, Kent.