Friedman Benda will present "Unhomely," American designer Chris Schanck's solo gallery exhibition, from March 1 through April 14, 2018. This exhibition marks a culmination of his acclaimed sculptural approach and the first time a comprehensive body of work by Schanck will be on public view.
"Unhomely" features 15 works with independent, stand-alone narratives woven into an otherworldly landscape. Synthesizing premeditation and spontaneity, Schanck's highly individualized, low-tech, idiosyncratic technique, Alufoil, was conceived in 2011 while studying for an MFA at the Cranbrook Academy of Art. The process begins with Schanck's imaginative drawings and models, which are then executed by a burgeoning community of artists and collaborators, all apprentices of the "Alufoil" method—recalling a medieval craft guild practice.
Hybrids of sculpture and furniture, Schanck's bold constructions blend biomorphic forms with elaborately crafted symbolism. These assemblages draw from a wide range of influences ranging from Brutalist and Art Deco architecture to ancient Egyptian, Anatolian and Aztec iconography. Skirting the line between refinement and camp, Schanck's figurative, at times anatomical, creations reference science fiction films and conjure up visions of ancient aliens, hidden cavernous chambers, and monolithic space operas.
Despite overt references to fantasy and meta-fiction, Schanck's assemblages are grounded in the reality of humanity's relentless neglect, necessity, and inventiveness—a vernacular imparted from his neighborhood of Detroit. "In my work, I take inspiration from the people and forms around me and dip them into a futuristic skin. These pieces are proudly irregular, they are a spectacle of imperfection and they shine in their own alien skin," says Schanck.
The exhibition will be accompanied by a catalogue featuring an essay by Glenn Adamson, Senior Scholar at Yale University.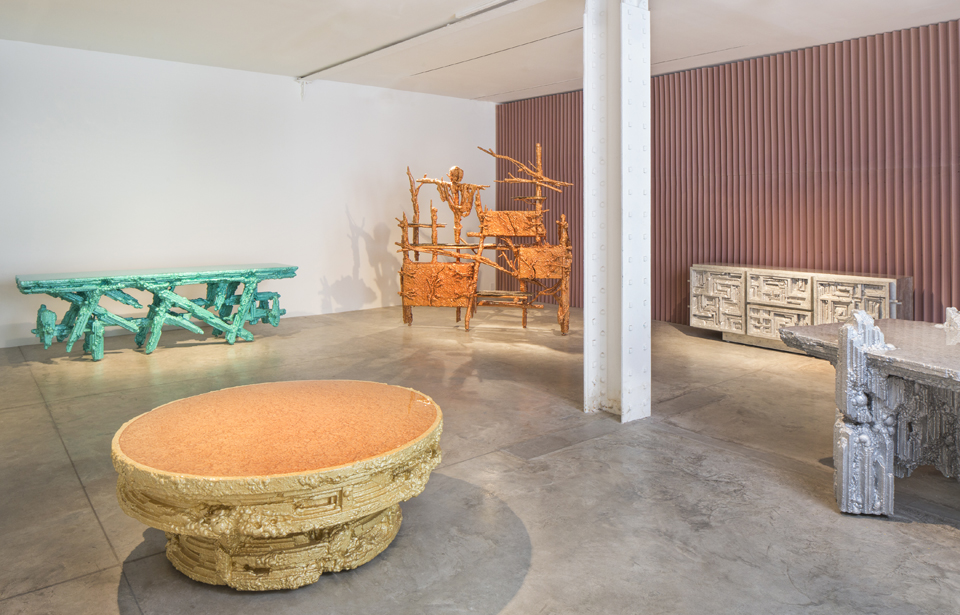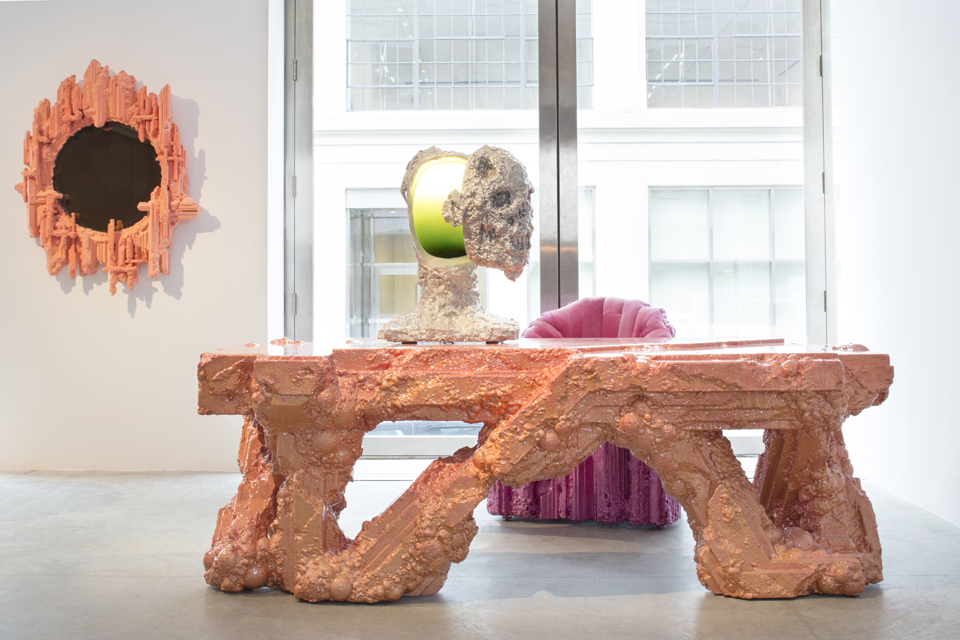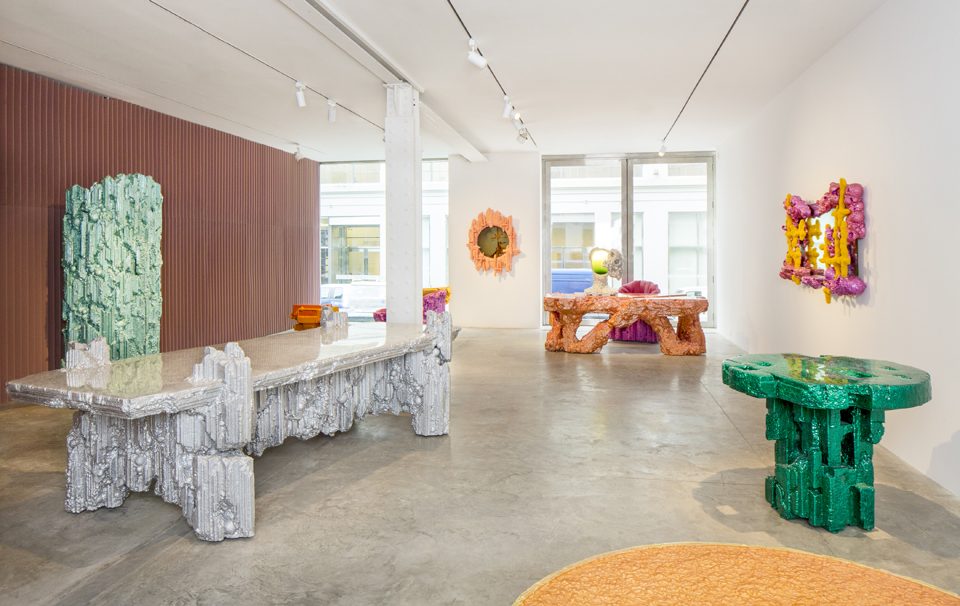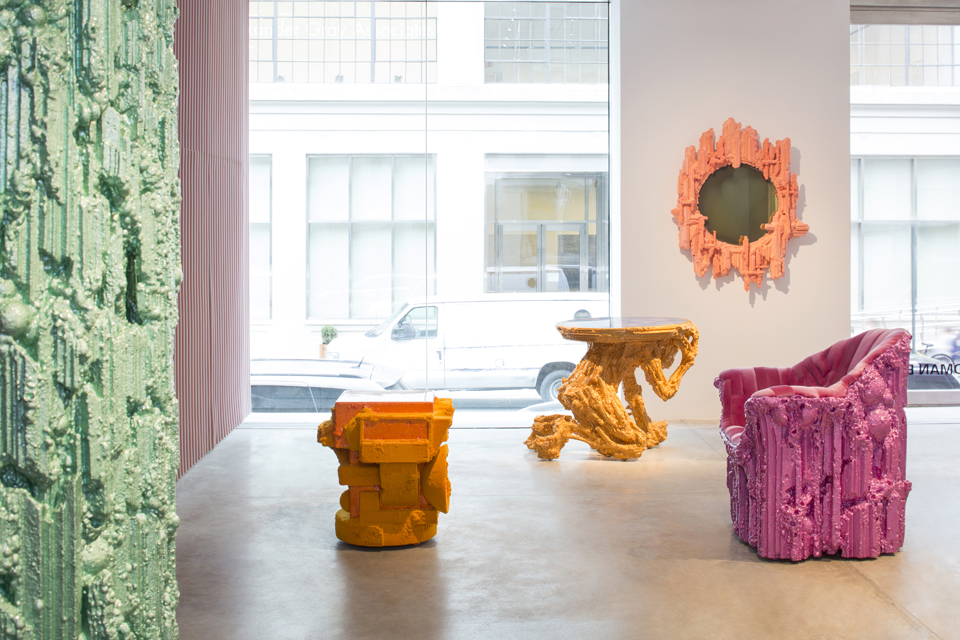 ABOUT CHRIS SCHANCK
Designer Chris Schanck's work embraces the tension between dilapidation and opulence, asking us to find unconventional beauty in the imperfect.
Schanck was born in Pittsburgh in 1975 and grew up in Dallas. He received a Bachelor's of Fine Art degree in sculpture from the School of Visual Arts and a Master's of Fine Arts degree in design from Cranbrook Academy of Art. Upon graduating in 2011, Schanck founded a studio in Detroit employing over a dozen artists, students, and craftspeople. Based in a former factory in Banglatown, a neighborhood with a dense immigrant population, the local community plays a key role in Schanck's egalitarian studio practice, which brings outsiders into design culture.
Schanck's efforts deviate from the mass-produced, instead reviving mundane materials by transforming them into unique objects of uncommon luxury. Schanck is best known for his ongoing Alufoil series, in which industrial and discarded materials are sculpted, covered in aluminum foil, and then sealed with resin
Despite overt references to fantasy and meta-fiction, Schanck's assemblages are grounded in the reality of humanity's neglect, necessity, and inventiveness with a vernacular imparted from his neighborhood of Detroit.
"My works exist on a spectrum, on the one end they are practical and functional, and on the other they are aspirational and speculative–a blend of reality and fantasy. Imagine a child's bed that is shaped like a rocket or automobile. The practical function of that bed takes the form of a fantasy. We understand that you can't start the bed and fly away, but in the child it inspires the idea of speed and exploration. My work functions a lot like that bed," says Schanck.
The Dallas Museum of Art commissioned Schanck to create a work in dialogue with a late-19th century Martelé dressing table in their collection, which debuted in his first solo museum exhibition in January 2021. The Museum of Arts and Design, New York will present his first retrospective exhibition in February 2022. Schanck's work is held in the collections of the Cranbrook Art Museum, Bloomfield Hills, MI, Dallas Museum of Art, TX, and the Montreal Museum of Fine Arts, Canada.
Schanck lives and works in Detroit, MI.