April 18 – 23, 10:00 – 19:00
Please reserve your Ticket: https://www.eventbrite.com/e/break-to-make-tickets-603019005077
"I've always been a fan of nendo's creative output ever since I first saw their work in Milan nearly a decade ago. nendo's work is often very precise and minimal and we share an interest in material possibilities. After discussions with Oki, we settled on this idea of nendo creating a form that I could manipulate through an act of destruction. Creating something new, and useful through that process." – Daniel Arsham
Friedman Benda announces Break to Make, a collaboration between American multidisciplinary artist Daniel Arsham and the Japanese design firm nendo led by Oki Sato. The culmination of a creative dialogue spanning over 4 years, the new body of work will be debuted to the public in Milan concurrent to Salone del Mobile, with a special installation at nendo Milan office via Pinamonte da Vimercate, 4 that is open from 18th – 23rd April.
Demonstrating both designers' poetic approach, Arsham transforms each distilled form designed by nendo into works with humor and playful intricacy. "After we create objects with no intended use, Daniel creates new functions by breaking them. From a bathtub-like form, a loveseat emerged; from a long and narrow block, a bench or a stool; from a tall, square form, a console table was revealed," "An artist who expresses present objects as past artifacts, and a designer who makes present objects that anticipate the future. The collaboration may be seen as an overlay of these two contrary perspectives." states nendo.
As a continued investigation of his approach to creating modern "archaeological" eroded relics, Arsham deconstructs nendo's archetypical designs. Simultaneously connecting past, present and future, the final result urges the viewer to reconsider their preconceived perception of chronology, movement, and space.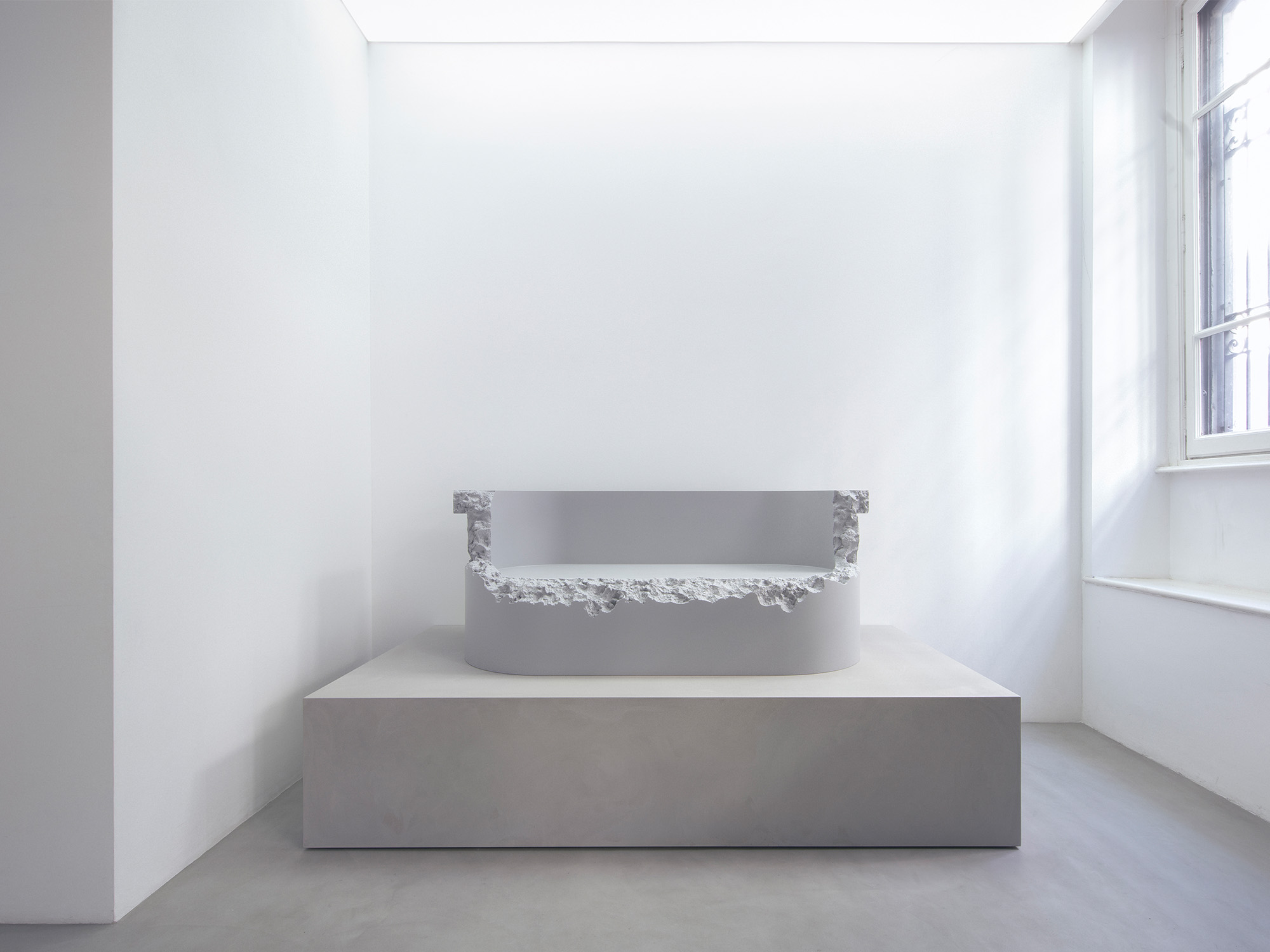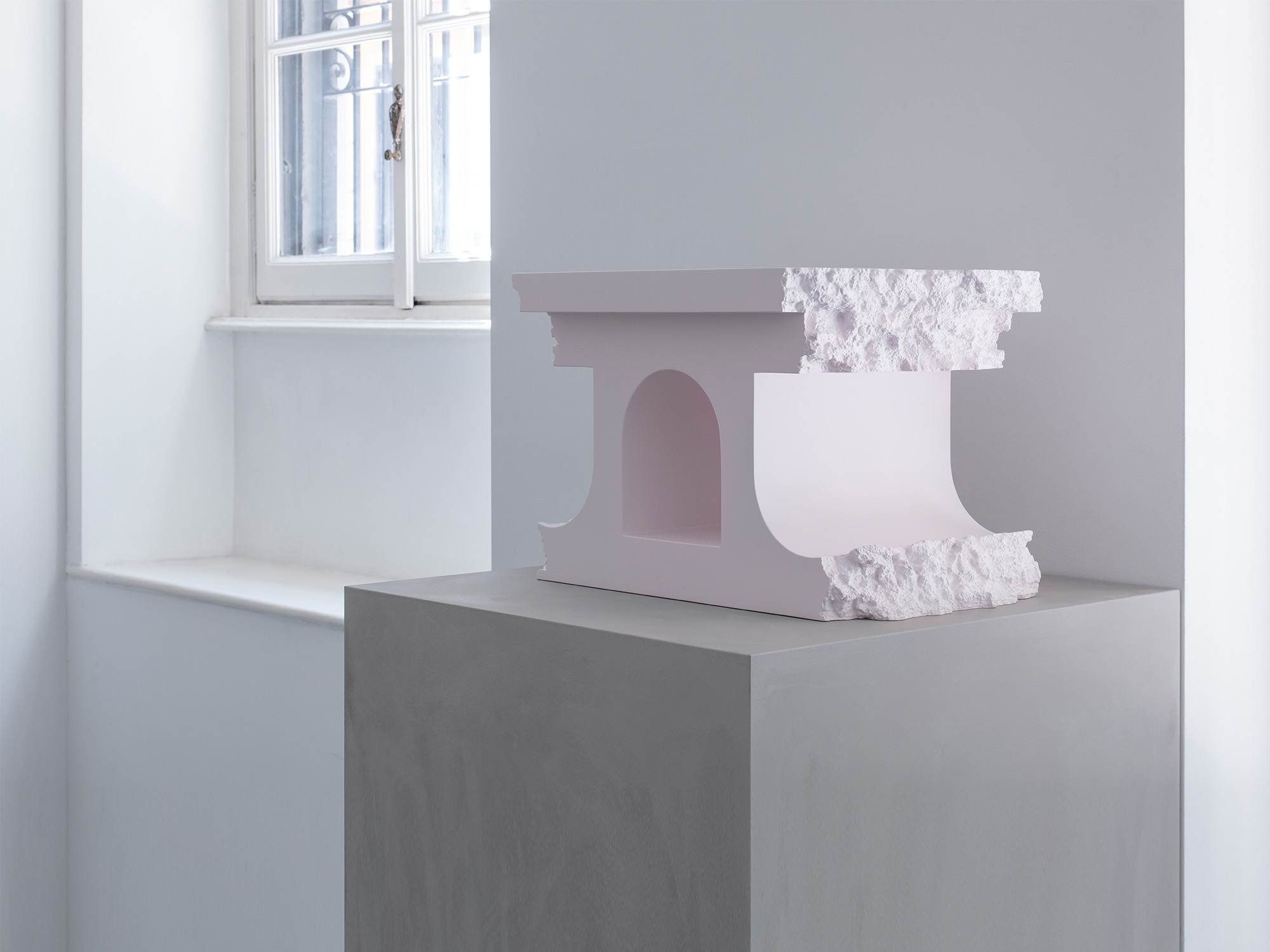 ABOUT THE ARTISTS
DANIEL ARSHAM
Born in 1980 in Cleveland, Ohio, Arsham was raised in Miami, where he attended the Design and Architecture High School. He was awarded a full scholarship to The Cooper Union in New York, where he received the Gelman Trust Fellowship Award in 2003. Upon graduation, Arsham toured worldwide with the Merce Cunningham Dance Company as the company's stage designer for over four years—an experience that informed his ongoing synergistic practice. In 2007, he founded the pioneering architecture firm Snarkitecture with partner Alex Mustonen. Collaboration continues to be a key cornerstone of his practice—realizing high-profile projects with music producer Pharrell Williams and designer Hedi Slimane, as well as Dior, Porsche, and Rimowa. Arsham has participated in numerous major international exhibitions, including at the Contemporary Art Center, Cincinnati, OH; High Museum of Art, Atlanta, GA; the HOW Art Museum, Shanghai, and the Moco Museum, Amsterdam. His works are included in the permanent collections of the Centre Pompidou, Paris; Pérez Art Museum, Miami, FL, and Walker Art Center, Minneapolis, MN. He lives and works in New York, NY.
NENDO
A major force in contemporary design, nendo has introduced a wholly original language of radical simplicity, poetic metaphor, and lightness of touch. Oki Sato (b. 1977) founded nendo and established their first office in Tokyo in 2002. Canadian-born Sato studied at Tokyo Gakugei Oizumi Junior High School and Waseda University Senior High School, then graduated from the Department of Architecture, School of Science and Engineering from Waseda University in 2000. Since their establishment, nendo's prolific multidisciplinary practice has encompassed architecture, product, graphic and industrial design–collaborating with brands such as Baccarat, Tod's, Tag Heuer, Jill Sander, Walt Disney and Coca-Cola. Throughout their career, nendo has received numerous awards and accolades, including the 'Red Dot Design Award' in Germany in 2008, Wallpaper* Magazine's 'Designer of the Year' in 2012, and the Iconic Design Award 'Interior Designer of the Year' in 2015.
Works by nendo are included in the permanent collections of such institutions as the Art Institute of Chicago, IL; Centre Pompidou, Paris; Cooper Hewitt National Design Museum, NY; Design Museum, Holon, Israel; High Museum of Art, Atlanta, GA; Indianapolis Museum of Arts, IN; Israel Museum, Jerusalem; Los Angeles County Museum of Art, CA; M+ Museum, Kowloon, Hong Kong, China; Montreal Museum of Fine Arts, Canada; Musée des Art Décoratifs, Paris; Museum of Art and Design, New York, NY; Museum of Fine Art, Houston, TX; Museum of Modern Art, New York, NY; Philadelphia Museum of Art, PA; Triennale Design Museum, Milan and Victoria & Albert Museum, London. nendo is based in Tokyo, Japan.