by Mario Ballesteros
"Everything here is vulkanisch," wrote the radical Swiss architect Hannes Meyer in a letter to his friend Hans Schmidt, a year after arriving in Mexico in 1939. He referred not only to the craggy landscape and the unpredictable geography of his newly adopted faraway home, but also to the volatile sociopolitical and cultural conditions, at a time when the country was still rebuilding itself after decades of civil unrest, political violence and soul searching following the Mexican Revolution (1910-21). The former director of the Bauhaus had come to Mexico with dreams of deploying a large-scale, rational building program, as the director of a new Urban Planning Institute at the National Polytechnic. The dream was short-lived, though, and the program was abruptly shut down only months after his arrival. Meyer never built anything in Mexico. Regardless, he stayed in the country for almost a decade, and remained culturally and politically active. Meyer quickly realized that trying to impose a Eurocentric vision of rational modernity in a place like Mexico was hopeless. Not because the country was lagging or falling behind in an imagined universal race, but because it measured itself with a different yardstick.
The lure of Mexico has always been its instability: its ancient beat, relentless under layers of mud and stone and bone and concrete and plastic. Optimists and romantics might refer to it as the perpetual promise of possibility. Cynics might call it the land of mañana, of perpetually unfulfilled promise, of permacrisis. I would say most of us in Mexico settle for a slightly melodramatic middle: tipping back and forth between our love and hate for the state of things here, depending on the time of day, or the weather, or the news, or how long we're stuck in traffic or who won the soccer match. What we do seem to agree on is that our sense of normal is clearly not the same as the rest of the world's.
"Normal" here means cities built on lakes, sinking and trembling nonstop. It means permanent sensory overload: a miniscule taco layered with three types of meat and slathered with two different salsas; the clash of corridos tumbados and electrocumbia and baladas románticas and death metal and top of the pops blasting from speakers from every window on every corner; the constant whiffs of sewage and fried masa and damp earth and charred chiles and detergent and dead animal and knock-off perfume you get walking down any given street at any given time of day in any given town; a 500 year old pyramid stuck between a busy highway interchange with a Walmart and a public toilet on top. Mexico is an atemporal mess, where vital chaos edges us away —barely— from the brink of tragedy into a raucous and surprisingly livable quotidian persistence.
Everything Here Is Volcanic wants to encapsulate the same eruptive energy, to transport the exhilarating nature of current production and practice in Mexico, and make it immediately palpable through a selection of rare works that embody different approaches to Mexican culture now. Objects are ideal vessels for incommunicable or untranslatable ideas, values and conditions: they create visceral, sensorial connections. They allow us to feel the shake and smell the smoke.
Everyday objects carry with them the intimacy and immediacy of domestic familiarity, even when they might escape our typical understanding of what stands for "everyday" or "domestic". The exhibition offers an ultra-contemporary survey of Mexican things: strange artifacts, fittings and furnishings that belong in a transitional space somewhere between reality and fantasy, between matter and image, between public and private, between inside and outside, between present-day and historic. Between conflicting geographies, positions, and identities. A series of precarious boundaries, unstable categories and stylistic tensions overflow into the gallery space, which is transformed into a microcosm of unlikely fittings and furnishings.
Featuring mostly new work by Mexican artists, designers, architects and makers —some emerging, some established, some forgotten and recently rediscovered— Everything Here is Volcanic wants to honor the bold, contradictory diversity of Mexico by bringing together this odd group of creative misfits —engineers working in fashion, architects obsessed with informality, designers queering craft, artists mixing ancient culture and branding, or farming and digital fabrication— that don't care much for labels, strict categories or fixed identities. Are these works by artists or designers? Is this furniture or sculpture? Are these objects speaking to the past, to the present or the future? Where do they all meet? Where do they all point to?
The works in the exhibition are presented in an unconventional spatial array structured around notions of encounter, ritual and dream; a fluid imaginary living program with nods to single-room vernacular houses in Mexico, where private and social rituals overlap and melt into each other, and Meyer's own scenographic concept for the Co-Op Interieur minimum dwelling. Instead of a typical bedroom, kitchen or living room, these are spaces for meditating, for grilling, for pleasure, for dreaming, for gathering, for being alone. Depending on the intention, the works can be read as functional artifacts with more or less specific purposes, sculptural props or characters in a vision.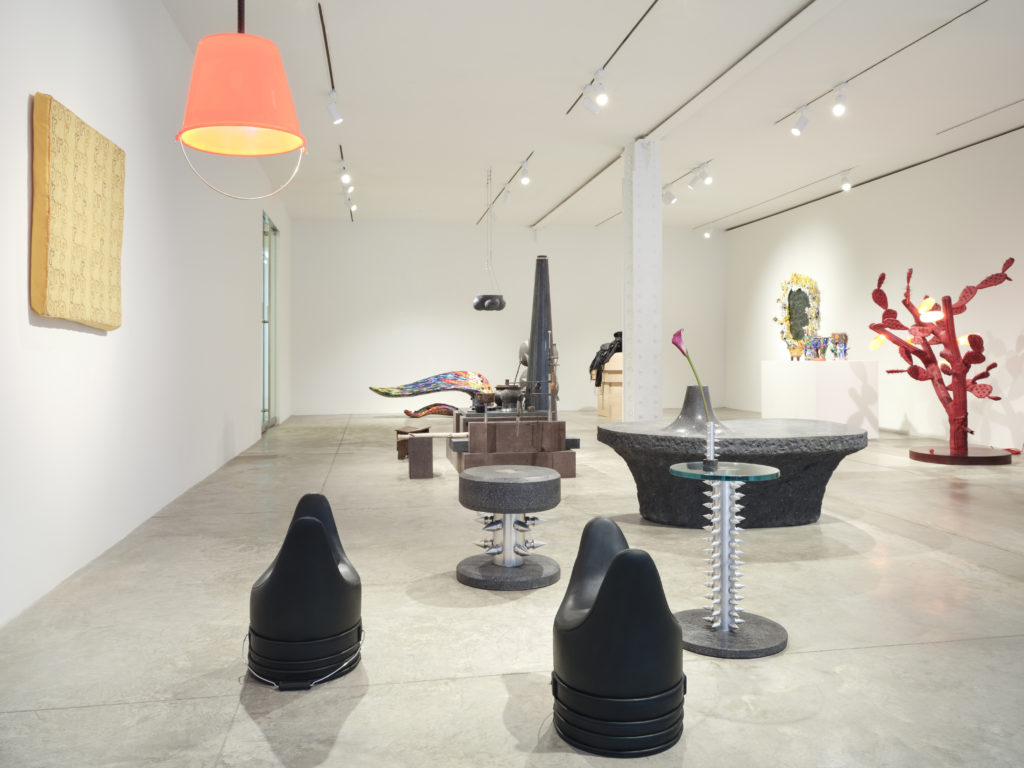 Everything Here is Volcanic takes some cues from the deep material culture history of Mexico. Ancient Mesoamericans did not have a word for "art". In pre-Hispanic Mexico, indigenous art, with its ritualistic and utilitarian roots, was threaded into daily life. Art without clear boundaries. Art that was not just contemplative, but active. Art that was homegrown, in the deepest, widest sense: embedded in everyday existence. Hannah "Anita" Brenner —a pioneering transnational art critic and and scholar that was a tremendously influential figure of postrevolutionary culture in Mexico— wrote about this notion of "living art" in here seminal work Idols Behind Altars, where she described how indigenous material culture and objects maintained a subversive power during colonial times up to the early XXth century.
A similar notion on indigenous art was presented in the Outline of Mexican Popular Arts and Crafts, a companion catalog to the first exhibition of Mexican vernacular art in the United States in 1922, organized by Texas-born journalist and writer Katherine Anne Porter (1890 – 1980), who had lived and roamed in Mexico towards the end of the Revolution. Supported by the Mexican government, the exhibition reframed the ambitious Exposición de Arte Popular presented in Mexico City in 1921 by Roberto Montenegro, Jorge Enciso and the artist Dr. Atl, as part of the Centennial of Mexican Independence. Cooking utensils, clay vessels, hand-painted gourds, ceramic figurines, woven baskets, wool zarapes, and horse saddles were displayed as the raw matter of mexicanness, decades before Mexican muralists and architects crafted their own images of Modern Mexico.
Everything Here is Volcanic wants to recover the primordial confusion between art, everyday objects, and material culture. It also carries a spirit of homegrown resistance to the flattening nature of globalized production, digital media, consumerism, neocolonial aesthetics, professional compartmentalization, clichéd or official narratives of "identity" and "mexicanness", and narrow categorizations. These are a few of the common threads that run through a seemingly disparate array of unusual artifacts.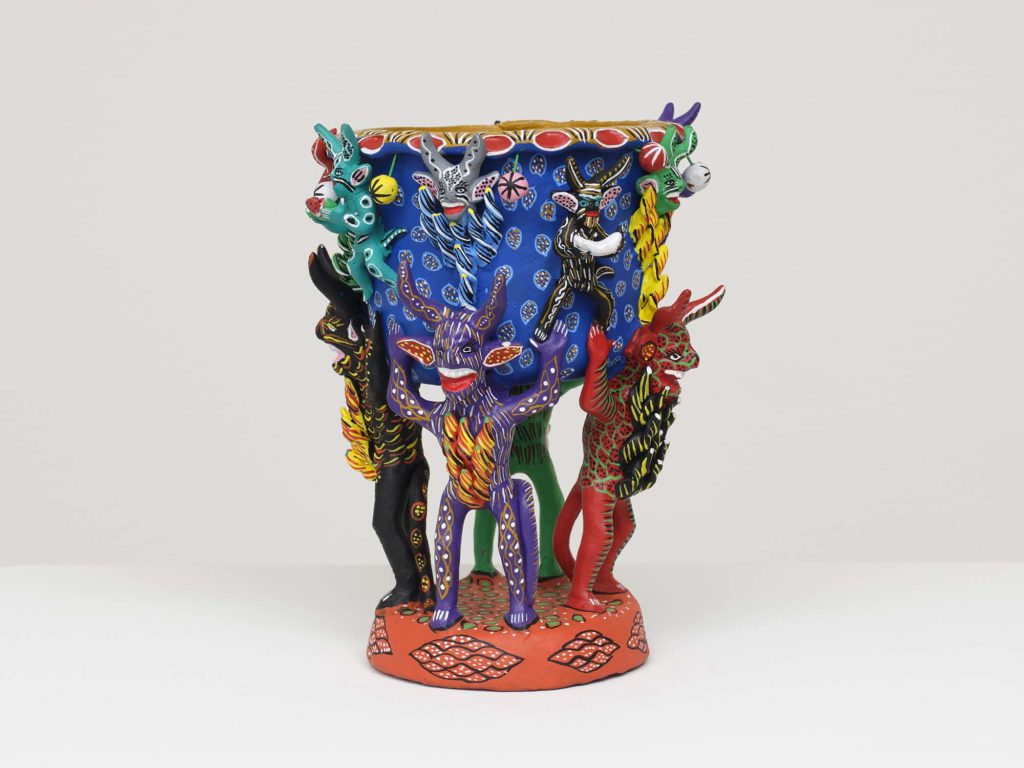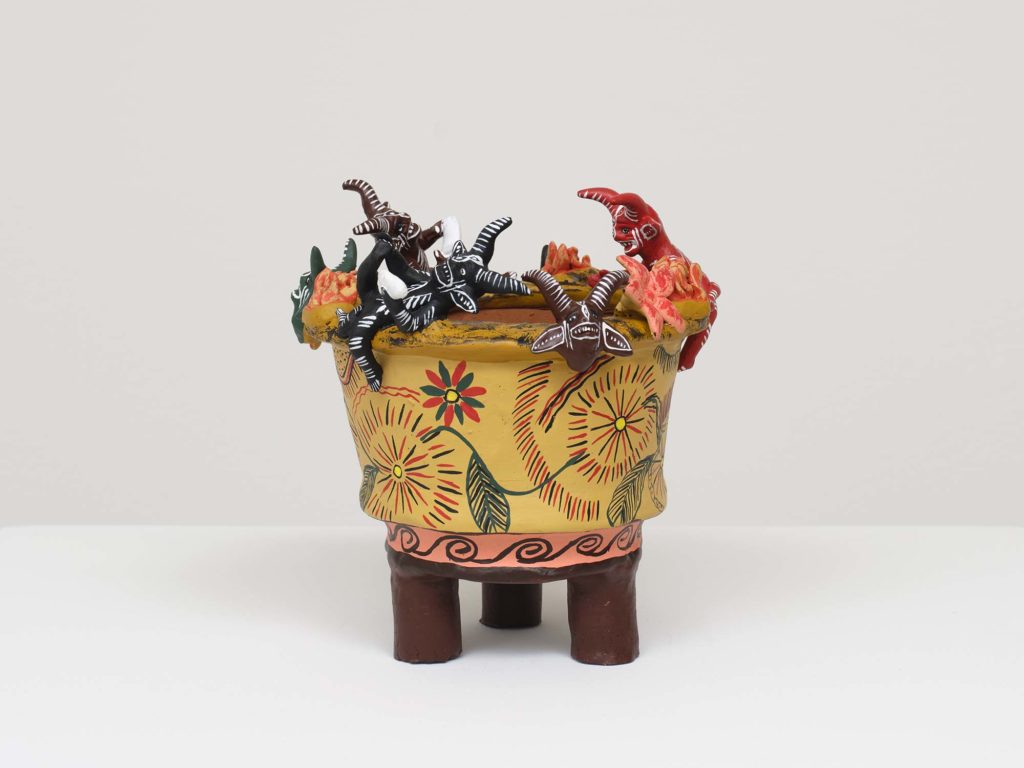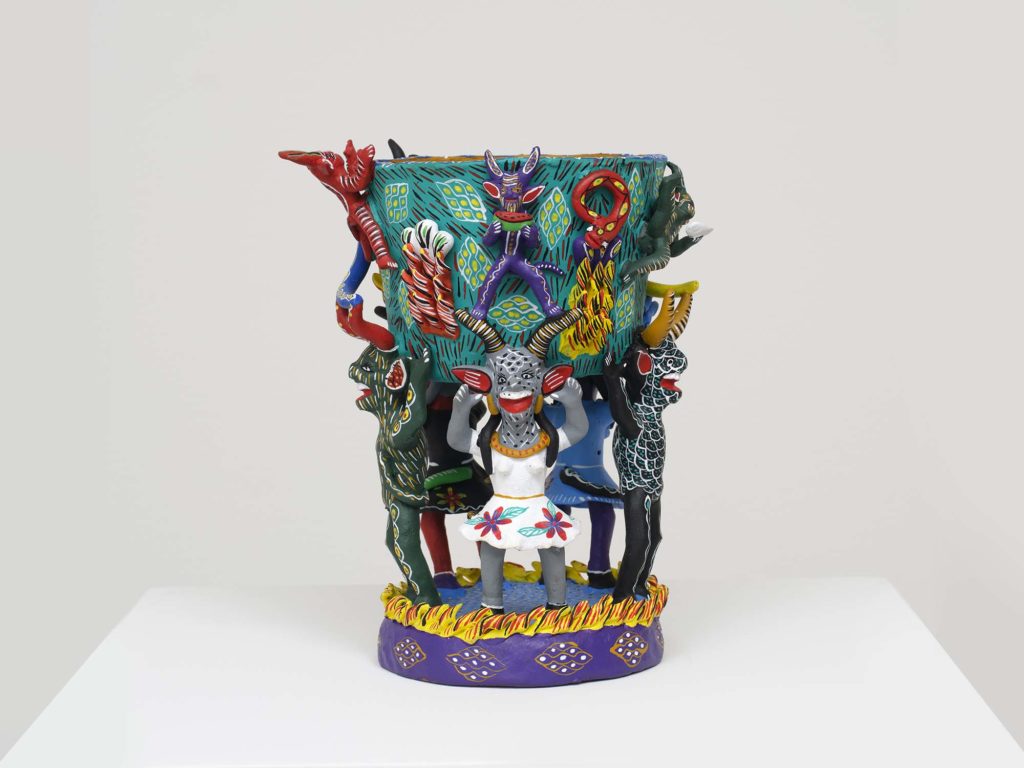 Design practices in Mexico today are largely oblivious to professional strictures. Here, auto construction, marginal making and small-scale production are more widespread, relevant and have a greater impact than industrial or academic outputs. Instead of yearning for an industrial design paradigm that has become anachronistic and revealed its overwhelming negative impacts, design practices in Mexico are unabashedly embracing a post-industrial reality, with a different set of means for production, distribution and exchange.
The most interesting creative developments in the country are happening at the margins of traditional product design. Experimentation at this scale takes many shapes. In places like Mexico City, informality is the key ingredient for a dynamic creative scene. The spirit of a homegrown DIY culture that moves between practical ingenuity, piracy and playful appropriation is explicit in Andrés Souto's cHArco lamp, a riff on the totemic Arco by Achille and Pier Giacomo Castiglioni. The bootleg version echoes the indelible shape of the modern Italian classic but replaces the finer elements of stainless steel, aluminum and Carrara marble for a raw ensemble of rebar, neon orange pigmented plaster, a marble sticker and a plastic bucket. Souto's design addresses the fetishing aspirations of cookie-cutter global good taste, while honoring systems "outside" of design and architecture proper, with a dose of political commentary and tongue in cheek.
Another cheeky titled lamp, Feliz Navidad by Fernando Laposse, represents a very different type of experimentation, combining a dead cactus stump and real thorns with sculpted stained beechwood leaves and 3D printed eco resin cactus fruit bulbs. With his mutant cactus lamp, Laposse comes full circle in his decade-long regenerative design project focused on the rural community of Tonahuixtla, a tiny town in the high desert of the Sierra Mixteca, where he's hacked the ejido —a traditional system of communal property agricultural production that was almost wiped out through neoliberal reforms and the signing of NAFTA in the 1990s— by developing new crafts that incorporate natural elements such as native corn leaves and agave fibers, while protecting biodiversity and fighting depopulation, erosion and climate change on the side. Beyond taking humble materials and elevating them into high-end design objects, Laposse is shifting entire productive ecosystems, at least on a micro scale.
The transcendence of appropriating, reworking, and reinventing traditional materials is another constant in the exhibition. Javier Senosiain, the idiosyncratic architect who's once forgotten organic buildings have become social media sensations, is a true veteran of material experimentation. His designs reflect a particular view on nature and his personal crusade against straight lines and spending our lives in boxes. From his first Organic House built in the 1980s to his most ambitious project yet, The Nido de Quetzalcóatl park, which has been under construction for over 20 years, his buildings and spaces are inviting, dizzying, and animalistic. Senosiain is heavily influenced by the experimental Mexican modernist Juan O'Gorman, who shifted from the rationalist principles of his early years to a neo-prehispanic organicist style in his 1956 cave house studio carved from volcanic stone in Mexico City's Jardines del Pedregal de San Ángel. Applying the same principles and techniques of his buildings on a smaller scale, his boisterous Vulcan bench, a cantilevered, rebar-skeleton seat covered in multicolored tiles also incorporates volcanic rocks in a nod to O'Gorman's stone mosaic murals that envelop the facade of the UNAM National Library.
Trained as an architect, Pedro Reyes's artistic practice wanders down winding paths of performance, political activism, sculpture, and architectural preservation. His work brings the monumental into the realm of the domestic. Despite its striking, primitive simplicity, his monolithic Volcan table is layered with meaning and references, from the same lava gardens of El Pedregal that O'Gorman built his house around —in an area in south of the city where the Xitle volcano erupted about 1700 years ago, not far from Reyes's own prefab concrete and stone house and studio— to the eruptive paintings of Dr. Atl. In his sculptural furniture, Reyes continues stone carving techniques that have been active in Mexico for thousands of years and reshapes notions of scale and temporality.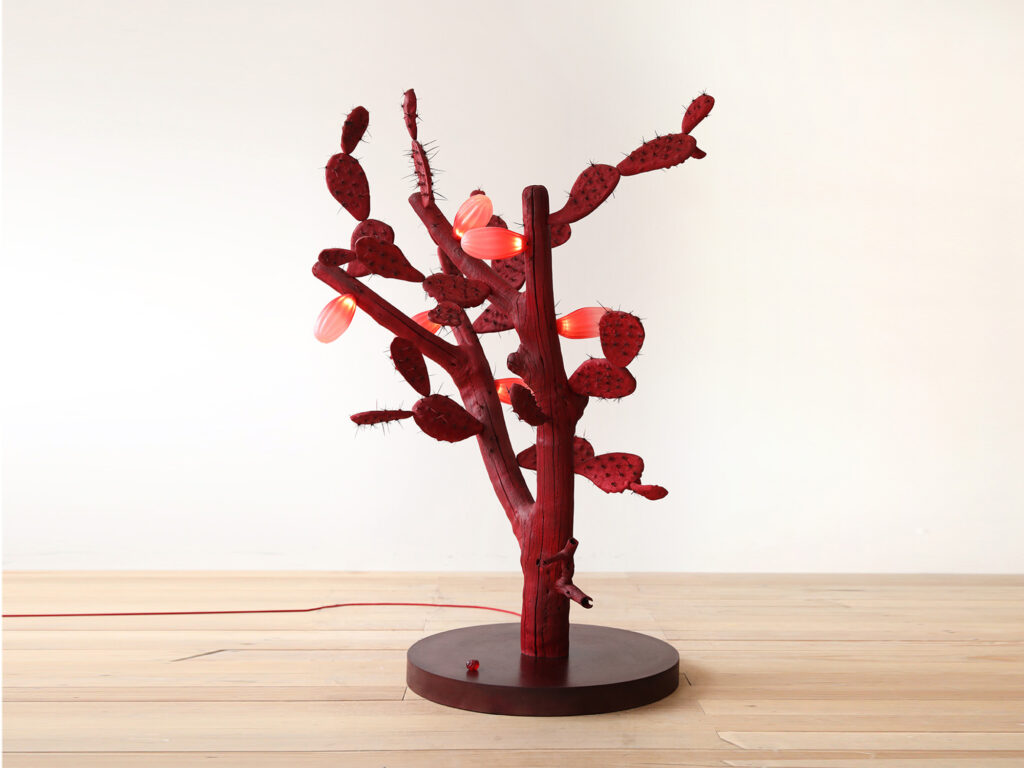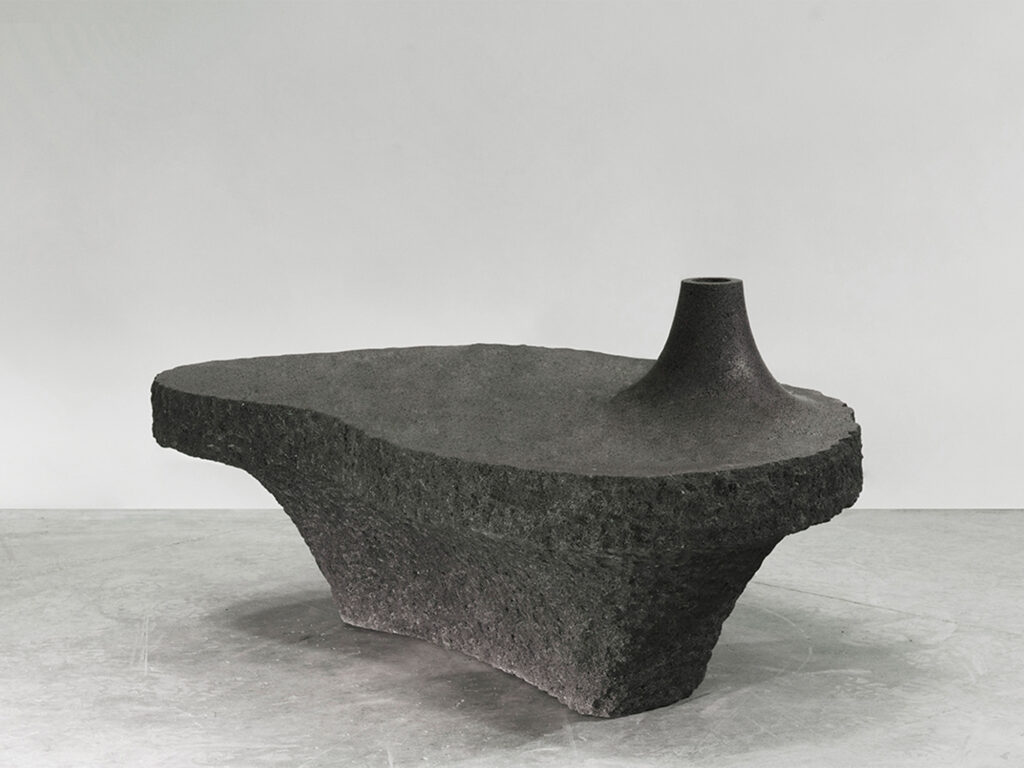 A newer generation of architects and artists share the same obsession with the simple geometry and powerful materiality of ancient Mexico filtered through the lens of XXth century Mexican modernism. Tezontle, the studio founded by Carlos Matos and Lucas Cantú in 2015, even take their name from the reddish volcanic stone that was used by prehispanic cultures, colonial builders and XXth-century architects as a building material. Tezontle's formalist practice thrives in the fuzzy margins of sculpture, architecture, design and art, with nods to abstract modernism, neo-aztec revivals, and minimalism. Their Vernacular Kitchen is one of their most ambitious and sophisticated functional sculptures yet, incorporating the dual functions of the comal (griddle) —the heart of traditional kitchens in southern Mexico, commanded by women, where corn tortillas are cooked and chiles blackened— on one side and the parrilla (grill) —perhaps the single most important device in Norteño culture, and its macho carne asada tradition— on the other. This androgynous artifact made of poured concrete, basalt stone and turned steel brings together the romance of communal meals and the love of camping gadgetry to elevate the ritual of cooking outdoors.
Frida Escobedo reduces the same recurrent themes of monumentality, materiality and identity to their most nimble expression. Instead of rejecting the handmade to be modern, Escobedo's work embraces our artisanal building traditions and strips modernism from its dry rigor. Instead of obsessing over tectonics or programmatic efficiencies, she is most concerned with occupation, interaction, use. Instead of pretending to overcome impermanence or annulling sensuous imperfection, she proposes an architecture of the intimate and the instant. A perfect example of her design philosophy is her Creek chair, which takes its name from a short film by Cuban-American artist Ana Mendienta, shot in 1974. In the film, Mendienta drifts nude in a natural pool with glimmering water running against her body. The light in the film has a metallic quality, reflected in Escobedo's delicate nickel ball chain that overflows from the steel structure of the chair, in an honest, almost effortless poetic merger between material, moment and body.
The relationship to the body and sexuality are also grounds in which artists and designers are breaking with categories and clichéd discussions about Mexican identity, as well as bringing down disciplinary barriers. After choosing the most masculine degree she could think of (civil engineering) Bárbara Sanchez Kane dropped her studies and left her hometown of Mérida to take up fashion in the US and Milan. She has crafted an intimate experimental practice, incorporating performance art and creating an alter ego / anti-hero that became the axis of all her collections: the "sentimental macho". Her Body Fillers and Plastified Diet stools derive from her latest collection, which was presented in Kurimanzutto gallery in Mexico City in 2022. Taking the plastic bucket as the archetypal Mexican street object —where it can function as a chair, a table, a trash can, a salsa container, a flower vase, a safe, a stepping stool— she imagines a dystopic future in which excess ingestion of microplastics accumulating in human bodies eventually cause them to mutate and grow multipurpose plastic prosthetics. In her clothing, buckets protruded out of jackets as giant shoulder pads or hip attachments. The most recent iteration is a bucket stool, wrapped in her signature black leather, that resembles a riding saddle. Its low, narrow seat forces the user to spread their legs wide open, in the shape of Sanchez Kane personal logo.
After growing up in Mexico City, Victor Barragán decided to move to New York City to found his eponymous fashion label, BARRAGÁN, in 2016. Since then, he has been pushing the limits of what exactly a fashion label can and should do. Along with clothes and runway shows, he has delved into digital media, photography and art to channel his razor-sharp commentary on sexuality, race and pop culture. In 2021 he launched a first series of unique and limited edition sculptural/functional objects for the home, which challenge the norms of domesticity and our ideas of good living. The first piece in the collection, trenBolone, is a concrete and aluminum bench press and dumbell set covered with spikes, materializing the toxic masculinity glorified by gym culture and social media. His dangerously spiky stool, table and flower vases derive from that first foray into functional, sculptural work.
Aldo Álvarez Tostado also went astray from architecture and found himself in art. His work addresses the archetypes of masculinity and queer identities, ornament and material expression, the tensions behind nationalist imaginaries, and the blurred boundaries of traditional crafts and trades. Growing up in Bahía de Banderas, a tiny coastal town on the Pacific coast of Nayarit, between the ocean and the countryside, Álvarez Tostado has always been fascinated by ranchero culture and it symbols of masculinity. His jinete nocturno saddle emerges from imagining the universe of an Anonymous Man, encrypting his attraction towards other men. The chiseled leather patterns on the saddle conceal the iconography and slang of MSM dating apps. A hidden drawer in its pedestal contains a series of objects that expand his horizon of physical pleasure: a BDSM set combining leatherwork with applications in obsidian, horsehair and piteado embroidery. The entire work is produced with traditional artisan processes and techniques from workshops in San Miguel el Alto, Tonalá, Zapopan, Guadalajara and Tepotzotlán.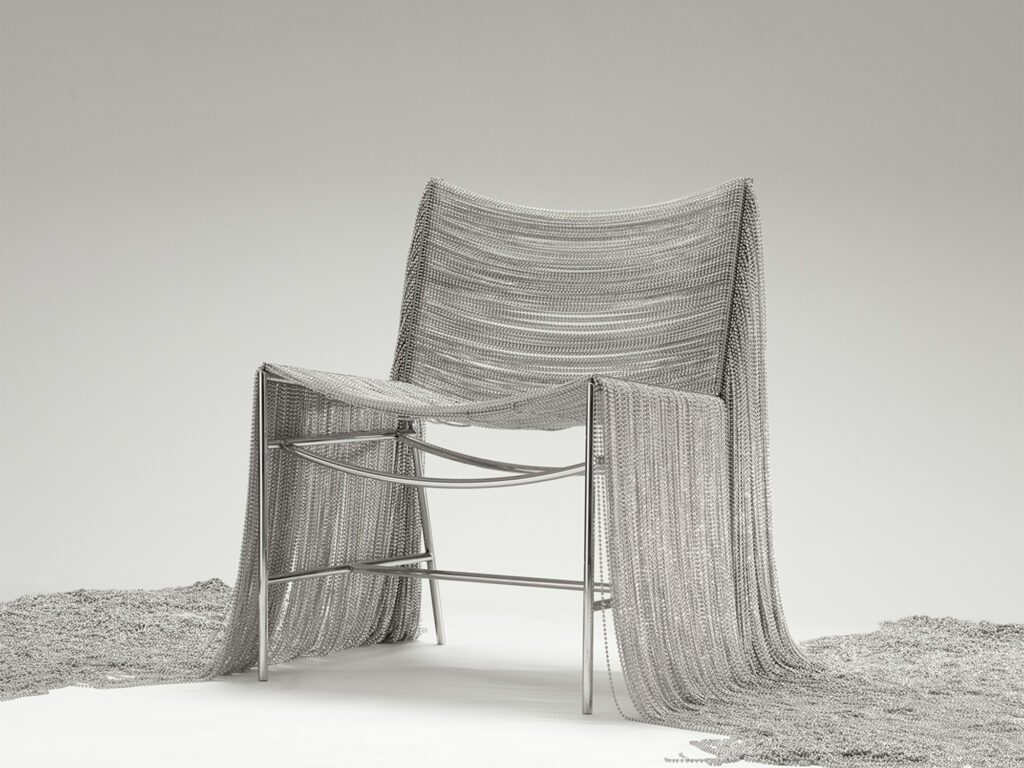 In a supercharged and superimposed context like Mexico, with deep roots and atemporal deviances, an obsession with the past always lingers in the drive for the future. As a tiny tribute to the precursors like René de Harnancourt and Federico Gamboa who thought that grasping the significance of modern Mexican material culture meant necessarily diving into its popular roots and displayed humble pottery and crafts alongside modern paintings and sculptures in a leveling curatorial gesture, Everything Here is Volcanic includes critical works by young artists Allan Villavicencio and Wendy Cabrera Rubio, and the curatorial duo Tony Macarena, that provide an additional narrative layer by way of material gloss. Villavicencio's three-dimensional still life made from scraps from his canvas paintings deludes the contemplative / functional divide in three soft sculptures of things as ordinary as a fruit bowl, a jug, and a pot.
Tony Macarena took to the legendary town of Ocumicho, in the forests of Michoacán, to unearth an oral history of its peculiar tradition of pottery. There they heard the story of a cross-dressing, mezcal-drinking sculptor, Marcelino Vicente, who in the 1960s was allegedly responsible for creating the wild, devilish clay figures that came to him in dreams and have become established as a local tradition. Marcelino —who also went by the name Maringuía when in drag— was murdered in a cantina brawl, and these specially commissioned planters are a small tribute to their non-conformist legacy.
Wendy Cabrera Rubio opts for an accessible, almost caricature-esque, arts and crafts aesthetic to produce incisive critical blows at the facade distortions and opaque perversions of the modernist fantasies deployed in Mexico in the XXth century. Her Modern Art and Architecture in Cold War Mexico series recreates the concrete poetry of Matias Goeritz, playing with the "O" and "R" to create infinite iterations of the word "oro" or gold, in felt and foam.
The Mexico City-based duo SANGREE, formed by René Godínez-Pozas and Carlos Lara, are happy turning mexicannes on its head. Their playful take on identity embraces branding, digital production, tattoo art, comic books, geek fandom, skate culture, and popular craft. Their whimsical, mischievous sculptures created for the exhibition are inspired by recent visits to the pre-Columbian artifact collections and ethnographic displays of museums in the United States, including the Tufts University Art Galleries, where they are currently preparing an exhibition. The stone and ceramic felines, hand carved in San Salvador el Seco, Puebla, recall the figures of Andean Chavín culture. Ancient Mayans also believed that once in a lifetime they would receive a visit from a jaguar and should be prepared to read the message on its spots. The ceramic symbols encrusted in SANGREE's stone cats are meant to speak differently to each observer. The sizeable spheres are examples of their self-taught approach to ceramic construction, and are reminiscent of a primitive human figures or snowmen, dressed with Kandinskyesque freeform compositions, while their ceramic planters draw from characters inspired by Wixárika mythologies, representing the Blue Deer who led their people to their Wirikuta promised land, where they discovered the ritual power of peyote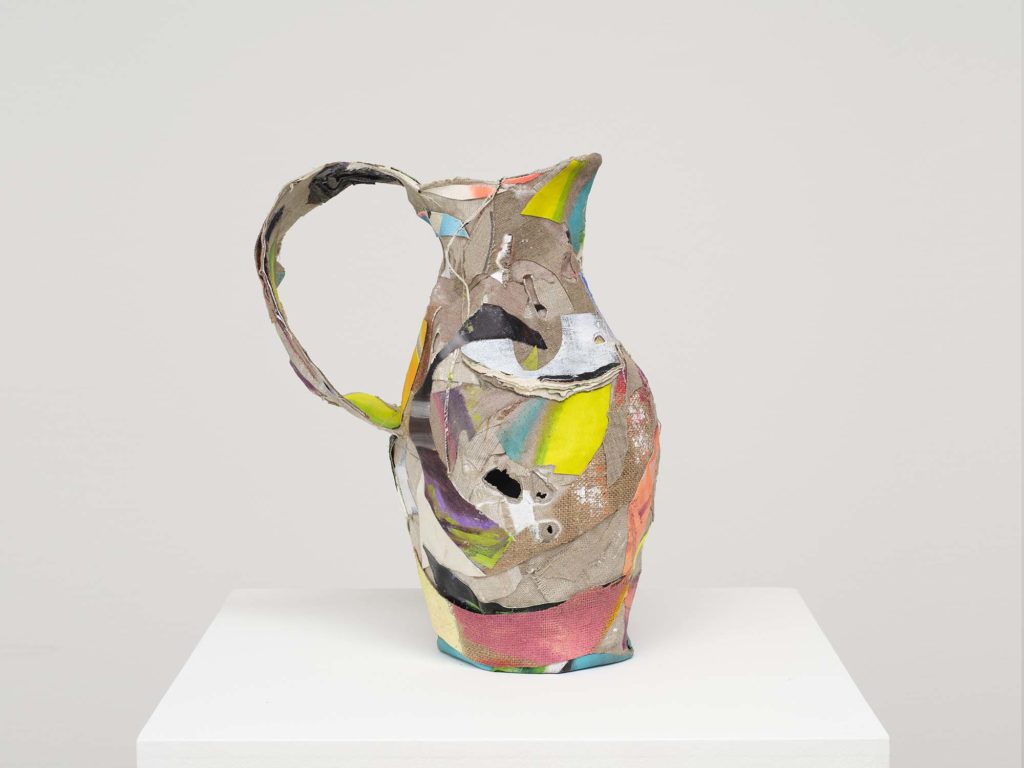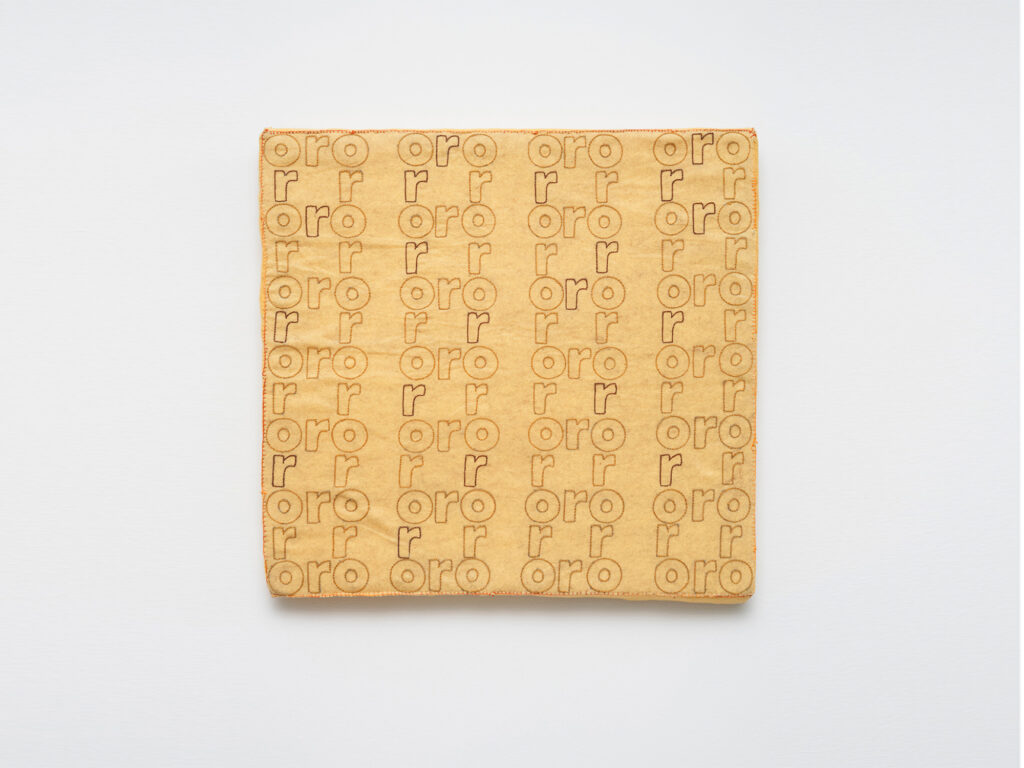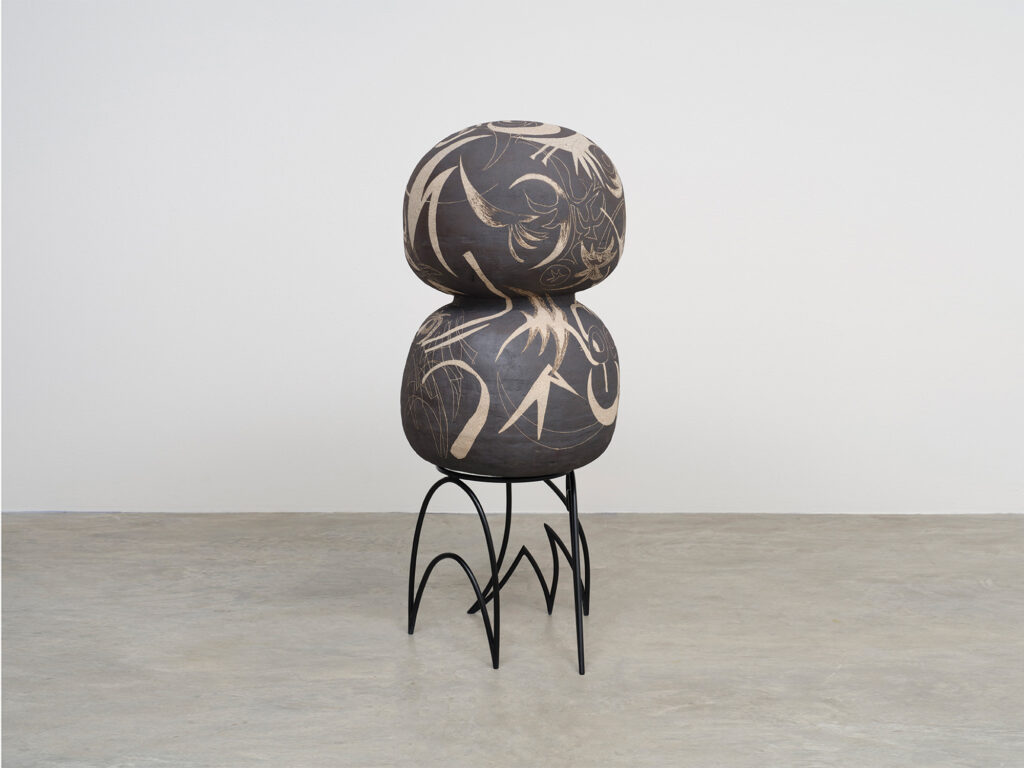 More than formal references to ancient cultures, Lorena Ancona is interested in understanding and re-enacting the techniques and processes used to fabricate artifacts. Working in her native Quintana Roo, she has researched and classified local Mayan clays, dyes and pigments. In a context that has been ravaged for centuries in the sake of "progress" —most recently in the form of tourist exploitation— trying to piece together fragments from forgotten or extinct cultures, species and materialities is not only an artistic gesture, but an experimental exercise in preservation, in filling in gaps of memory buried by colonial trauma and clouded by the vacuous debris of tuluminati mysticism. Her Water Dance sculptural curtain is made of a net of hequén agave fibers and large ceramic beads that read like found bits of stones, leaves, flowers, fangs, claws, faces, eyes and bones. The work is an exercise of piecing together to create a truer sense of memory, understanding and belonging.
Departing from the darker corners of the collective Mexican psyche —cosmic-race fantasies, pseudo-religious rituals, sexual occultism and conspiracy theories— the meta-baroque ceramic work of Alejandro García Contreras is also an experiment in speculative reconstruction of fragmented identities. His work is an exercise in an example of extreme folklore, Mexican curio on steroids, in which a plethora of pancultural pop idols, video game mythologies and cartoon heroes stand in for contemporary divinity. The question he asks, if we could simmer it all down to a single one, is practically the same for every one of these artists: where does the self fall into Mexico? His possible answer is presented in an ossified piece of physical and psychic energy, of fire and semen as metaphors of existence and creation of life and the universe. A dark mirror in which we are supposed to reflect and understand ourselves, but to no avail.
This essay was originally published in exhibition catalogue Everything Here is Volcanic, Friedman Benda, New York, NY, January 2023.