By Glenn Adamson
"There was no business. There was a situation." That's Caroline Thorman speaking, in Gareth Williams and Nick Wright's Cut & Shut, published in 2012 and still the essential source on the Creative Salvage movement. Thorman was giving her first impressions of One Off, the workshop and gallery she founded with Ron Arad in Covent Garden in 1981. "Ron was making things out the back," Thorman remembered, "and I was selling them out the front." It was a literal short circuit, which cut right through design as it was normally practiced.
One Off was the first manifestation of a movement that eventually came to be known as Creative Salvage, after a manifesto written by Mark Brazier-Jones, Nick Jones and Tom Dixon in 1985. This was, to all appearances, a radically stripped-down vision. The manifesto itself, all of 72 words long, read in part: "The key [to] success is not in the expensive research and development costs of modern day products, but in the recycling of scrap to form stylish and functional artefacts for the home and office." A complicated and highly capitalized enterprise with numerous stakeholders was summarily reinvented as something anyone could do, given rudimentary tools, a pile of junk, and sufficient imagination. That it has had such far-reaching influence on subsequent design makes it an ongoing provocation.
As Williams and Wright (and pretty much every other commentator on the subject) have pointed out, this ethos had its roots in London's punk rock scene. As a 'zine called Sideburn had famously counseled its readers, "This is a chord. This is another. This is a third. Now form a band." Yet we shouldn't forget that punk was a complicated phenomenon, inspiring one of the period's most searching theoretical texts (Dick Hebdige's Subculture, 1979), and non-stop academic writing ever since. Just to give an impression of how tricky the terrain is: by 1981, punk's death had already been proclaimed several times, with ritualistic regularity. Had it happened as early as January 1977, when the Clash signed to CBS? January 1978, when the Sex Pistols broke up? January 1979, when Blondie's "Heart of Glass" showed that punk could slide effortlessly into disco? Or February 4, 1980, when the Ramones released a pop-inflected album produced by – get this – Phil Spector? From its very beginnings, punk had to confront the consequences of its own popularity. Its media-unfriendliness, as it turned out, was a brilliant marketing strategy. None put it better than the Sex Pistols themselves: Don't know what I want. But I know how to get it.
If we're to draw comparisons between the music industry and Creative Salvage, then, we need to understand this design movement in similar terms. Like punk, it was definitely a youth movement, brash, fearless, and somewhat heedless of consequence. It had none of the self-consciousness that often circumscribes design practice; these objects were put out into the world on a strictly take it or leave it basis. But Creative Salvage was also a hell of a lot more sophisticated than one might initially think. This helps to explain how two of the most significant figures in recent design worldwide – Arad and Dixon – got their start in such raffish circumstances. It is also a good way to approach the objects themselves, which were by turns distressed and distressing. British designers in this moment were drawing on a dizzying range of historical influences, from baroque decorative art to recent conceptualism, and they infused their work with elaborate, sometimes self-referential, narratives.
Like any movement, the parts of Creative Salvage were more than its sum. That is, the various personalities involved were far too various, and too interesting, to be reducible to a single formula. Arad, to begin with, was doubly an outsider to British design. He arrived in London from Tel Aviv in 1974, and plunged headlong into the intellectual ferment of the Architectural Association; in the years he spent there, the faculty and students included Nigel Coates, Zaha Hadid, Charles Jencks, Rem Koolhaas, and Bernard Tschumi, among others. This vantage point gave him a remarkable acuity. When he looked at a seat from a Puch scooter or Rover car, a set of stereo components, or the commercial construction system that was Kee-Klamp, he saw not somebody else's idea of design, but an existing asset that he could exploit. Ironically, it was his disregard for originality (as it was conventionally construed) that fueled his own originality so powerfully. Though Marcel Duchamp is often invoked as his key inspiration in this regard, Arad's approach was actually closer to the "adhocism" outlined by Jencks and Nathan Silver, in their 1972 book of that name. Arad exemplified their imagined bricoleur, who "makes use of pre-existing subsystems, sticks with his existing resources as long as he possibly can, and is intent on undertaking his job immediately, with whatever resources are available."
For Tom Dixon, the route to Creative Salvage actually was the music industry, or its ragged fringe, anyway. He had been the bass player for a band called Funkapolitan, and also hosted illegal warehouse parties, which seemed to him to require "a big kind of entertainment: putting on black light shows and kung-fu shows, cutting up cars and plate smashing." Dixon made furniture in the same entrepreneurial spirit, working alongside Nick Jones and another denizen of the scene, Mark Brazier-Jones, who had superior craft skills, having built stage sets for such acts as David Bowie, Duran Duran, and Elton John. Though typically braced together with Dixon because of their close working relationship, Brazier-Jones' idiom was actually quite different, more symbolic in its references, a meeting of (in his own words) "the allegorical, the zoomorphic, nature, and ancient cultures." His interest in historicism is particularly clear in the dressing table included in this exhibition, which has the stately proportions of a bureau by the seventeenth-century master André-Charles Boulle.
1985 marked a step change for the core Creative Salvage group. The year of the aforementioned manifesto, it also saw Dixon exhibiting at One Off: "thrones, chandeliers, office chair and an indoor fountain," all cobbled together from a miscellany of Victoriana and orphaned industrial parts, as if an earlier England had disgorged itself right into the room. It was all very entrepreneurial, the quintessence of instantaneous value creation – "money for old rope," as Nick Jones puts it. Yet this was furniture with a snarl, easily legible as social commentary. When Dixon sketched a series of scrolling forms in space with steel rebar, throwing in some rubber strips as a desultory gesture toward upholstery, he was mobilizing the typology of the chair as a carrier of sensibility. The aesthetic may be very different, but conceptually the gesture bears comparison with Alessandro Mendini's Proust chair (1978), which similarly presents itself as a repository of past tropes, an extended riff on what's held in the collective memory. This comparison helps us see Creative Salvage as the successor to earlier Italian radical design, equal parts creativity and critique, and also as a vital bridge to later movements and moments. So many designers today, whether they are aware of it or not, are operating with the same playbook: feeding off the energy of a subcultural scene, to some extent cloaking extraordinary ambition behind a casualness of attitude, making it up as they go along.
Two of the other stand-out talents of the Creative Salvage movement, André Dubreuil and Danny Lane, make for an intriguing contrast. One was a master of elegant contours, the other a sculptor of jagged masses. Dubreuil, a Frenchman who initially encountered design as an antiques dealer, fell in with Dixon, Brazier-Jones and their hard-partying set in the mid-1980s. They all met, deliciously enough, via the Rococo chocolate shop on the King's Road, which had been the main drag of the punk district in the 1970s. Rococo's proprietor, Chantal Coady, also frequented Dixon's warehouse parties and a connection was made: together, the three re-did her shop as a fantastical gesamtkunstwerk, baby-pink walls serving as the backdrop for serial refurnishings; some of these fixtures are included in the current exhibition. (Coady also used the space as a quasi-gallery, on one occasion giving it over entirely to Brazier-Jones.) Though Dubreuil shared a basic technical repertoire with Dixon, his work was far more refined. Witness his Ram Chair (1986), which takes its name from the curled horns springing from its back. From there the slender metal whips down and around in gorgeous, looping gestures, finally coming lightly to rest on the ground in four delicately pointed feet. If Dixon's use of rebar takes its cues from rock-and-roll, this is a classical string quartet.
With Lane, we're more in the territory of heavy metal – sometimes literally, though he is best known for his innovative use of glass, thick plates of the stuff, which he cuts, stacks, chips with a hammer, sandblasts, and otherwise manhandles. There is something marvelously counterintuitive about his use of this material, which is of course transparent, but in his hands becomes emphatically solid, weighty, tinged industrial green where its thickness is exposed. The edges are not actually sharp (they are, in fact, polished to a pleasing smoothness) but they look dangerous. In the late 1980s, when "fragmentation" was an ever-present buzzword, it was easy to see these objects as illustrative, props for a postmodern era. This is something of a misreading, though. Lane was far, far from expressing anxiety about the coherence of the self, the death of the author; he has always been much closer to Arad, in his confident and visceral treatment of existing industrial materials. (In fact, it was while in Arad's company that he discovered a load of broken glass tabletops, inspiring his subsequent investigations, and he went on to supply One Off with glass components thereafter.)
The story of Creative Salvage includes a few other figures, too, who are well worth discovering. One who is not in the present show – because hardly anything of his 1980s work survives – is Joe Rush, whose enormous, apocalyptic, DIY metal scrap sculptures anticipated the ephemeral monuments of the Burning Man festival. His itinerant art group, the Mutoid Waste Company, pulled off some truly extraordinary things, including an archway made from military tanks and a sculpture incorporating a decommissioned MIG fighter. It is Rush who inspired the title of the present show: he was devoted, he said, to accidentals, "designed, but designed within the nature of chaos."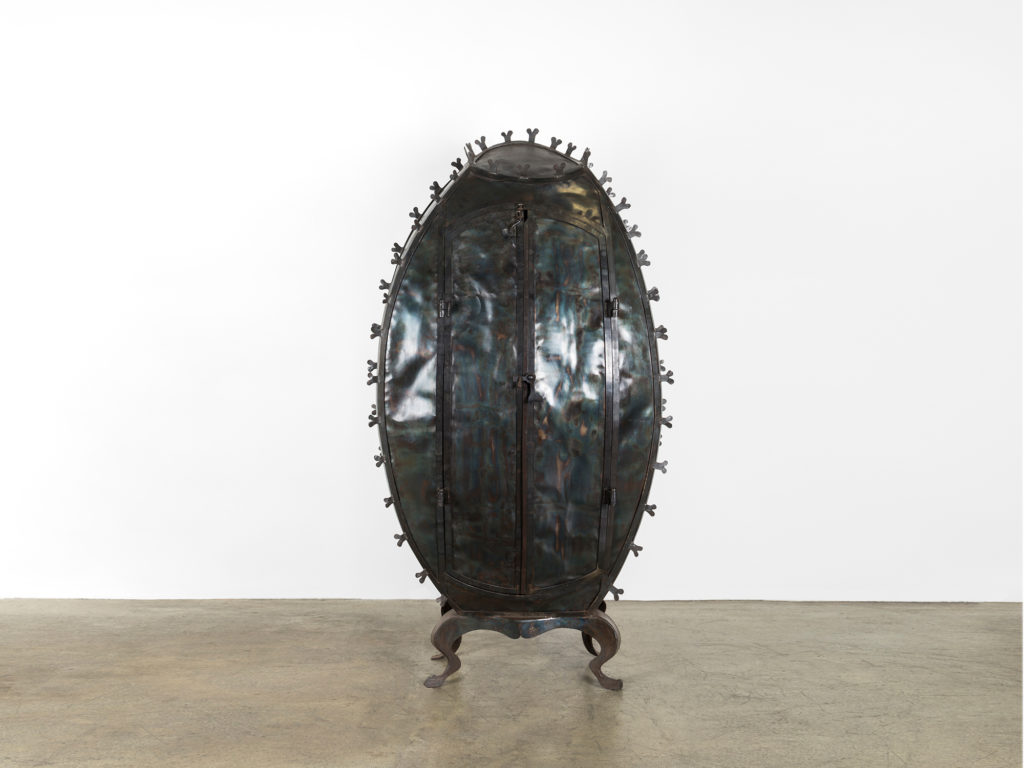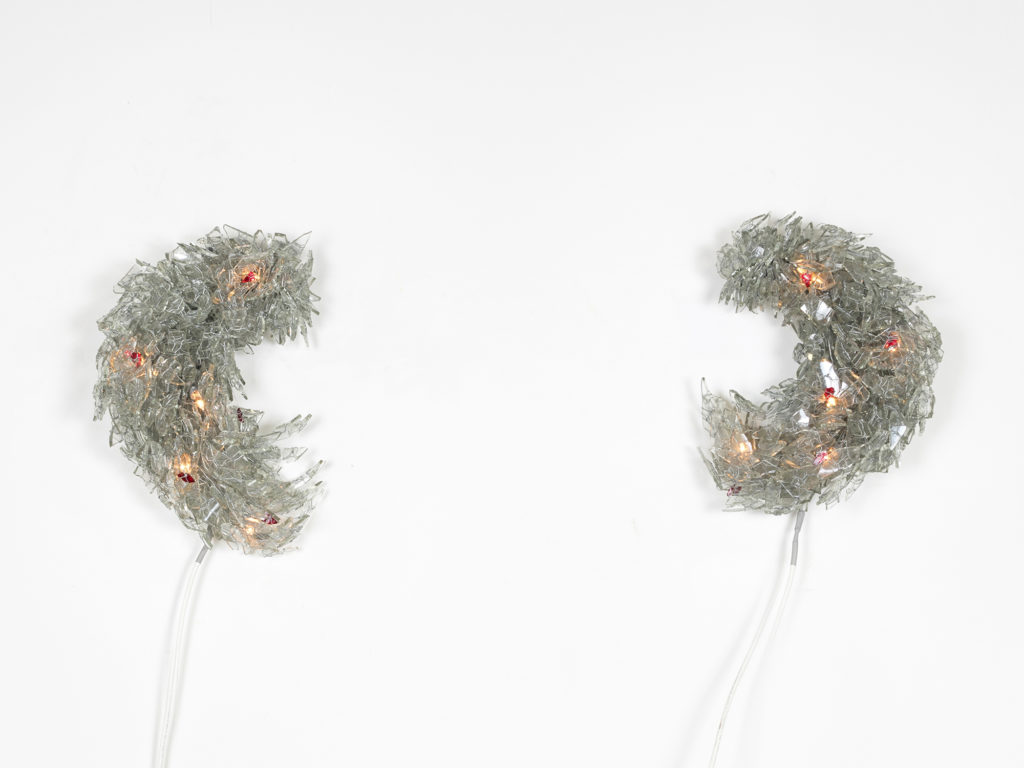 Jon Mills got his start in 1986 when he walked into One Off and Arad gave him an exhibition on the spot (it had just opened up because Lane was in a real-life car crash, as opposed to the ones evoked in his work). Mills' Dog Bollock cabinet requires little explanation, perhaps, but it may be helpful to American audiences to know that his Dan Dare chair is named for a "pilot of the future" who dominated British pulp science fiction in the 1950s and '60s.
Deborah Thomas, the most prominent female exponent of the movement, was active both as a sculptor and a theater designer before finding her métier of lighting. Her fixtures, characteristically made from recycled chunks of glass lashed together with wire, are explosive reinterpretations of the traditional crystal chandelier. Thomas, like Dixon, received early support from Liliane Fawcett, whose gallery Themes and Variations (situated in a former garage in then rough-and-tumble Notting Hill) was an important venue for the new work, roughly comparable to Rick Kaufmann's Art et Industrie in New York City. Fawcett's support was all the more important because Creative Salvage was never shown much at all outside of London. Incredible as it may seem, the current exhibition at Friedman Benda is the first exhibition about this historically crucial movement ever staged in the USA.
Nonetheless, several of our protagonists would become very well known internationally, in no small part due to their increasing professionalism. Already by the late 1980s, the Creative Salvage designers were demonstrating far greater formal control, partly a reflection of their ever-improving workshop skills, partly a change in attitude. Situations had become businesses. As before, Arad led the way. The vertical stele in the present exhibition is a rare and early incarnation from his Volume series, best known for the slightly later Big Easy (1988) and Rolling Volume (1989) chairs. It is formed of hand-beaten, polished stainless steel, a difficult material to work. Where metal meets metal, crisp seams add definition to the form. Dixon's slightly later Pylon series (begun in 1989) makes for a fascinating juxtaposition. It was among the first furniture ever to be designed on a computer, and Dixon made sure that showed: the wireframe construction is a direct translation of the era's early rendering software into physical space. Fascinating as a harbinger of what was to come, it also reflects Dixon's own development; no longer crashing the party, he was now defining design from a central position.
At a distance of over three decades, even non-Brits may feel nostalgic for the glory days of the eighties. The Peter Anderson photos included in this exhibition remind us that London swung even harder then than it had in the sixties – swung between extremes. In an angrily polarized nation, huge amounts of fun were had; there was also a desperate backdrop of unemployment and unrest. To really understand all this, to a certain extent, you probably had to be there – which I wasn't. The objects of Creative Salvage only can give us so much: originally built from remnants, they are now relics in their own right, the remains of a rebellious time. It would be a big mistake, however, to view them through the scrim of nostalgia. Better to take them as models to follow. In 1981, a kid could set the world alight with nothing but a welder and a few good ideas. There wasn't anything simple about that proposition then, and today, forty years later, that hasn't changed one bit. Long live the accidentals.
This essay was originally published in exhibition catalogue Accidents Will Happen: Creative Salvage, 1981-1991, Friedman Benda, New York, NY, January 2022.