Ron Arad [British, b. 1951]
Horns Armchair, 1985
Aluminium, steel, PVC covered galvanized springs
47.25 x 46 x 47.25 inches
120 x 117 x 120 cm
Unique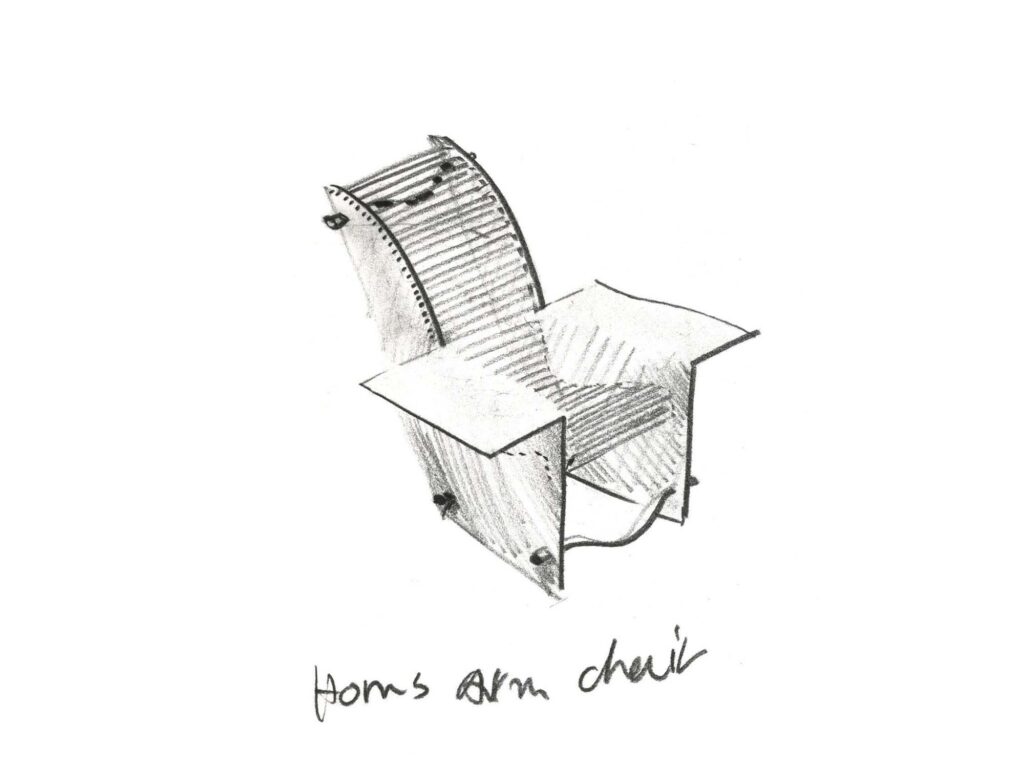 Arad's Horns series marked a crucial step for the designer, away from the ready-made and into fabrication from scratch. Each object in the series was based on a simple manipulation of flat aluminum sheets, which are joined together with curved lengths of steel tubing. The title refers to sharply pointed triangles that were used as "props" for a dining table and related side chairs. This imposing armchair lacks this aggressive element, but it still exemplifies the tough "post-industrial" look typical of Arad's work at the time. The sides of the chair are cut out and then bent at a ninety-degree angle, to form the arms. The seat and back are made up of 62 horizontally stretched springs; the curve of their placement is visible in perforations through the sides. The aluminum surface is ground to create a reflective pattern, an allusion to the Cubi sculptures of David Smith of the 1960s, whose hard-edged geometric quality the Horns series shares.
Exhibition History:
Accidents Will Happen: Creative Salvage 1981-1991. Friedman Benda, New York, NY. January 13 – February 12, 2022.
One Off in Paris. Galerie Yves Gastou, Paris, France. June 5 – 30, 1986.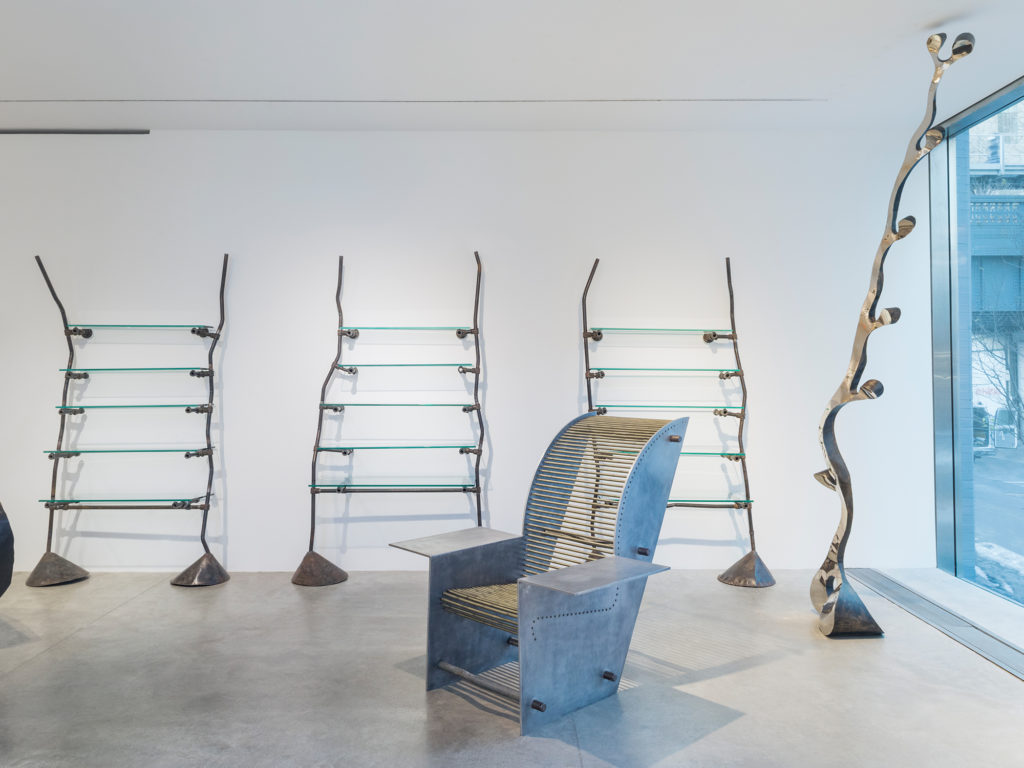 Literature:
Gareth Williams, Accidents Will Happen: Creative Salvage 1981-1991, exh. cat., New York: Friedman Benda, 2022, pp. 18-19.
Delphine Antoine, Yves Gastou Antiquaire du Futur, France: NORMA, 2011, pp. 46, 188.
Ron Arad, exh. cat., New York: Barry Friedman Ltd., 2005, p. 56.
Alexander von Vegesack (ed), Sticks and Stones, One Offs & Short Runs, Ron Arad 1980-1990, exh. cat., Vitra Design Museum, Weil am Rhein, 1990, pp. 46-47, 148 for a similar example and drawing.
Deyan Sudjic, Ron Arad: Restless Furniture, New York: Rizzoli, 1989, pp. 19, 65.
Catherine McDermott, Street Style: British Design in the 80s, New York: Rizzoli, 1987, p. 120.
John Thackara, New British Design, New York: Thames and Hudson, 1986, p. 41.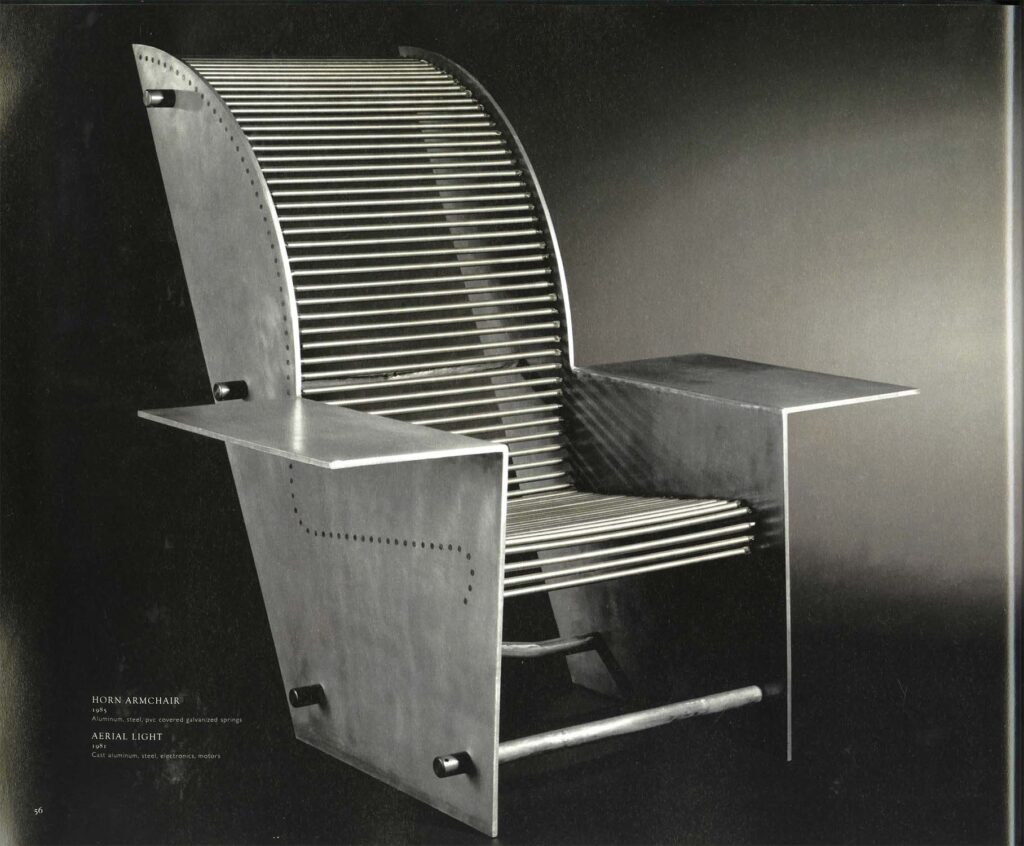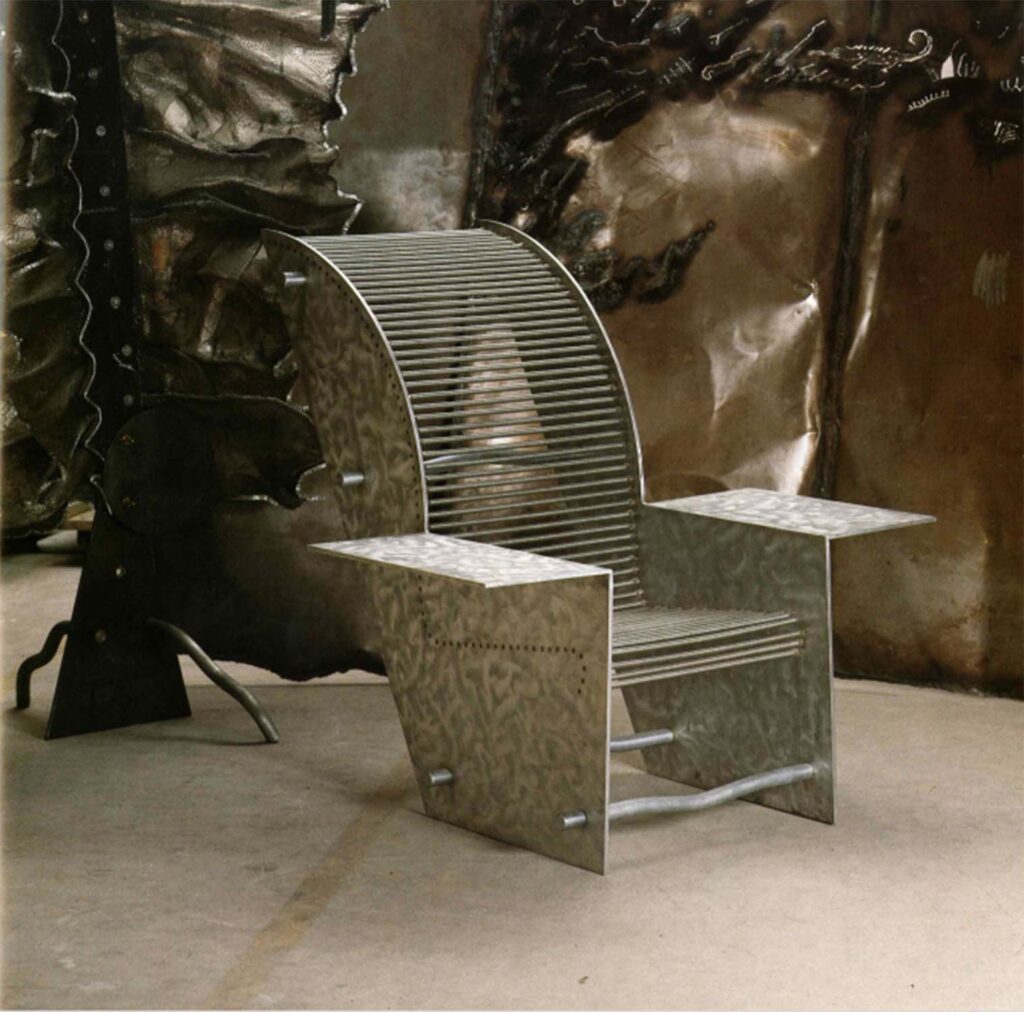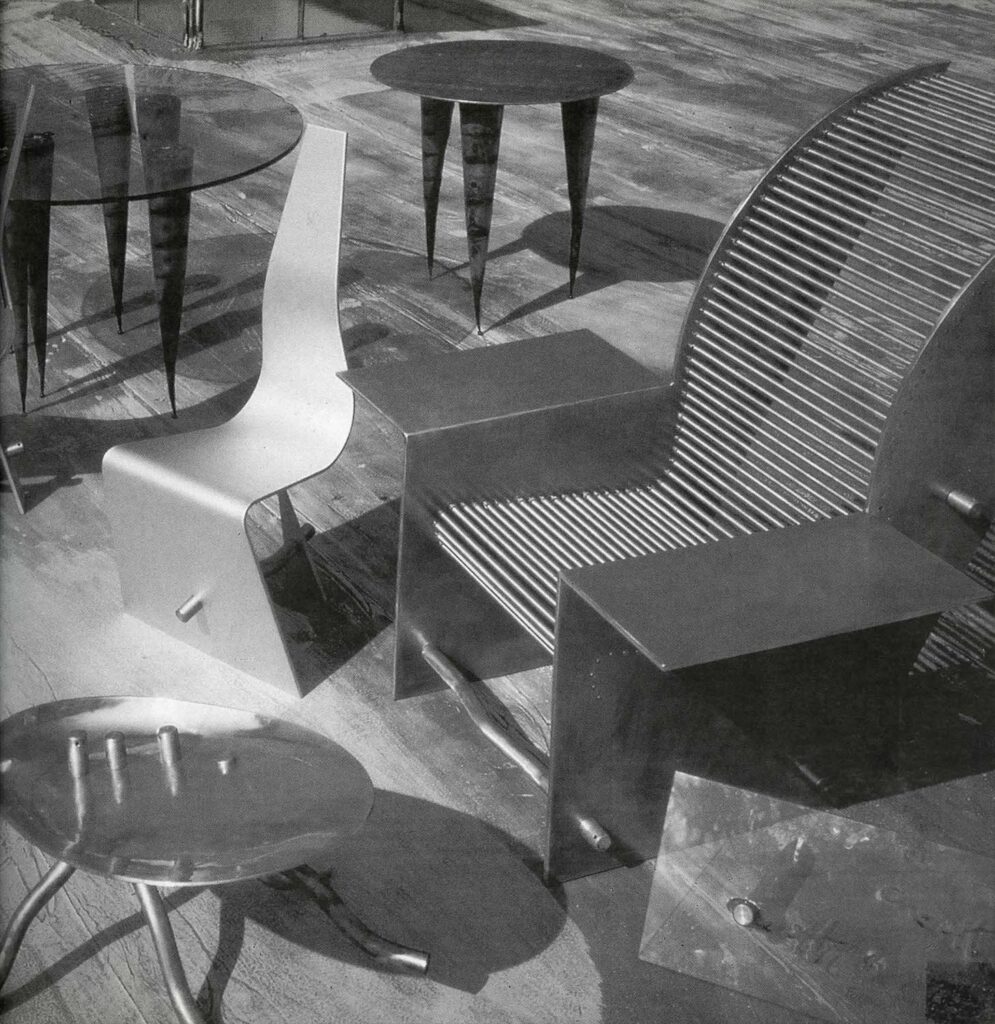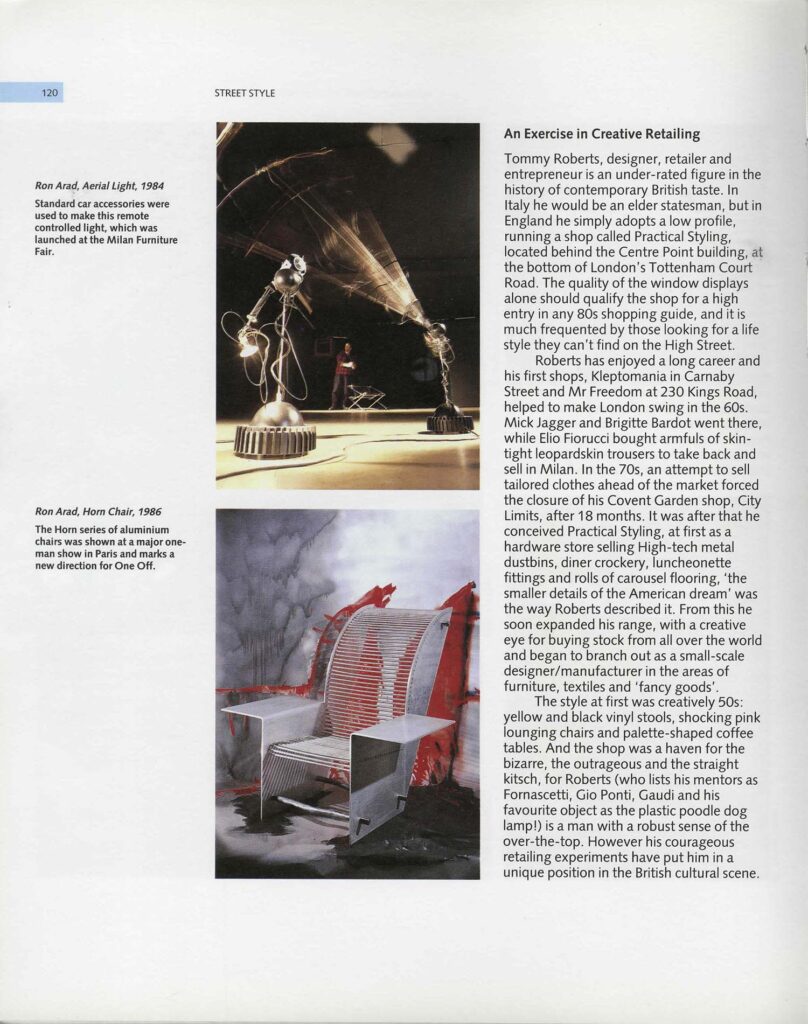 Born in Tel Aviv in 1951, Ron Arad attended the Jerusalem Academy of Art from 1971–1973 before moving to London. From 1974–1979, Arad studied at the Architectural Association School of Architecture under Peter Cook and B. Tschumi.
In 1981, Arad established One Off Ltd. with Caroline Thorman in Covent Garden, London, which consisted of a design studio, workshops and showroom. He had his first success with a range of furniture and interior structures in tubular steel and cast-iron fittings, including his early well-known work Rover Chair, the vacuum-packed Transformer Chair, and the remote-controlled Aerial Light.
Ron Arad Studio was established in Como in 1994 to continue and expand on the production of studio pieces previously produced in the London workshops. The facilities at the Ron Arad Studio hugely expanded material, technique and engineering possibilities, allowing for such pieces as Box in 4 Movements (with a torsion sprung ratchet mechanism) and R.T.W., (a free-rolling large wheel with inner shelving that always remains parallel to the floor) to be produced, as well as installations for L'Esprit du Nomade, Fondation Cartier, in Paris and The Domus Totem for the Trienale in Milan.
Ron Arad was Professor of Product Design at the Hochschule in Vienna from 1994-1997, and Professor of Furniture Design at the Royal College of Art in London in 1997. He is currently the Head of the Design Product Department at the Royal College of Art. Ron Arad was guest Editor of the 1994 International Design Yearbook and 'Designer of the Year.' His work has been widely featured in many design and architectural books and magazines worldwide. Ron Arad has run several design workshops for students, including those at the Vitra Design Museum in Weil am Rhein, Germany, Vitra Farm in France, and Ravenna in Italy. He continues to lecture on his work regularly at universities and design schools worldwide.